We are a participant in the Amazon Services LLC Associates Program, an affiliate advertising program designed to provide a means for sites to earn fees by linking to Amazon.com.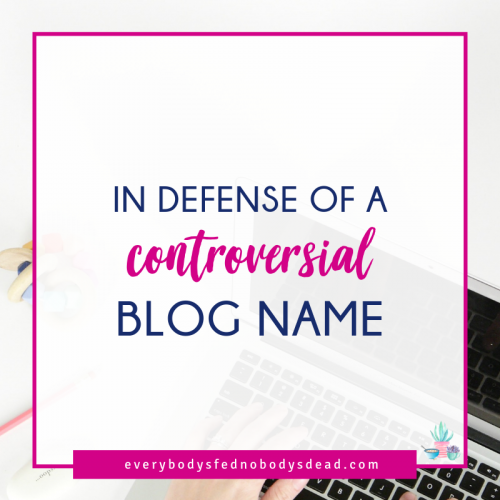 When I finally decided to start blogging, I didn't struggle to come up with content; what I struggled with was giving my blog a name.
What's in a name?
Though Everybody's Fed, Nobody's Dead was the obvious choice, I was worried that it might hurt feelings. My husband and I went round and round for weeks trying to find something that we felt was right. We asked others to weigh in on the name; though most people we asked found the name acceptable, a few found it insensitive.
More than once I considered scratching the name and picking something generic and bland, hoping to appeal to a broader audience.
But that's not the kind of blog this is.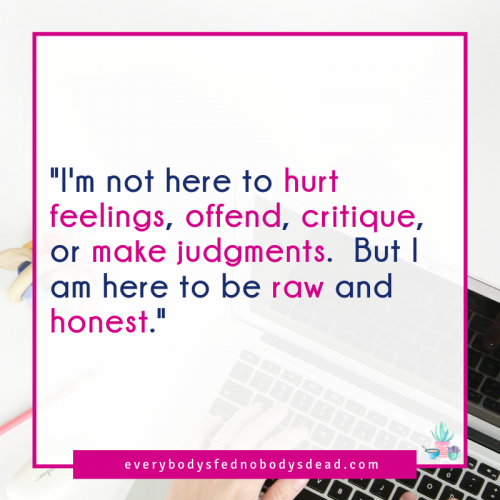 I'm not here to hurt feelings, offend, critique, or make judgments. But I am here to be raw and honest. And sometimes that's going to hurt.
So let's get this out there: I'm sorry. I'm sorry in advance if you ever feel uncomfortable, unwelcome, or angry by what I write. I want this to be a place of love and support, and in order to get there, sometimes I have to say things that may rub you the wrong way. I hope that you'll always know that you're welcome to disagree with me.
My opinions are just that: opinions.
Everybody's Fed, Nobody's Dead isn't just a random name, and I don't mean to say it in a flippant, callous way.
My battle with postpartum depression changed my entire life.
You'll learn more about my experience throughout the blog, but daily survival became the name of the game. My mental health was a disaster, I was severely sleep deprived, and my daughter and I struggled to bond.
And thus the title of this blog came to be. If I could make it to the end of the day, that was a good day.
My depression was driving me to the brink of insanity. There were more than a few times that I considered ending my life. Every day that we survived was another day that I was still alive; that was how low my barometer had become for measuring if a day was "good." I tried my hardest to feed myself, and I could keep my daughter fed thanks to breastfeeding. I just tried to get us to bedtime.
The phrase "everybody's fed, nobody's dead" embraced the lack of control I felt during that time in my life, and now it's become a part of my parenting.
I always thought I would be more of a helicopter mom.
I envisioned myself as a mom intent on being by my daughter's side and helping her through everything I could. But postpartum depression showed me what little control I actually have. In order to lessen my anxiety and stress, I have to let go of as much as possible.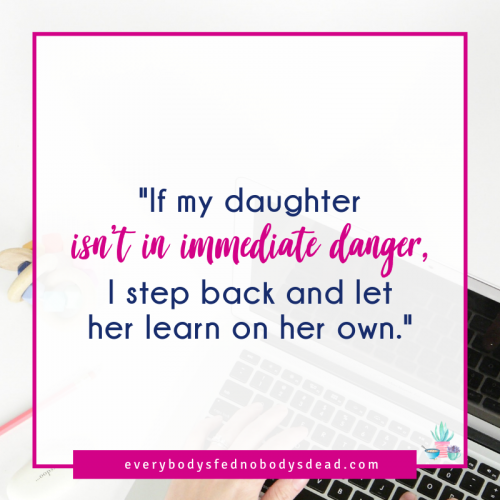 For me, that looks like a more "free-range" style of parenting. If my daughter isn't in immediate danger, I step back and let her learn on her own. This can be hard, as it's human nature to take control, and it may seem to others that I'm lazy in my parenting. But for me, it's just survival.
Our version of survival doesn't look the same as it did when my daughter was a newborn and waking every 3 hours at night, but parenting doesn't come easily to me, so I'm just doing what I can to get through each day.
In my home, at this stage of life, keeping everyone fed and alive is the goal at the end of the day. If I can put a mental check mark next to those two items, I can go to sleep and try again the next day.
My 'controversial' blog name isn't meant to be controversial, but honest about how hard it is to be a mom.
I hope you're not in survival mode, but if you are, I'd love to hear from you as to what you're currently struggling with. Please join our mailing list so that you can receive a regular dose of encouragement and parenting tips.
Posts You Might Like: