We are a participant in the Amazon Services LLC Associates Program, an affiliate advertising program designed to provide a means for sites to earn fees by linking to Amazon.com.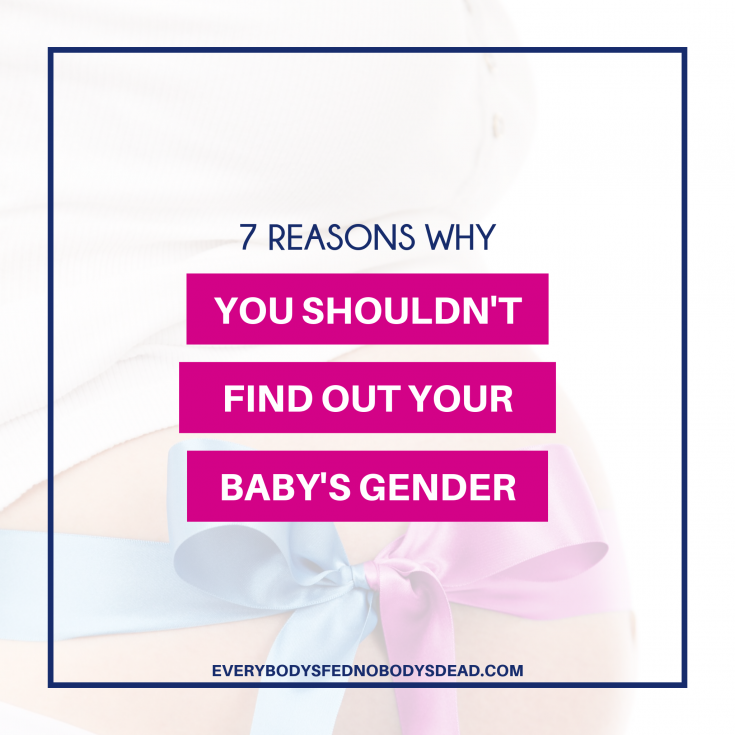 We didn't find out our baby's gender when I was pregnant.
It took some work to convince my husband, but eventually, we got used to the idea of not knowing. It became a bright spot in my rough pregnancy.
If I have another kid, I plan to repeat the surprise ending, and I'd definitely recommend it to anyone. Here's why:
IT'S A TRUE SURPRISE
Yeah, it's a little cheesy, but it's true! And in a world where we have information at our fingertips, it's so cool to leave one big thing unknown. If you're someone who struggles with wanting control in your life, I'd highly recommend not finding out your baby's gender.
Let something in your life be out of your hands, even though it's hard. It'll teach you a lot about yourself, and it'll prep you for all the upcoming years when you will need a lot of patience.
TO HELP KEEP THE NAME A SECRET
We picked out baby names early on, but I had no desire to share them with anyone until the baby arrived. When you share baby names before the baby arrives, people often feel the need to comment on your choices. Most people will keep their mouths shut if they find out the baby's name after his or her birth.
Often, people will ask if you're having a girl or boy, and then they'll ask about the name. But when you tell them that you don't know the baby's gender, most people will be so shocked and thrown off that they forget to even ask about the name!
TO PROTECT YOUR BABY

FROM

STRANGERS' OPINIONS
People love to comment on how difficult or easy they view a specific gender. I don't know about you, but I have no desire to stand in a grocery store checkout line while some stranger tells me all about how dramatic her girls are, or how wild her nephew is. Not only is this unfair to your unborn child, but it can also cause you unneeded stress.
While not finding out your baby's gender won't keep people from giving opinions entirely, it will keep them from flippantly reacting with a gender-related comment that could be hurtful.
IT SHOCKS PEOPLE
I had no clue how much fun it would be to constantly shock people! Everyone reacts differently, and it's a great litmus test to see how people handle the lack of control.
It's hilarious to see the self-described type-A personalities get confused and struggle to understand. I had more than a few older women tell me how much they loved that I was doing something that was considered "old-fashioned," but that was just the norm for them when they were pregnant.
THE SONOGRAPHER COULD BE WRONG
It really does happen! Do you want to spend 6 months preparing to bring home a baby boy, then give birth to a girl? Avoid the shock when you give birth of having to bring your new son home from the hospital in a pink car seat and onesie.
Bonus: Having mostly gender-neutral items will not only prep you for either sex but also keep your items usable for multiple kids in the future!
ADDED MOTIVATION IN THE DELIVERY ROOM
Obviously getting the baby out is a big motivator, but the excitement to find out the baby's gender definitely adds anticipation. It's also really exciting for the doctors and nurses because they don't get to share the news of the baby's gender very often.
When I had my c-section, all of the doctors and nurses were excited to find out what we were having. Even a midwife making the rounds stopped by to find out!
YOU WON'T GET TONS OF CLOTHES
People enjoy buying lots of cute clothes for babies, understandably. But when they know the gender, you'll receive a lot of clothes and accessories at your baby shower. As fun as cute clothes can be, you just don't need 40 onesies, but you will need a stroller and diaper bag.
BONUS: NO PARTY TO THROW!
It's no secret that I'm not a fan of birthday parties, but I find gender reveal parties over-the-top and unnecessary. By not finding out the sex of your baby, no one has to order a special cake or fill a box with pink or blue balloons.
If those things majorly appeal to you, then go for it. But if you're exhausted and overwhelmed enough with pregnancy, and the thought of trying to throw an elaborate party to find out something you'll all find out in just a few months anyway gives you anxiety, just skip the spectacle.
The decision to find out your baby's gender before he or she arrives is completely up to you and your spouse.
And if you can't stand the wait, and you want to buy cute clothes and throw a gender reveal party, go all-in and have a blast! But if you choose to buck the trend and wait to find out, know that you're in for the very best kind of surprise.
Did you find out your baby's gender? Tell us in the comments below! And check out What No One Told Me About Breastfeeding to prepare for your new bundle of joy!
Posts You Might Like: