We are a participant in the Amazon Services LLC Associates Program, an affiliate advertising program designed to provide a means for sites to earn fees by linking to Amazon.com.

When you have a baby, you also begin another challenge: making 'mom friends.'
Suddenly you not only have to find friends, but friends that won't judge you when you break out a sucker to stop a meltdown, nurse your eighteen-month-old, or visit your home that hasn't been cleaned since… ever.
As someone who has never had more than a few friends at any given time, I'm blown away by the amount of time I now spend with other moms. It took some bravery and confidence, but I now have an arsenal of mom friends not only in my neighborhood but also at my fingertips!
Social media can be an incredible tool for good, especially for young/new moms who feel intimidated and overwhelmed. Step out of your comfort zone and reach out to someone who knows what it's like to watch Paw Patrol on repeat 40 times a day! Here are some tips that have helped me:
DON'T FORCE IT
My park is regularly filled with moms I've never met. I have a rule that I introduce myself to someone new every time. This doesn't mean we swap numbers and talk about politics. I ask about her daughter, she asks about mine, then we shake hands and make small talk until one of us hears a kid crying.
This simple act of meeting new people should be easy, but we often get nervous approaching others, so we just don't. News flash: they're as nervous as you, so why not be the one to make the first step?
Make casual acquaintances at places you frequent regularly (the park, library, ECFE, etc), remember their name, and then, if there's a spark, friend them on social media.
GET LOCAL
I hate leaving my house. Putting on pants and dragging my kid around just isn't as relaxing as watching Gilmore Girls. But I have found that it usually creates better experiences, and it wears out my toddler.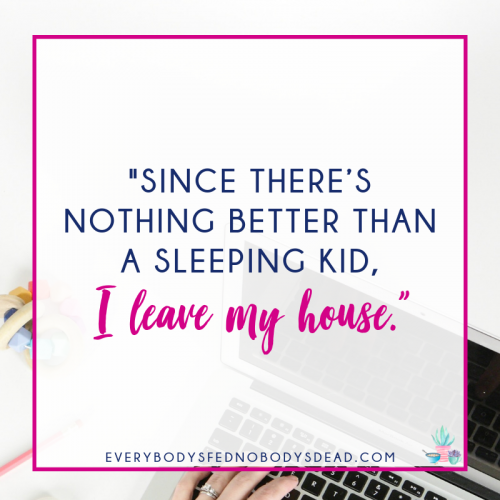 Since there's nothing better than a sleeping kid, I leave my house.
Check out your community pages for your town and surrounding areas. Look into local events, classes, MOMS Club, playgroups, mom groups, gyms, library activities, parent night outs, church groups, etc.
Facebook is an incredible resource for moms. If you're struggling to find activities, join Facebook groups specifically for your town or region and ask other moms what they're up to.
HOST PLAYDATES
Every time I host a playdate, someone comments about how nice it is to get together, and how we should do this more often. Hosting takes time and effort, and though we want to get together, we often don't actually make plans. I want to challenge that. I do my best to only tell people "we should get together some time" if I plan to follow through.
My goal is to host at least 2 playdates a month. I have a list in my phone of people I should have playdates with, and I'm also in a neighborhood group that rotates through hosting playdates.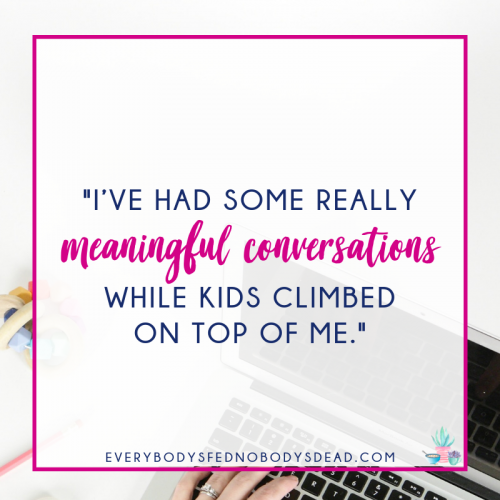 I plan playdates a few weeks in advance, make a Facebook invite, and people can come and go based on their schedules. It's a few hours, tops. I don't have to have my home spotless, and we all just sit around drinking coffee as we try to yell at each other over our mini barbarians. I've had some really meaningful conversations while kids climbed on top of me.
*Stuck at home during the 2020 quarantine? Be sure to check out 8 Tips for Practicing Self-Care During Quarantine for tips on cultivating friendships while social distancing.
JOIN ONLINE GROUPS
If you're reading this and not already a member of Raw Motherhood, GO JOIN RIGHT NOW!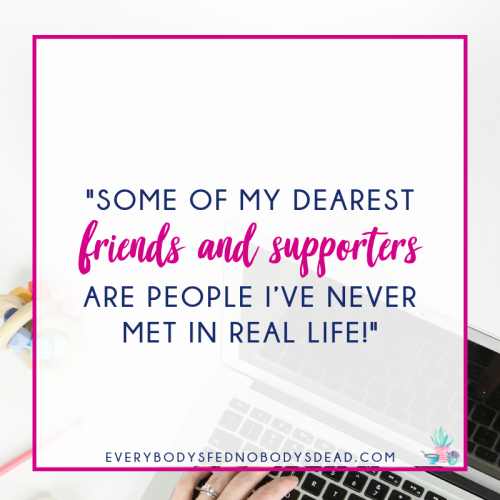 Seriously, Facebook groups are one of the best tools to meet people who share your interests. Some of my dearest friends and supporters are people I've never met in real life!
Here are the topics for some of the groups I'm in: breastfeeding, extended breastfeeding, blogging moms, postpartum life, baby-led weaning, c-section support, Developmental Hip Dysplasia, moms of babies born during a specific month, moms in my town, baby-wearing, moms in Minnesota…
These groups all have very specific goals, allowing me to find people that are going through the same things I am. These groups have become invaluable resources to me, and that's why I was a part of creating Raw Motherhood, to give moms another safe place!
SWIPE RIGHT
Yes, there are actually apps for your phone to help you make mom friends! Like online dating or Tinder (but without the unwanted pics of male genitalia), you can enter information about yourself and your location, and these apps will match you with potential friends in your area.
There are quite a few, but Peanut, Mom Life, and Social.mom are currently the best. These have the most active users, the easiest interfaces, and excellent reviews. You can also use the social media site and app Meetup to find local mom groups.
Peanut is the largest and most well-known of the apps, and when I tried it, I was impressed. I even made a great friend that I now have regular playdates with, but we never would have met because we live in different towns!
The app is fun, low pressure, and easy to use. While it would be great if it had more categories to fill out regarding personal information and likes/dislikes, it allows you to put yourself out there in a low-stakes way, in the hopes that you'll make a connection and learn more about each other later.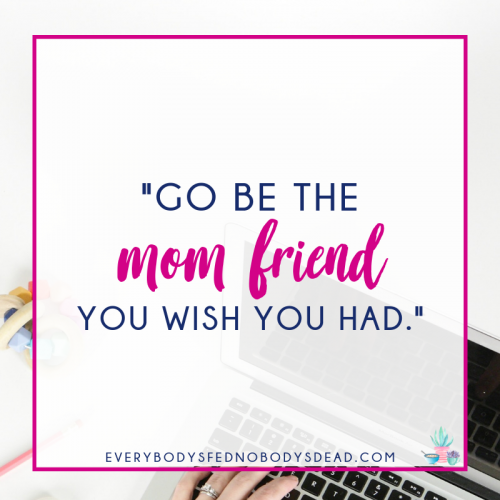 BONUS TIP: START A MOM BLOG
Blogging definitely isn't for everyone, but if you have a desire to write and connect with other moms, blogging is a fantastic way to make new friends. Mom bloggers are helpful and real, and they value their online communities. If you're looking for honesty, humor, and loving support, checkout 15 Mom Bloggers Who Are Keepin' It Real.
If you want friends, go make them! There are so many resources at your disposal, and technology has made it easier than ever to make and keep friends.
Go be the mom friend you wish you had.
If you're a mom struggling to make friends, we'd love to have you in Raw Motherhood! And if you have any other tips for making mom friends, please share in the comments below.
Posts You Might Like: