We are a participant in the Amazon Services LLC Associates Program, an affiliate advertising program designed to provide a means for sites to earn fees by linking to Amazon.com.

I ordered a second Dia&Co box.
If you're not sure what I'm talking about, you can go read my first Dia&Co post, but here's what you need to know:
I'm a plus-sized mama who hates shopping, so I'm branching out and trying clothing subscription boxes.
Dia&Co only carries plus sizes, and their stylists pick items to send you based on a questionnaire you fill out online.
You pay a $20 styling fee that can be applied to anything you keep from your box, and then you send back what you don't like/want.
My first box was decent, but I had a few complaints and I didn't keep anything, so I decided to order a second box.
What came in my second box: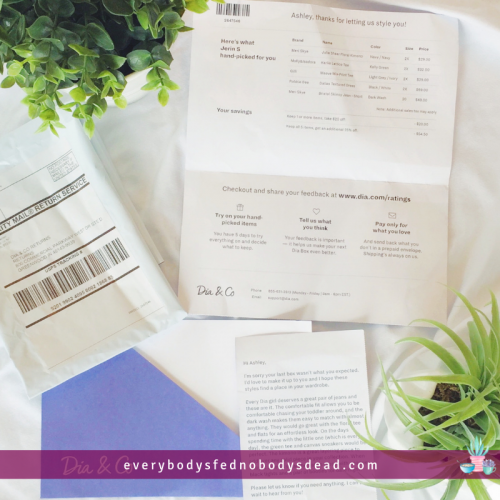 Each Dia&Co box comes with a paper listing every item you've been sent, a letter from your stylist, and (unless it's a size exchange) a huge postage-paid mailer for returns. I immediately noticed that I'd been given a different stylist than my first box.
Apparently, you can request to have the same stylist each time, but it doesn't happen automatically. I also noticed that they had sent my jeans in the wrong size, even though I had gone into my questionnaire to change my pant size, and that they had sent me a dress out of my budget.
The clothes in my box: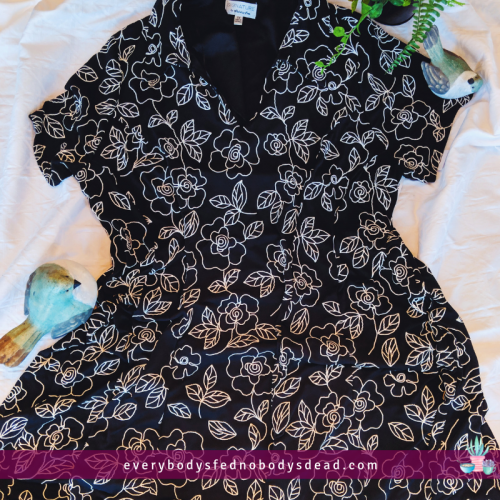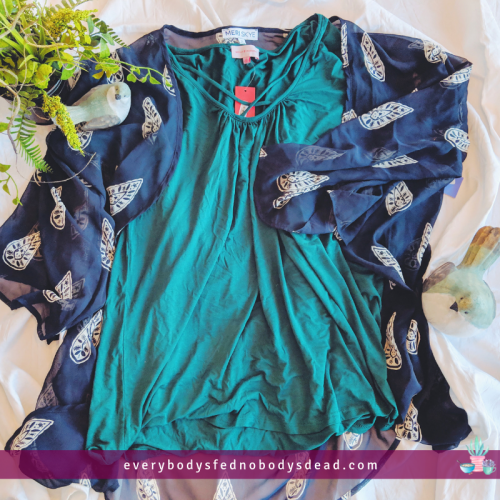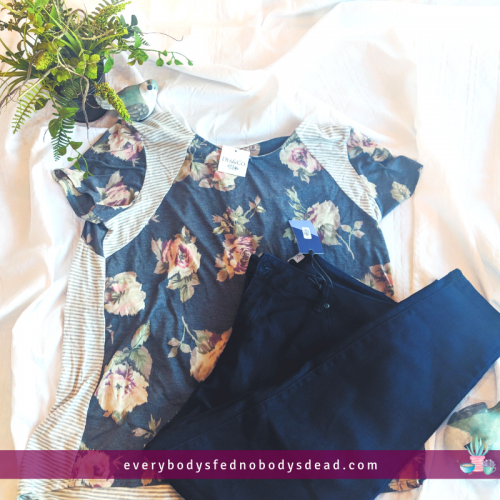 Trying it all on: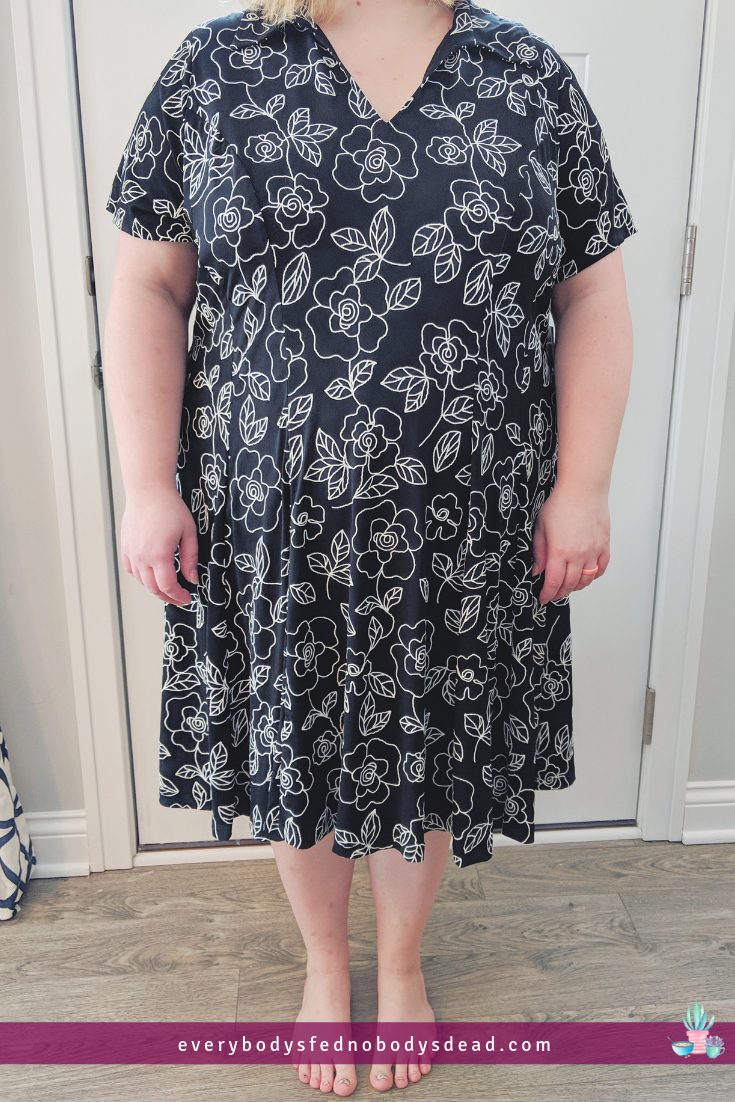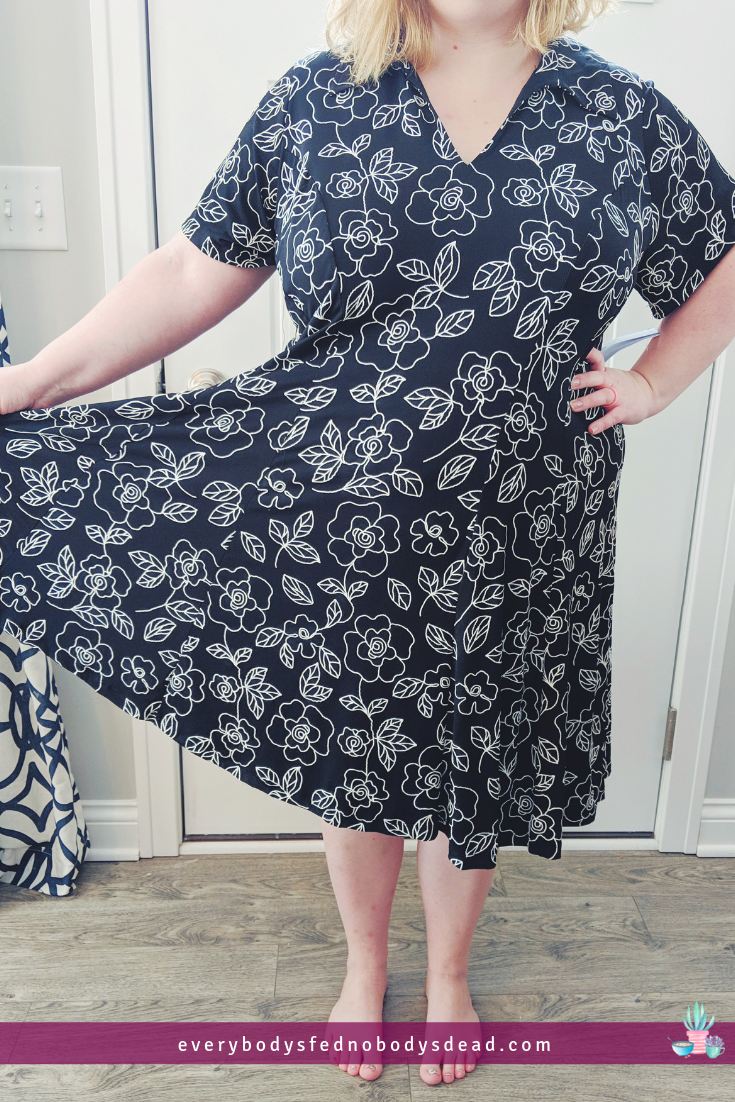 Yikes.
While I didn't specify in my questionnaire not to send dresses, I was bummed that I was sent another "formal" dress. I told the stylists that I'm a mom who needs clothes I could wear while chasing a kid. I wouldn't have minded a casual summer dress, but this is clearly not an everyday dress.
It's also out of my budget. When you fill out your style sheet online, you can specify a budget price range for each piece. Under the $50-$100 category is an option for the stylists to choose items for you that are "as low as possible." I hate this option. I should be able to specify under $50 in each category, as I won't spend more than that on dresses or tops, but I will on jeans.
But back to yikes… I can't image who this dress would flatter, but it's most definitely not me. The pattern isn't very cute (it's also a raised texture?!?), and the shape is terrible. The neckline is also collared…? 🙅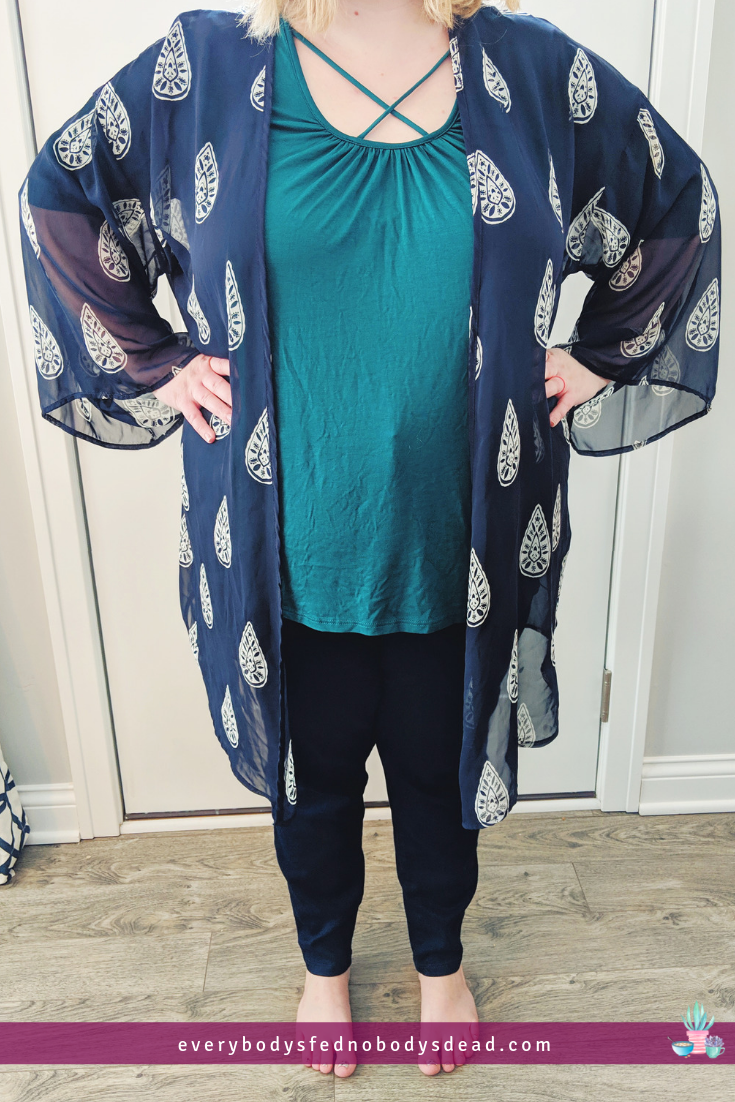 I wasn't sure of my jean size when I ordered my first box, so I put 20 on the questionnaire. When I realized I was actually an 18, I changed the info online. Dia&Co's website said that my box hadn't shipped yet, but apparently it has already been styled and built, so they sent me the wrong size.
Dia&Co needs a tracker like Domino's Pizza.
You know what I mean, right? That awesome tracker that says "Donnie is putting toppings on your pizza," and "Donnie is putting your pizza in the oven." I wanna know when my stuff is almost done baking! Er, being boxed up, I mean…
Anyway, the jeans don't fit because they're too big. But so far I'm impressed with all of the Meri Skye jeans I've gotten to try. They're affordable, stretchy, and SO soft.
I specified multiple times that I like structured shirts. I carry my weight in my stomach and like things to flow away from that area. Instead, they sent me a second cotton top that shows the outline of my jeans. It's also too low-cut on my short frame. But it's a cute color and a good price.
The kimono is the only item I considered keeping, because it's cute and affordable, especially with my $20 credit. But I've been trying to do a better job of only buying things I love, and this just didn't make the cut.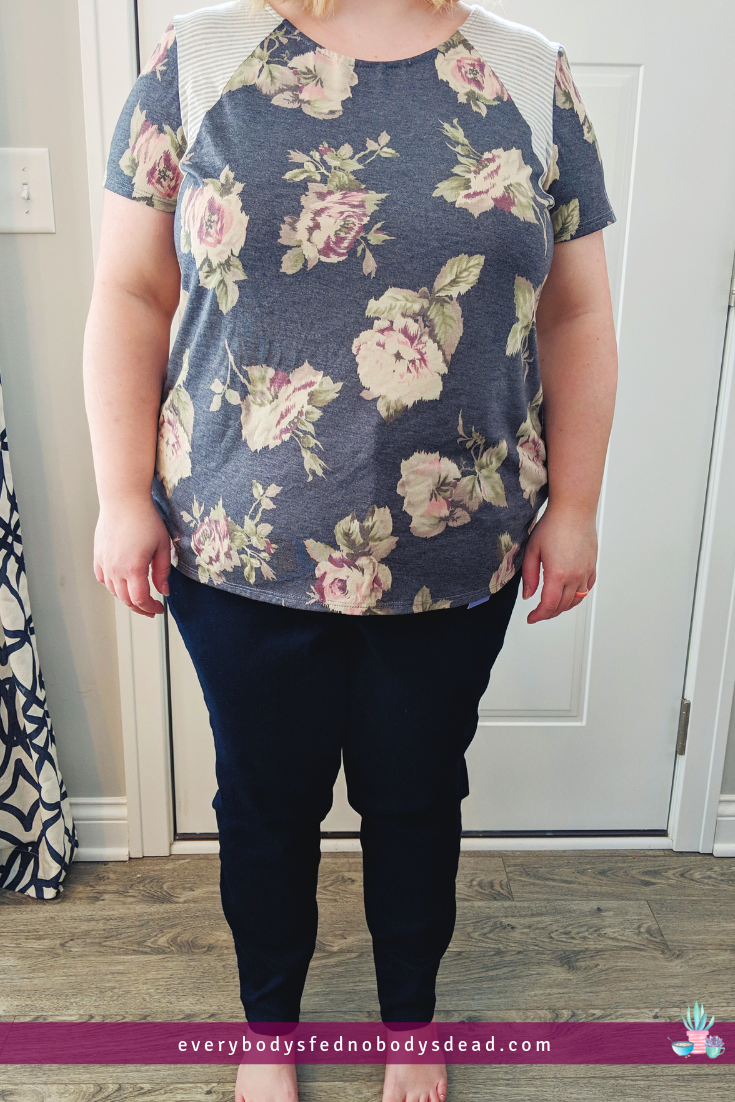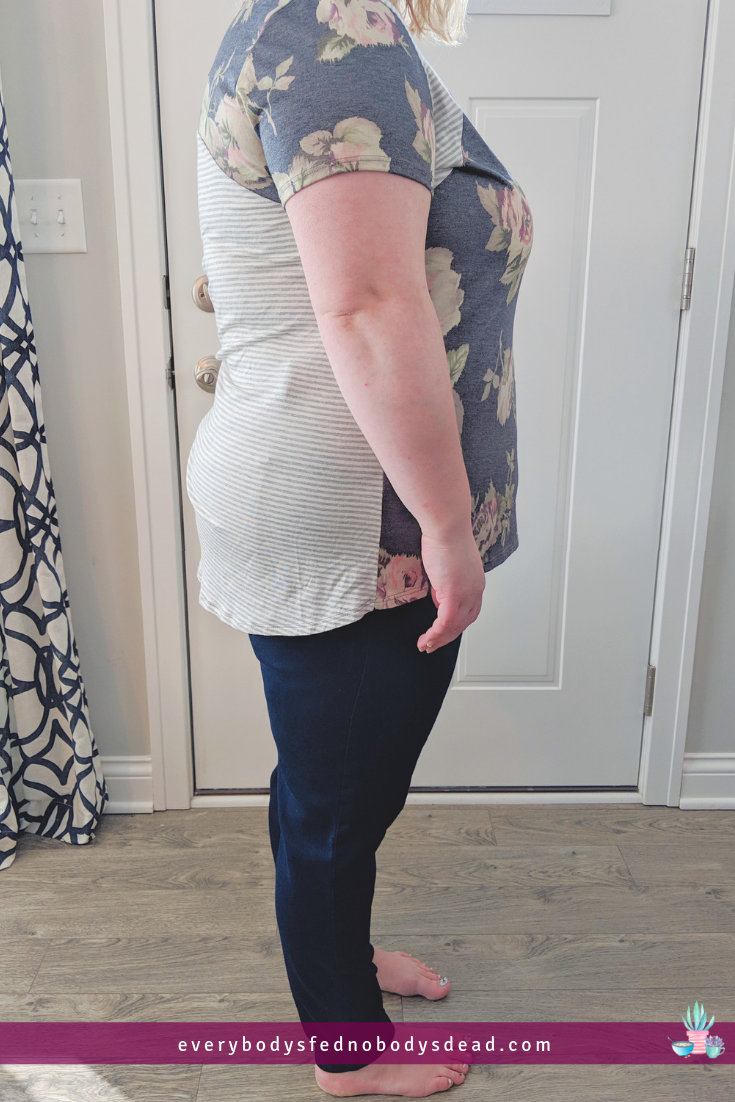 The only good thing I can say about this top is that it fits and covers my butt. I know the current trend is mixed patterns on shirts, but this is all wrong. Neither of these fabrics is that pretty, to begin with, but then they picked the strangest place on the shirt to change material. This shirt was a huge no.
This box was disappointing.
I expected my second box to exceed my first, but it felt like a major step backward. I feel like they didn't listen to my critiques from the first box, and they sent me a lot of items I felt weren't even cute, let alone flattering.
So I emailed customer service.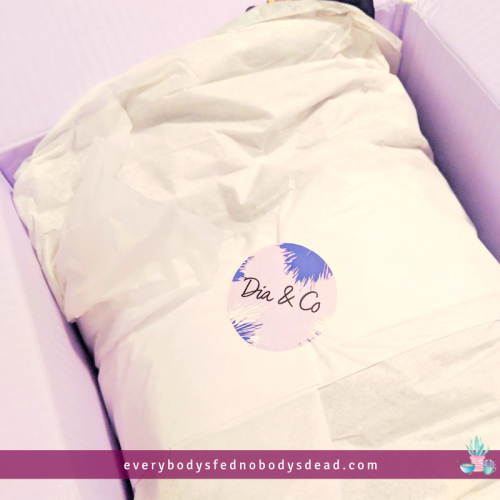 I sent a lengthy email to Dia&Co, explaining my frustration at the lack of quality in my second box. I expressed frustration that I hadn't purchased anything from two boxes, and that I had put a lot of effort into filling out the questionnaire and giving them as much feedback as possible.
A nice woman named Amanda emailed me back very quickly. Her concern and desire to remedy the situation impressed me, and I felt heard and validated. Then she refunded my $20 styling credit in the hopes that I would order another box. After I thanked her and expressed my appreciation at their desire to make plus size shopping easier, she responded back that she appreciated my feedback and that Dia&Co works very hard to "serve an underserved community."
Y'all, that some good customer service. I'm happy to do business with companies who want to make their customers happy.
Final Thoughts:
It's definitely not fun to order two boxes without finding a piece to love. But I can admit to being a tough shopper who has very specific tastes, and it's hard enough for me to find jeans that fit in a store, let alone online. Overall, I'm impressed with their customer service, and they did a great job flipping a negative experience for me.
Should you try it?
Maybe!
It's important to remember that, if you don't keep anything they send you, you forfeit the $20 styling fee. The $20 you pay upfront can only be used towards items you keep from that box. Your credit doesn't roll over to your next box.
You should also take great care when filling out the questionnaire to give them as much information as possible. You can even give them the link to your Pinterest profile so that they can get an idea of your style, and you can upload pictures directly to the Dia&Co website.
Subscription boxes are always a gamble of sorts, but Dia&Co is upfront about how it works, and they will do their best to help you find clothing you love.
Interested in ordering your own box? Click the banner below to get started.
If you have another plus-sized company you want me to check out, I'd love to hear about it. Be sure to check out my review of my favorite Dia&Co offering, The Plus-Sized Mama: Dia&Co Activewear Box .
Posts You Might Like: