We are a participant in the Amazon Services LLC Associates Program, an affiliate advertising program designed to provide a means for sites to earn fees by linking to Amazon.com.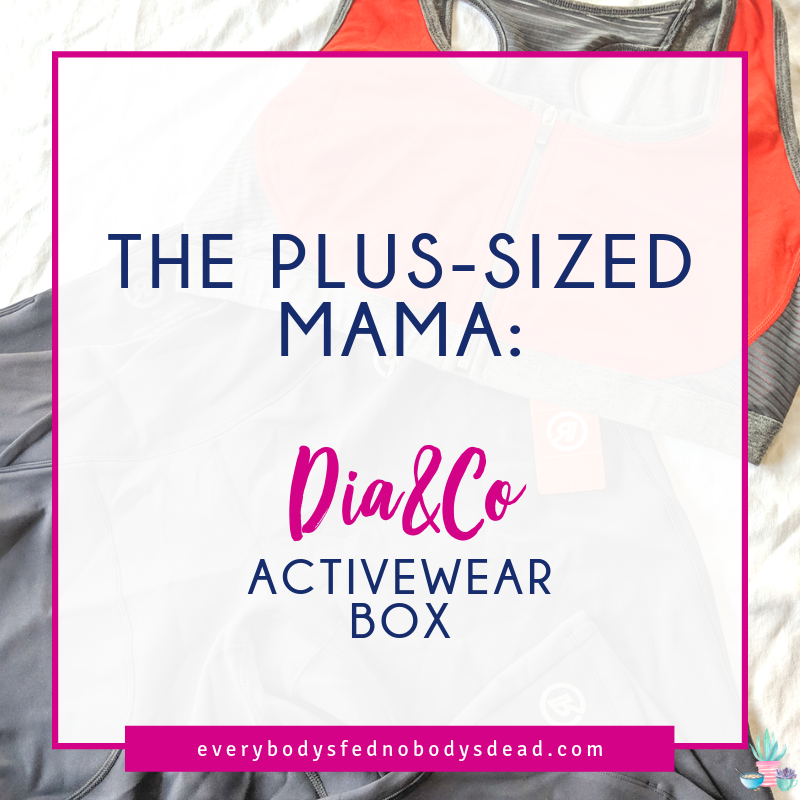 I'm a plus-sized mama who occasionally works out.
I love my body and I'm not ashamed of it, but finding clothes that fit and help me feel beautiful is a challenge. Lately, I've been on the hunt for affordable, cute clothing, so I turned to Dia&Co, a company that specialized in plus-sized clothing.
I've ordered a few boxes from them and have had mixed results, but I wanted to try out their activewear box and see if I had better luck.
Spoiler alert: I totally did!
As hard as it can be to find cute plus-sized clothing, finding work out items is even harder. Locally I haven't found any good sports bras. I occasionally have luck with pants or tops at Old Navy, but it's rare. With Dia&Co, I have access to brands I've never heard of before, and the quality has really impressed me.
Here's a refresher on how Dia&Co Works:
You fill out a style quiz and let them know your sizing, preferred colors and styles, and budget.
A stylist personally fills your box with 5 items for you to try on at home for 5 days.
You pay a $20 styling fee that can be applied to anything you keep from your box, and then you send back what you don't want.
It's pretty simple, and they do a good job of letting you know how everything works up front. It's also not a subscription that you have to do every single month – you can choose to only order one box or to have your boxes sent every week weeks, every month, or every other month.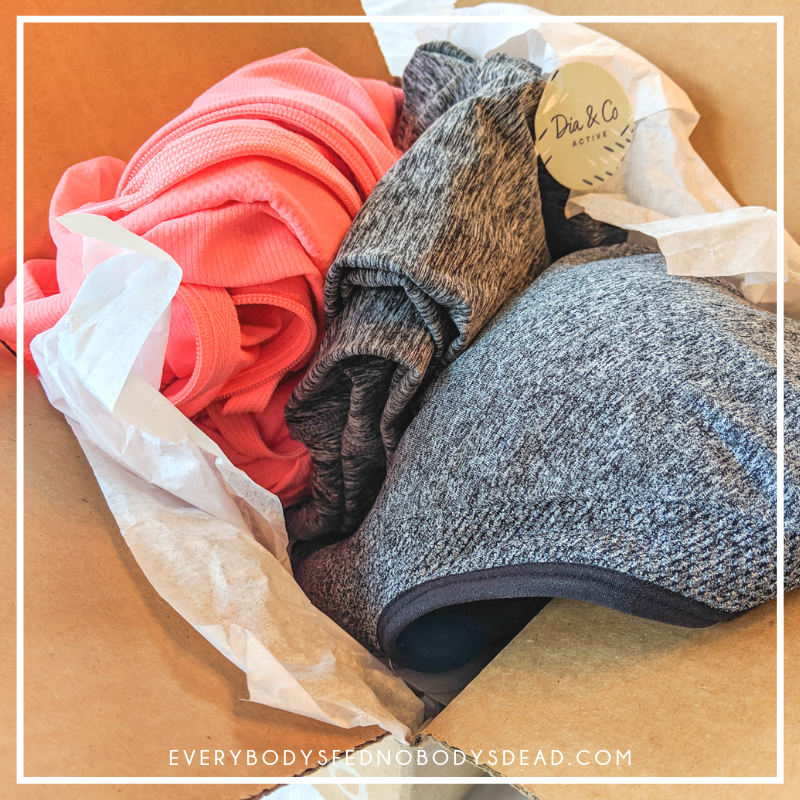 What came in my box:
All Dia&Co boxes come with a return envelope, a style sheet, and a personal note from your stylist.


At first glance, I was immediately excited about all of the colors and textures of the items I pulled out of the box.
When I checked out my style sheet, I was a little shocked at a few of the prices. The pants were definitely outside my budget. But the bras were both within my price point, and I liked that she sent me two.
The clothes:

NOLA Atlas Hooded Jacket in Coral $54.00
Nanette Lepore Play Vienne Sports Bra $45.00
Beyond Yoga Canal High Wasted Capri Tights $75.00

Rainbeau Curves Sainte-Croix Sports Bra $34.95
Rsport Cooper Capri Tights $84.00
Trying it all on:


Guys. I love this outfit so much.
Side note: this was the first time I've ever walked out of my house with part of my stomach showing, and I was pretty proud of myself! Rockin' that body positivity!
DO YOU SEE HOW IT MATCHES MY SHOES?!? I don't think they could have picked an outfit more suited to me. It's so stinking cute.
I kept the jacket because it's fantastic. Not only is it cute, but it's actually functional and comfy, and even with my shorter frame, the thumb holes in the sleeves are still usable. It's lightweight enough to wear while running, it's got a hood, and it's a great length on me. Total win.
The bra was soft and comfy, and I really tried to make it work, but the band underneath kept rolling and it just didn't give me enough support.
I was nervous about trying on the crops because they're a 1X (I'm a solid 2X), especially since I carry my weight in my stomach. But they fit like a glove and are hands-down the most comfortable workout pants I've ever worn. I'm impressed that my stylist knew to send me a size smaller than what I requested. A 2X would have been too big, and the smaller size helped keep the pants from shifting. The high waist hit me at the perfect spot, and the length wasn't too long.
I agonized over sending these back, and I'm still a little bummed that I didn't keep them, but they were out of my budget, and I just couldn't justify the price.

I loved the price on this budget bra, but it gave me major uni-boob. Not cute.
The band underneath had more support than the first bra, which was nice, but it was too tight and uncomfortable.
The black crops were fine and fit well, and I liked the cool waistband and the huge side pocket for my phone. But being even further out of my budget than the gray pants, these went in the return envelope pretty quickly.
Though not perfect, this box was definitely tailored to me.
I loved pulling out items that I was excited to try on! My stylist heard me when I said what colors and styles I preferred, and that made it easier to accept the negatives.
It would have been nice to keep more than one item, but finding a jacket I love was worth it. And my $20 style credit made it an excellent deal.
I rarely have luck finding sports bras. Even though I returned both, I'm glad I got to try some new brands.
My biggest disappointment was the price points on the pants. Both pairs were high quality, but I couldn't justify spending more than twice what I would for a decent pair of crops at Old Navy.
I'm very budget-conscious, and this has been a recurring issue I've had with Dia&Co. Even though I specify a price point, they often send me items over my budget.
Should you try it?
Yes!
Though I've enjoyed trying the regular Dia&Co clothing boxes, I haven't had a lot of luck with them. Maybe my style is too specific or I'm too hard to fit, but I've returned many boxes disappointed. I can only recommend trying a regular Dia&Co style box if you're okay giving up the $20 styling fee if you don't keep anything.
HOWEVER. Your chance of finding something you like or love in the activewear box is much higher.
Though this is only my first activewear review, I've personally ordered three activewear boxes from Dia&Co. I've consistently seen high-quality items and beautiful pieces, and I've even gotten to try an underwire sports bra, all from brands I've never had local access to.
If you're a plus-sized mama who likes to workout, you need to try the Dia&Co activewear box. Motherhood is hard enough, so don't waste time you could be spending on better things trying to find clothes that fit.
Click the image below to get started!
If you have another plus-sized company you want me to check out, I'd love to hear about it. Make sure you subscribe below so you never miss a post.
Posts You Might Like: