We are a participant in the Amazon Services LLC Associates Program, an affiliate advertising program designed to provide a means for sites to earn fees by linking to Amazon.com.

This mama hates shopping for plus size

clothing.
You can read more about what it's like to shop when you don't fit into anything here, but for this article, let's stick with one aspect of plus size clothing that sucks: it's hard to find.
I live near a huge outlet mall. It's a tourist hot spot that's always busy. There are at least 100+ stores there, but I can only fit into clothing in about four of them. And of those four stores, it's rare for me to find clothing I actually like.
And then there's Target. My frustration at the Target plus size selection has gotten out of hand, so I'll refrain from saying much, except that Target needs to fire whoever designs their plus-sized clothing. Why do they think I want to look like a trashbag?!?
My frustration and lack of access to cute, affordable clothing led me to widen my search in hopes of finding clothes that I actually love. My daughter doesn't get to be the only well-dressed woman in my house – mama want to look good, too!
Enter Dia&Co: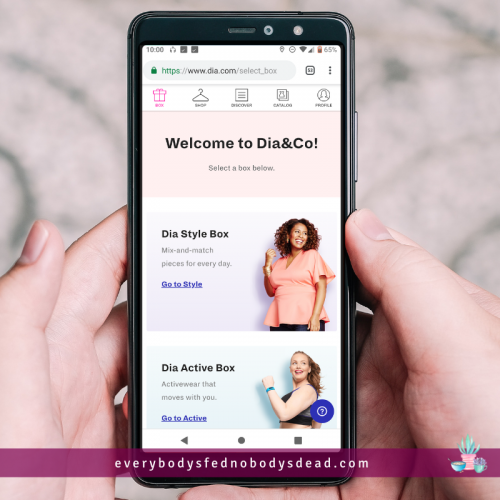 Dia&Co is a clothing company that's been around since 2014, thanks to Nadia Boujarwah. A plus size girl herself, she was fed up with trying to find cute clothing she loved, so she created a company catering to sizes 14 and up.
I'd never heard of this company until I started seeing ads on Instagram, and I was quickly attracted to the images of girls that looked like me in beautiful clothes.
Dia&Co is a clothing box that is tailored to your style and size. You fill out a questionnaire and answer questions about the colors you like, your budget, and the items you'd like to receive. Then a stylist will handpick five pieces of clothing for you to try on at home. They recently added an activewear clothing box (you can read my review HERE), and they even have an option that lets you be the stylist.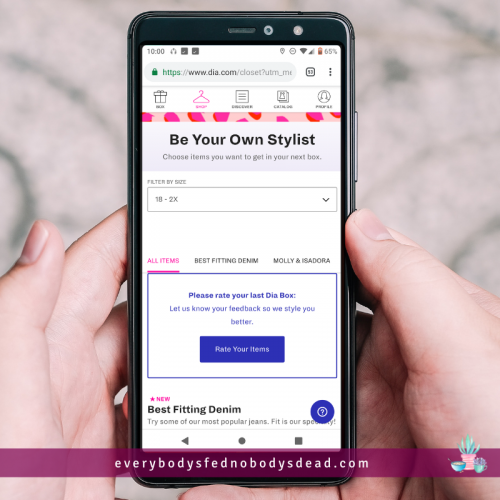 Each box costs $20, and that amount is applied to anything you decide to purchase. If you purchase everything in your box, you receive a 25% discount off of your total. Shipping is free both ways, and you have five days to decide what you want to keep.
My first Dia&Co box: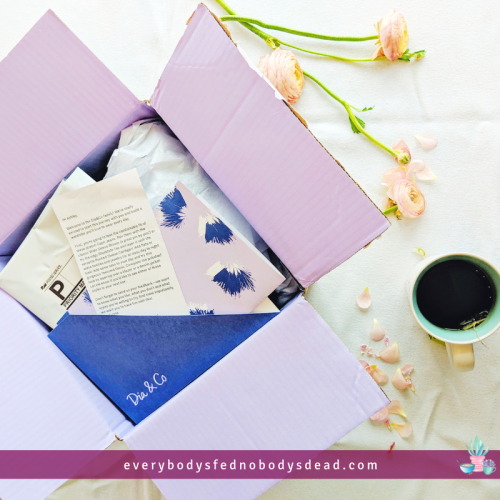 The first thing I noticed when I opened the box was the personalized letter from my stylist. The note explained why the stylist has chosen each piece for me, and even gave me styling tips, which I found helpful.
In the top of the box was also a giant return envelope with postage paid, and my invoice with each item listed out, as well as pricing.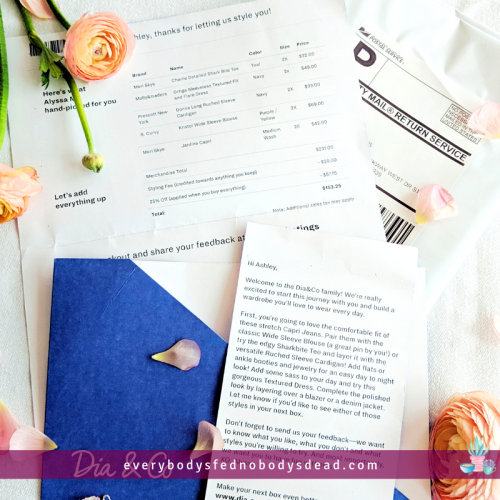 What came in my box: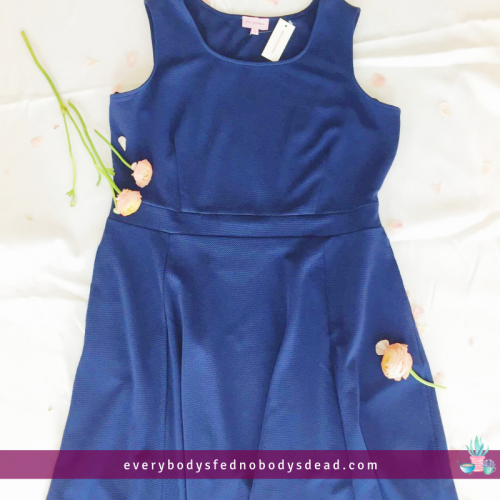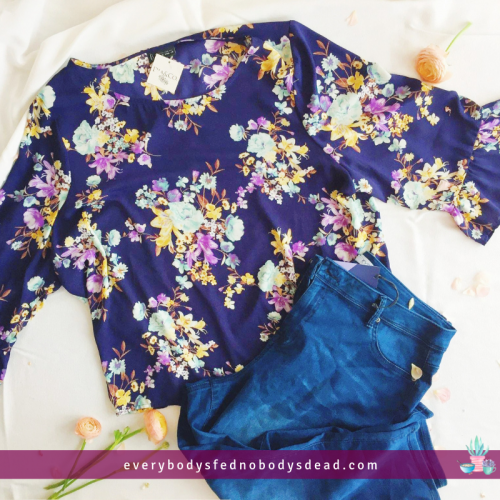 Meri Skye Jardine Capri $42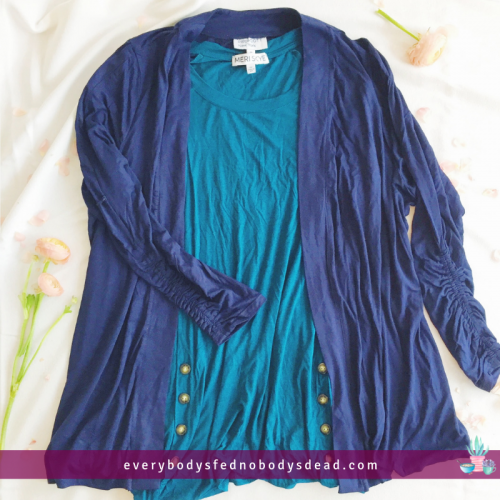 Trying it all on: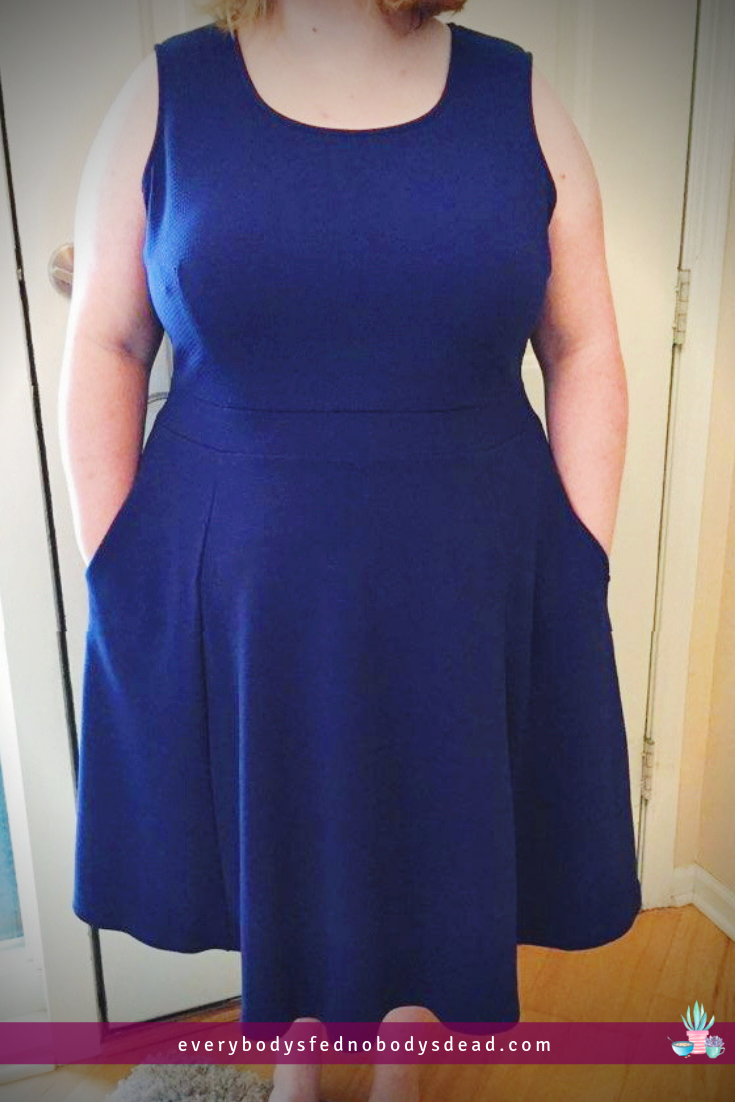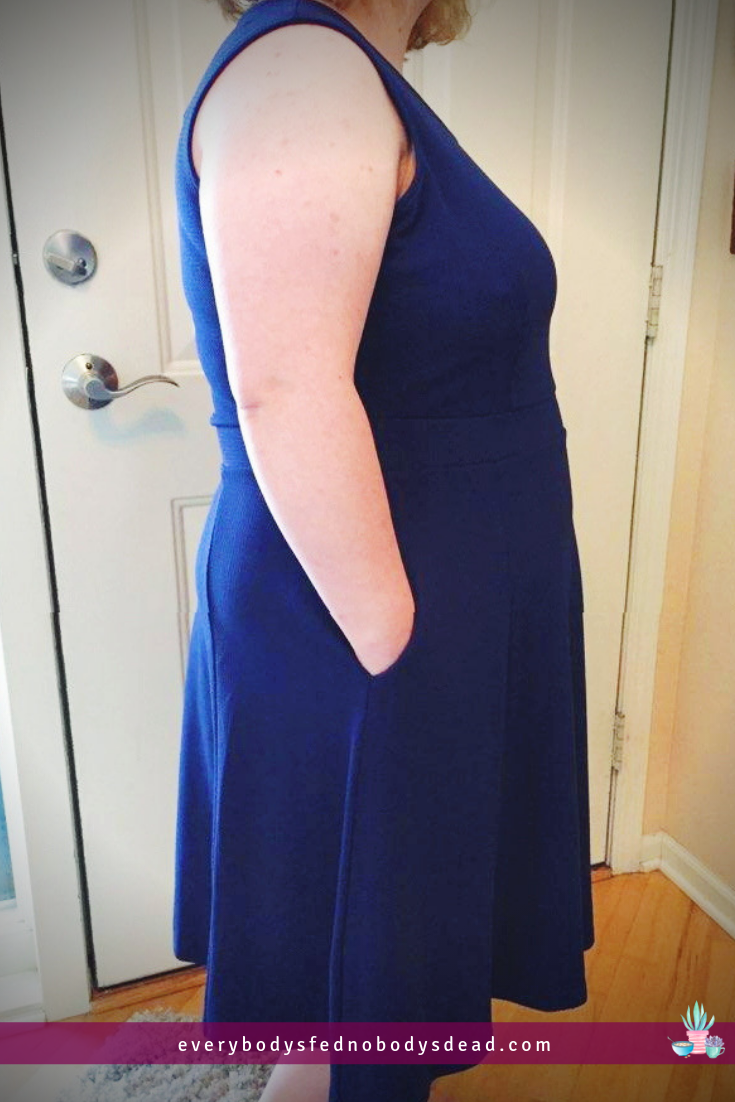 This 'fit and flare' dress is cute, but it doesn't fit my body. It's longer than I'd like, and where it really shows is the waistline. If that was the only issue, I could consider having it altered, but it's also too large up top, gaping at the armpits.
I love the deep blue, and the style flatters my stomach, which is where I carry the majority of my weight. The material is also stretchy and textured, making it very forgiving. But I mentioned to my stylist that I needed clothes I could chase a toddler in, and this dress is too formal for a playdate.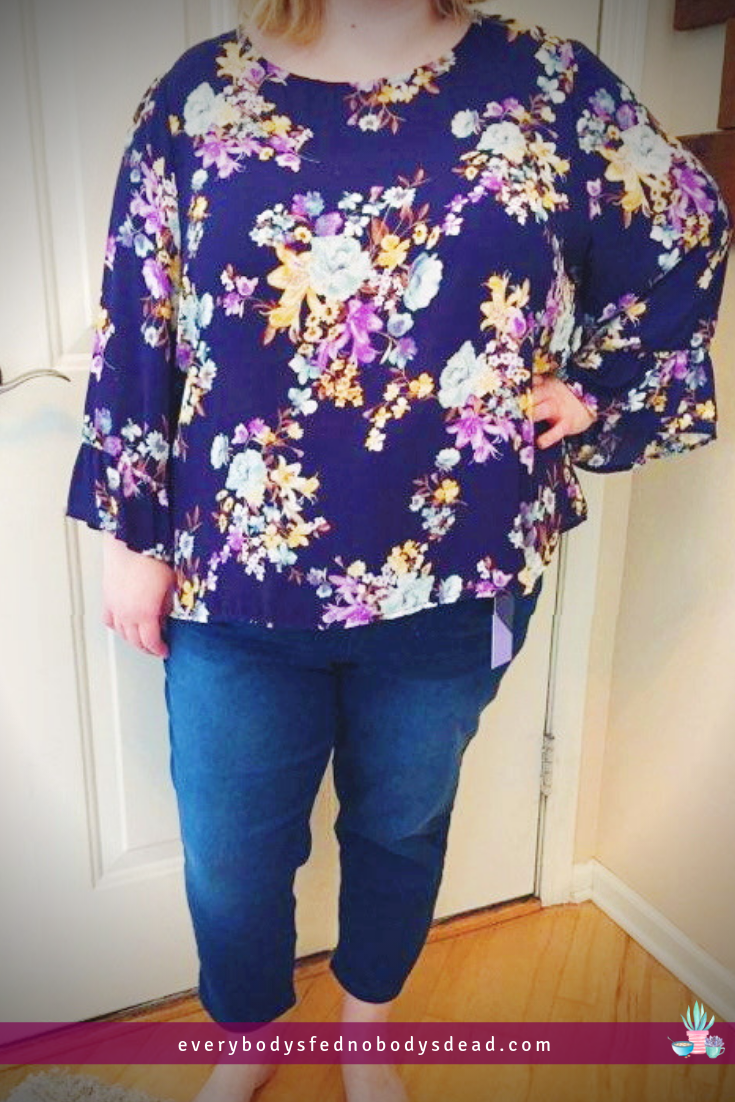 This floral top caught my eye the instant I opened the box. It looks exactly like something I'd wear, and I love the material. But the price is out of my budget, even with the $20 credit.
When I filled out my initial questionnaire for the stylists, I specified that my budget for each item was to be as low as possible. Before my first box shipped, I went through their online catalog and saved my favorite items for the stylists, hoping they would use the information to get a better sense of my style.
One of my biggest complaints with Dia&Co is that you can't see pricing for items. I understand why they do this, but this is exactly the situation that can happen: I highlighted an item I liked and they sent it to me, even though it was out of my specified budget. This means one of the five items in my box was wasted on something I wouldn't purchase.
I wasn't entirely certain of my jean size, but I'm usually around an 18, or sometimes even up to a 22, depending on the brand. I listed my jean size as a 20 when I filled out the questionnaire, just to be on the safe side. These jeans are huge on me, and I didn't even need to unzip them to get them on. But I decided to exchange them for a smaller size since they're so soft and stretchy.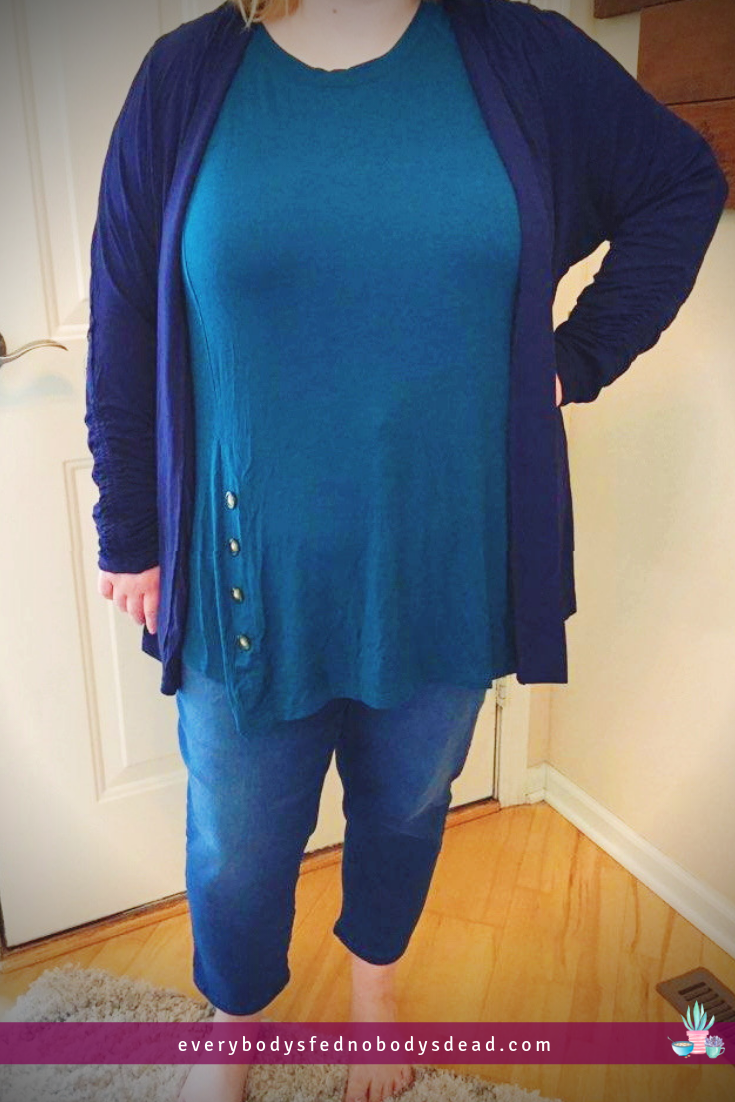 I love that everything in my first box was blue because that's my primary wardrobe color. And I like that my stylist sent me pieces that compliment each other, like this top and cardigan.
This teal shark bite top is okay, but not amazing, and it's a thinner material than I prefer to wear. Since I don't wear camis under my shirts, you can see the outline of my jeans and stomach on this top. The buttons down both sides are a fun accent, and the hemline is cute.
Both the top and the cardigan are budget items that could be good closet staples.
The only item I considered keeping was the cardigan. The material is thin, but not see-through, so it's light-weight enough for warmer weather. I absolutely adore the ruched sleeves, and this is the only cardigan I've ever tried on that wasn't too long on my arms. But the sleeves are a bit baggy, and while I know many woman love cardigans, I don't wear them. I have very small shoulders, and cardigans always look too droopy and frumpy on me.
So even though the cardigan fits, it doesn't do me any favors, as my mother-in-law would say (easily one of my favorite deciding factors when considering a clothing purchase).
Also, when I put the cardigan in the return envelope, I noticed a few snags and loose threads. I'm glad that I didn't pay full price to keep a damaged item.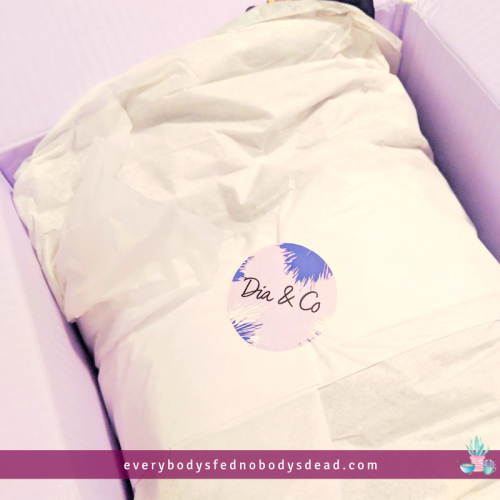 Final Thoughts:
While I'm bummed that I didn't fall in love with anything, I appreciate the effort my stylist put into my first Dia&Co box. It was definitely curated to me and tastes, and for the most part, the clothes were within my budget and good quality.
I do wish they hadn't sent an item so far out of my price range, and they need to add a spot in the questionnaire to list personal measurements. I'm a 2X, but since every brand is different, having my measurements would allow the stylists to find clothing better suited to my size, regardless of the number on the tag.
I mailed back all five items, and then logged into my account to update my info. After rating each item (a great feature), I also rated my entire box overall, giving it a three out of five stars. Then a spot on my profile allowed me to upload images of me in the outfits so that the community could see them, as well as my stylist. This is another great feature that can help your stylist better understand your clothing needs.
I also left some comments for my stylist, including that I loved the jeans, but I was definitely a size 18 and would need a size exchange. I also mentioned that the dress was too big, the top too thin, and that I would appreciate them sticking to my suggested budget.
A few days later I ordered a second box, and my exchanged jeans in size 18 arrived separately. Sadly, they just didn't work with my shape, and I sent them back.
Should you

try

it?
Absolutely!*
*But, only if you're okay knowing that, if you don't purchase any items, you forfeit your $20 styling fee. The $20 you pay upfront can only be used towards items you keep from that box. Your credit doesn't roll over to your next box.
Overall, I was impressed with Dia&Co, and I appreciated the customizability. I discovered brands I've never heard of and don't have local access to. I will also say that my experience with their customer service has been top notch, but you'll hear quite a bit more about that in my next Dia&Co post…
If you enjoyed this review, let me know below! And if you have another plus-sized company you want me to check out, I'd love to hear about it. 
Posts You Might Like: