We are a participant in the Amazon Services LLC Associates Program, an affiliate advertising program designed to provide a means for sites to earn fees by linking to Amazon.com.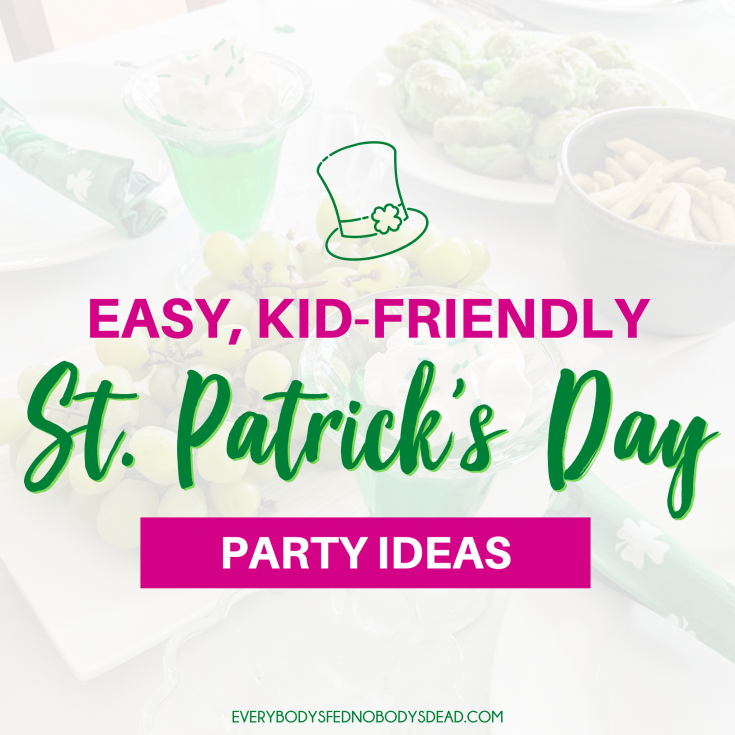 If you're a long-time reader of the blog, you might be thinking Uh, Ashley hates throwing elaborate parties, and she's all about doing bare minimum parenting – why is she trying to get us to throw a St. Patrick's Day party?
And if you're thinking that, then yes, you would (normally) be correct!
Though I love holidays, I don't think moms should feel pressured to decorate and throw huge parties for every single holiday. I'm not a fan of the Elf on the Shelf, I have no desire to dye Easter eggs, and I don't have the time or energy to help my kid make a leprechaun trap.
If you really enjoy doing these things, I think that's awesome, and I applaud your creativity. But for me, being a mom is hard enough without adding tons of traditions and crafts and games on top of it. And if you're doing anything because you feel like you're supposed to, stop it. Your kids will still grow up feeling loved even if they don't get to make a themed craft for every holiday, and your mental health is so much more important.
So why do I throw a yearly St. Patrick's Day party?
Actually, I don't – my in-laws do!
What started out as a tradition to gift green items to grandkids has morphed into a yearly brunch that looks like it was thrown-up on by a leprechaun. And I mean that in the best way possible.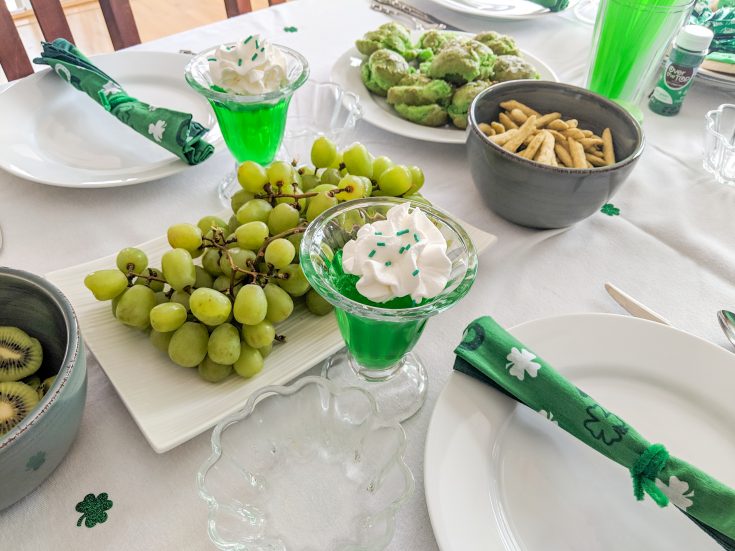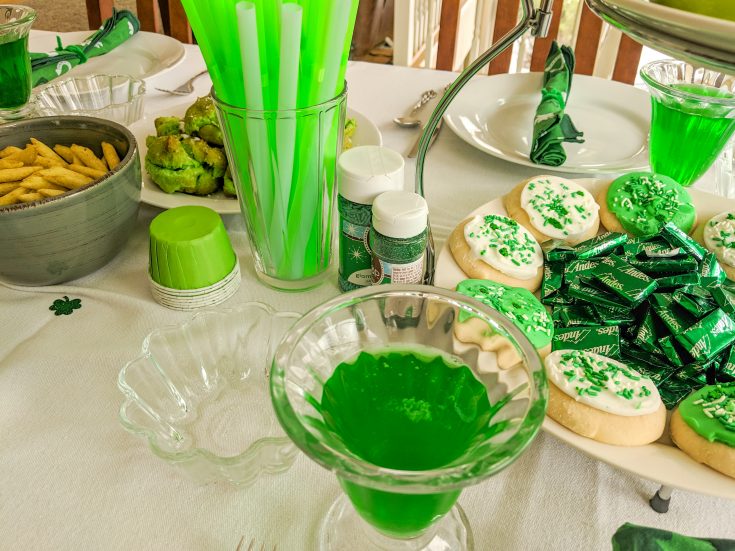 What I love most about this fun tradition, aside from the very minimal work required from me, is that the grandkids get to look forward to this party every year, and it's a great memory and tradition to share with their grandparents.
If you're blessed enough to live near in-laws, share this blog post with them, and maybe they can start a fun tradition with your kids! And if you want to throw an easy green-themed brunch, here are a few ideas for a fun St. Patrick's Day party:
Green Food (Because Duh!)
It's not really a party (or brunch) without food, right?
A quick search on Pinterest will bring up tons of ideas for green foods, and you can certainly get creative if you want!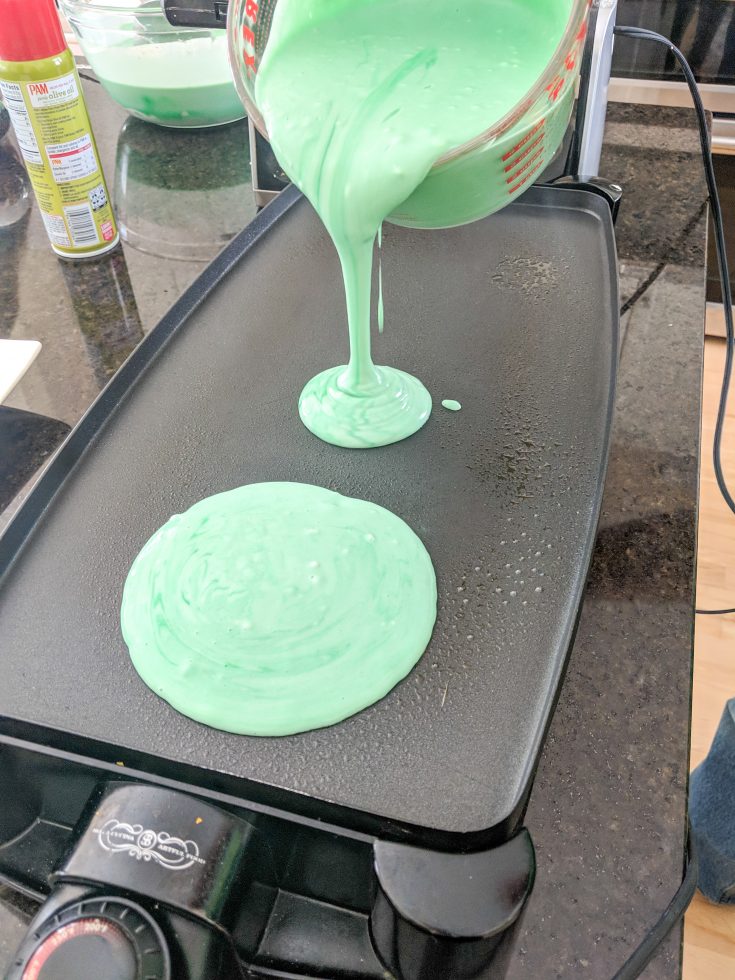 Keep it simple by sticking with green pancakes or waffles, and add in a few green sides. There are plenty of green fruits and veggies, so this is the perfect time to put out foods your kids might not normally love – encourage them to try everything and vote on which foods taste the most "green."
Green jello with whipped cream in a fancy glass is a fun treat for kids of all ages, and your local grocery store bakery should have green-frosted cookies and doughnuts.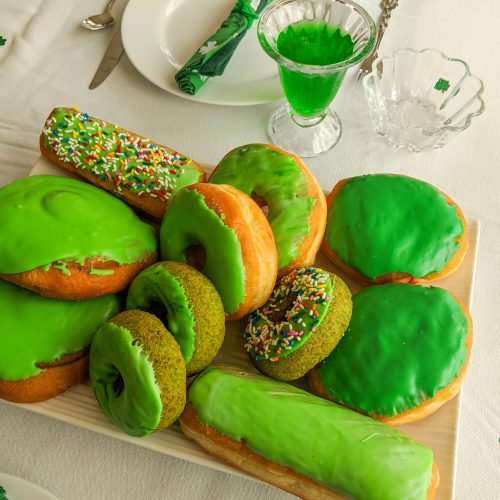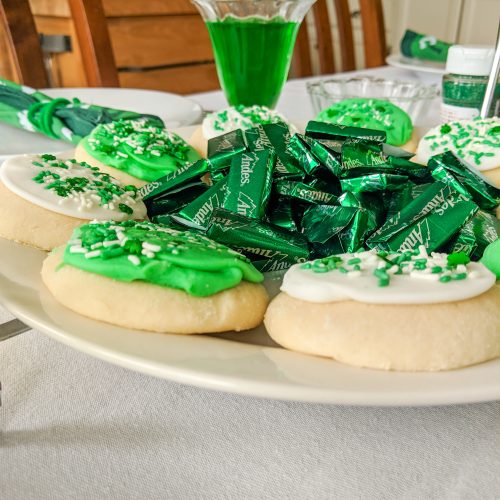 Need even more St. Patrick's Day food ideas? Check out these awesome recipes:
Green Decor
As you can see, we really keep the decor to a minimum. Having a white table cloth makes anything green really pop, so having lots of green foods and some cheap Dollar Tree green decorations is really all you need.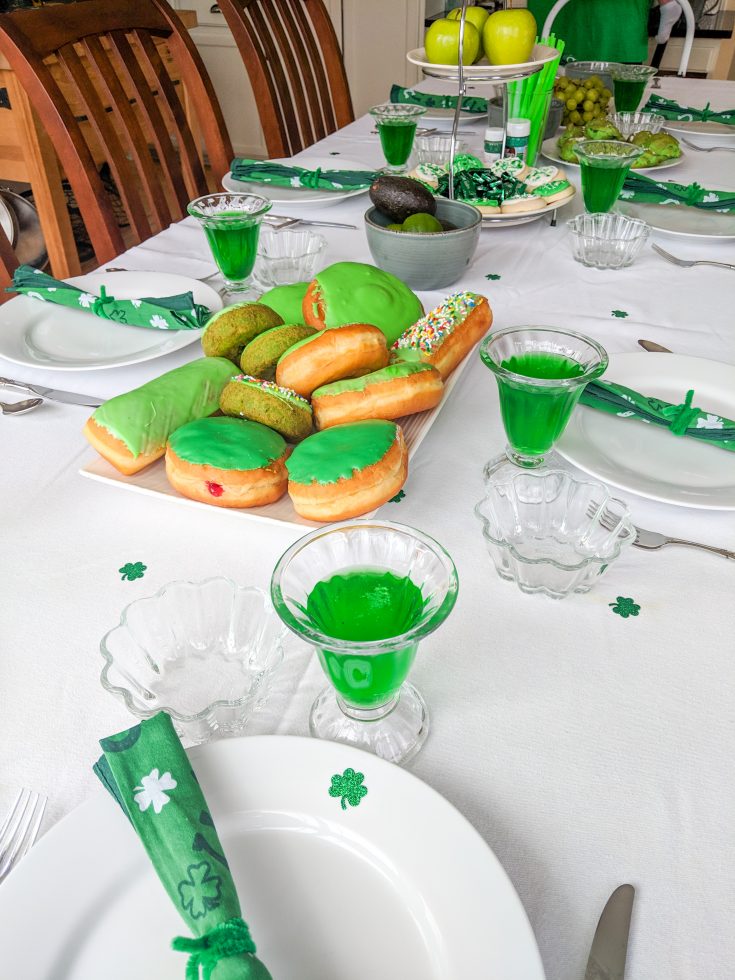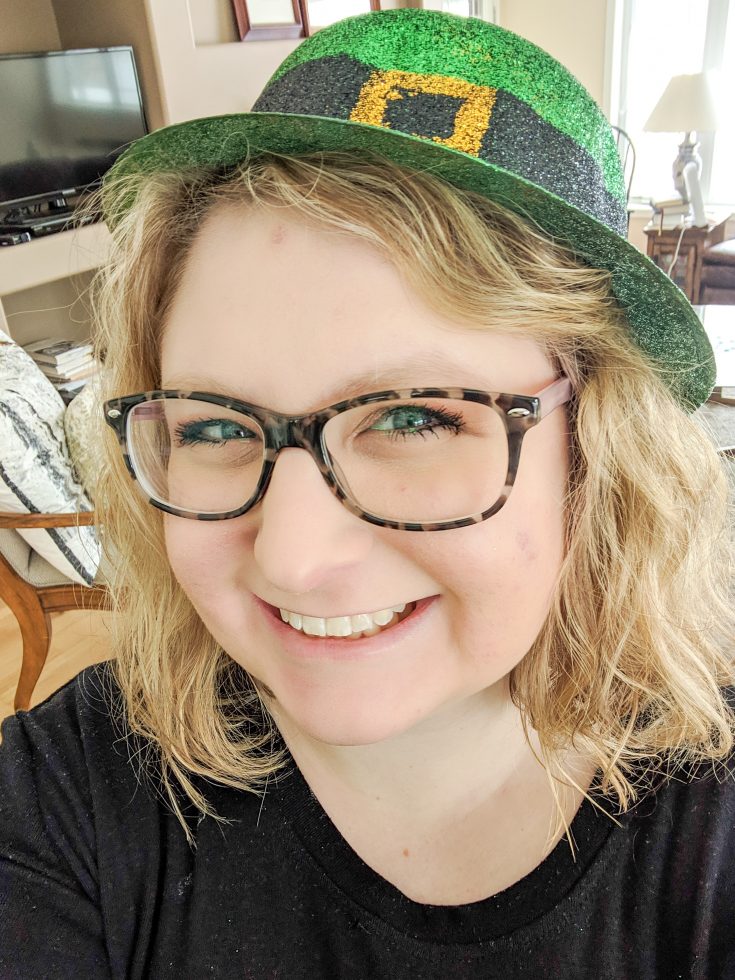 It's also fun to give everyone some silly green hats, easily found at Dollar Tree or Target.
Easy Activities
Print off a St. Patrick's Day-themed word scramble, poem, "I Spy" sheet, or coloring page and give the kids some crayons and green stickers.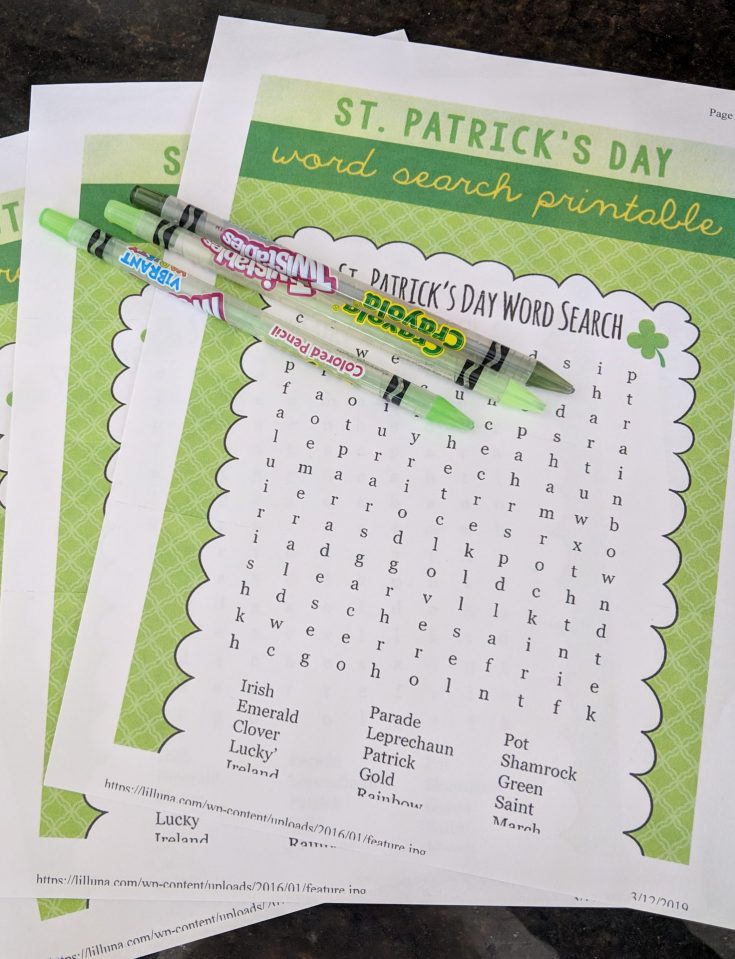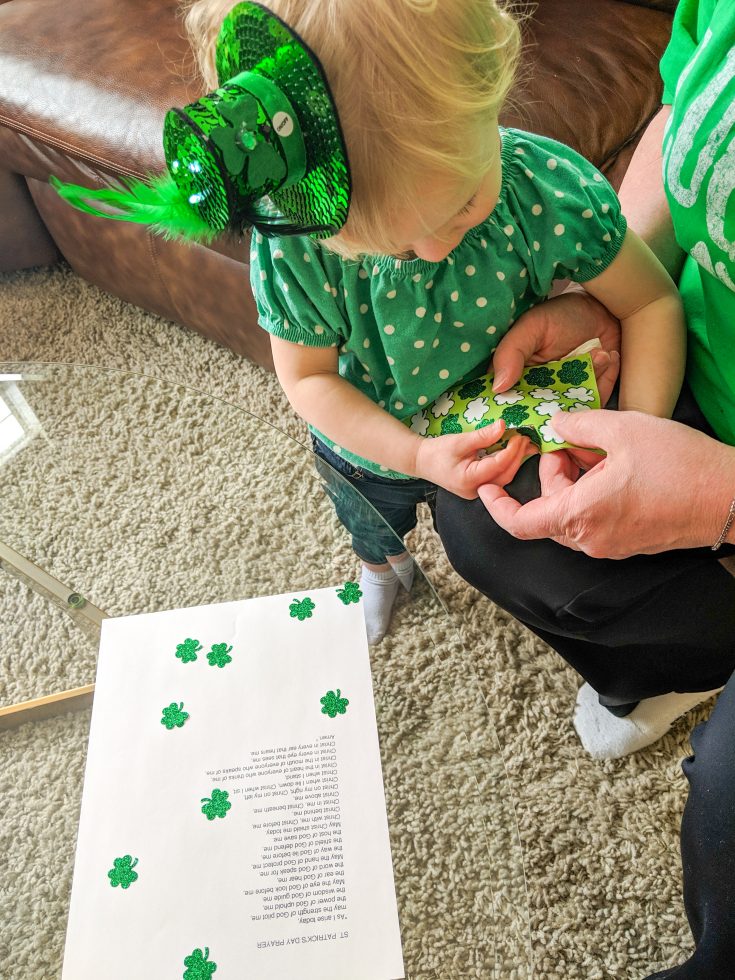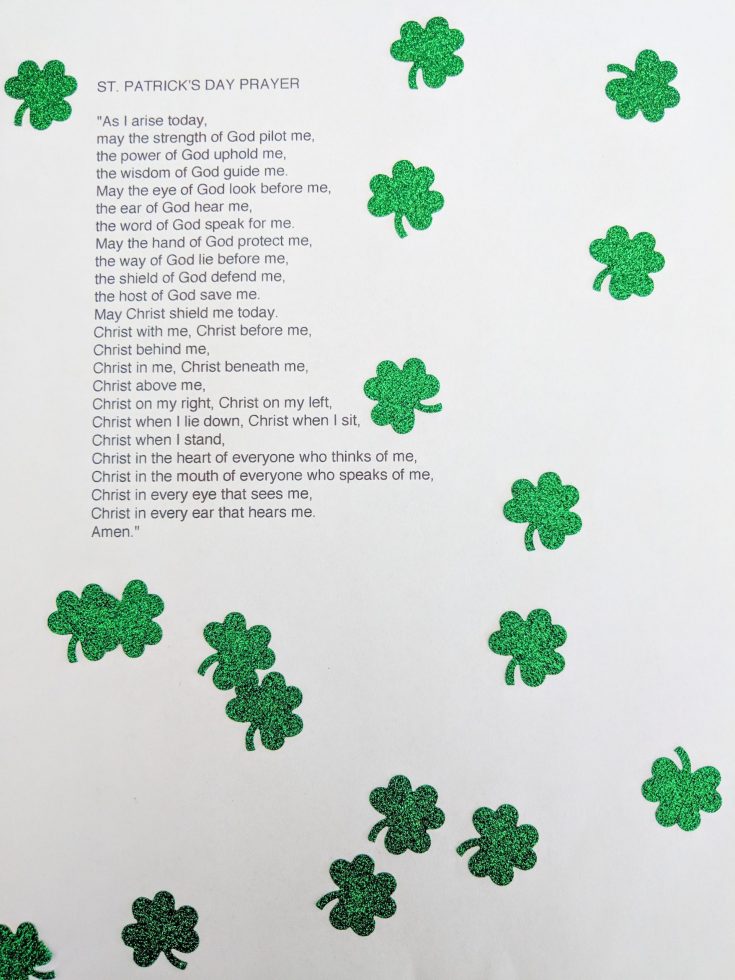 Seriously, don't overthink it. I even made a free scavenger hunt you can download! Print a few copies, hand them off to the kids, and enjoy approximately 2.5 minutes of alone time while they tear through the house.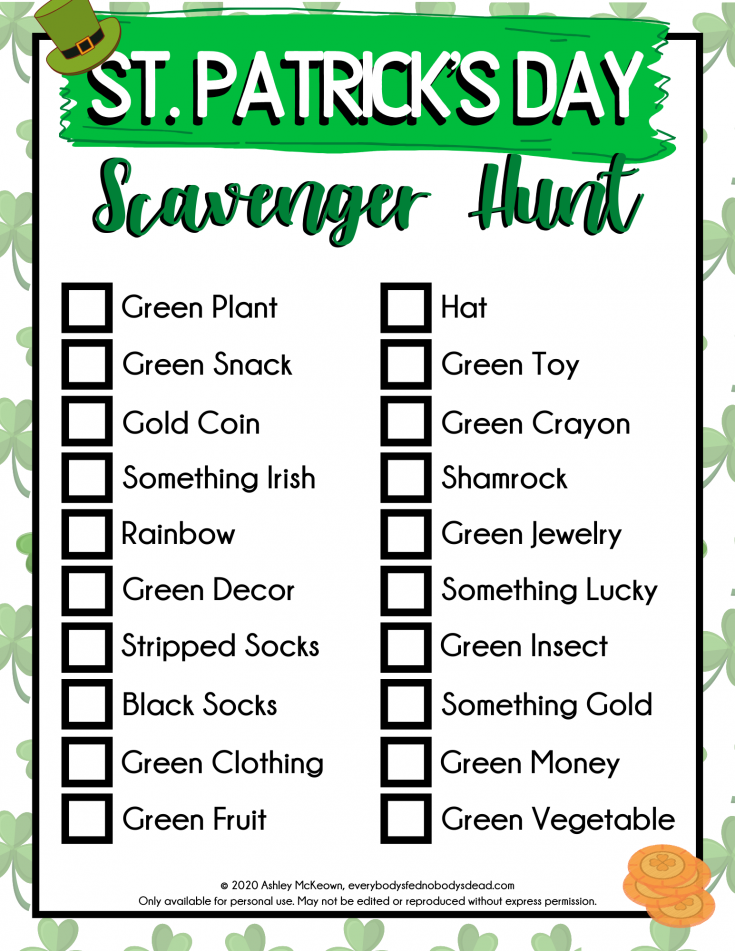 Feeling extra crafty? Here are some fun St. Patrick's Day crafts your kids will enjoy!
Green Gifts
Though definitely optional, it's fun to hunt for green items! My in-laws spend the entire year looking for green gifts for the grandkids when they're out shopping or on vacations, and it's always cool to see what they come up with.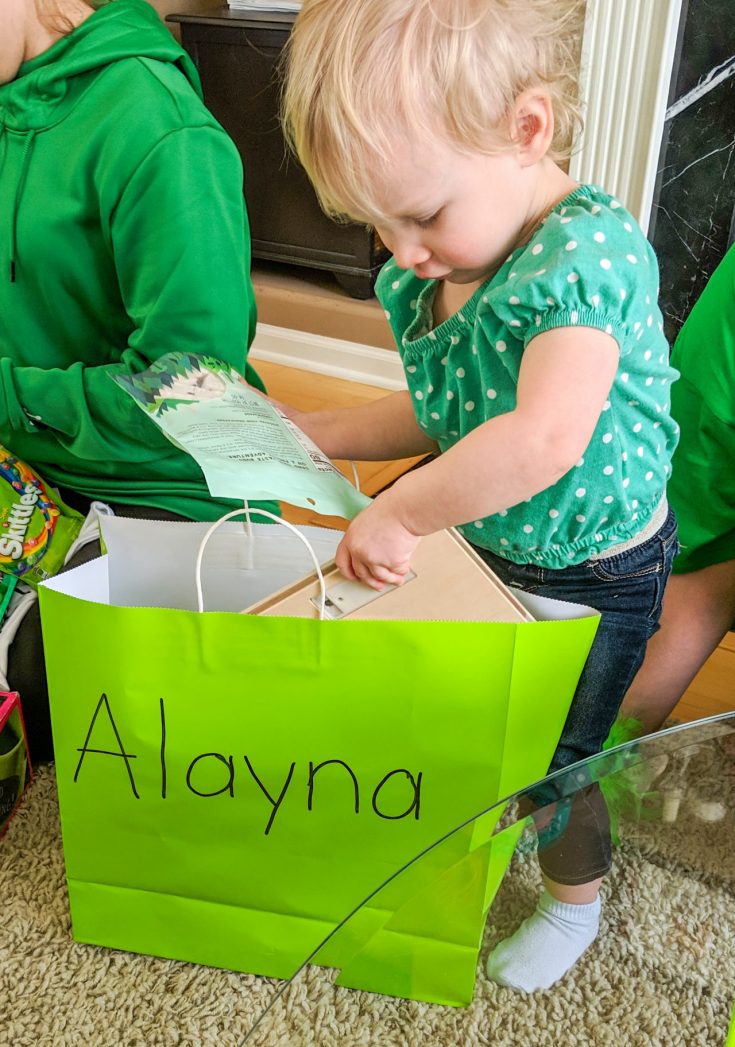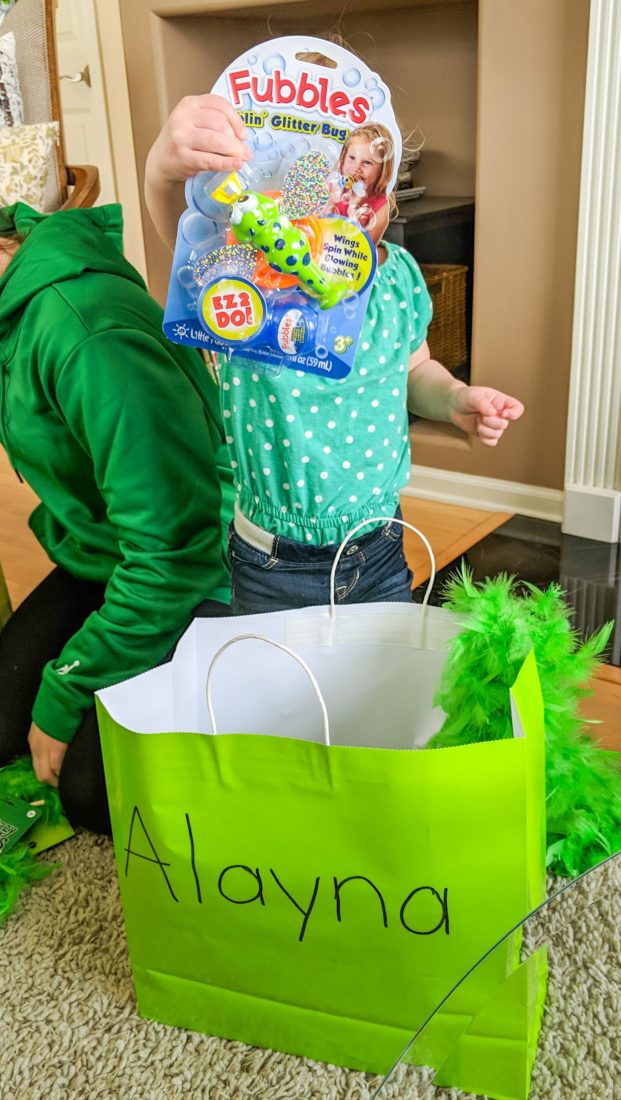 It's also a fun way to keep the memory alive – every time my toddler uses her green water bottle or plays with her green bubble wand, I can remind her that it was a special "Green Day" present from her grandparents.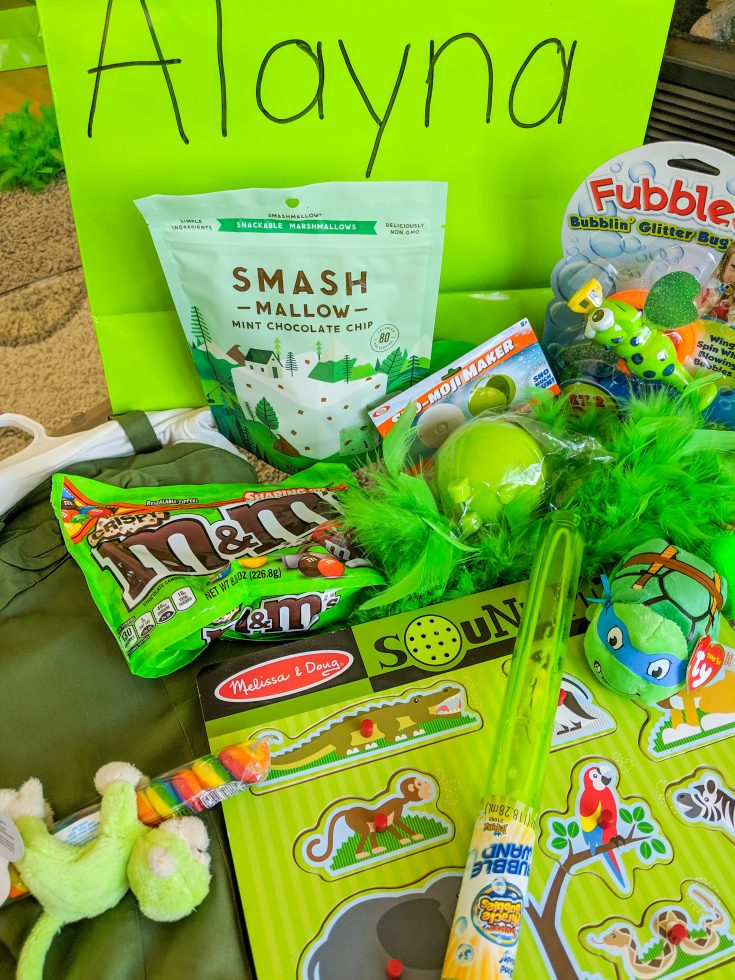 You could do one green gift or a small bag with green goodies, but no matter what, green gifts are a fun treat to receive a few months after the Christmas magic has worn off. It's also a good time to grab them anything they might be needing: green toothpaste, green underwear, green sunglasses, green snacks, etc.
It's okay to party sometimes!
Mama, you don't have to celebrate every holiday. You're not required to plan major crafts or slave over Pinterest-worthy desserts if you don't want to!
If my in-laws didn't throw a St. Patrick's Day party, I probably wouldn't do anything more than wear a green shirt on St. Patrick's Day – I ain't about to get pinched, y'all.
But because I married into an Irish last name and my in-laws do all the work, we celebrate St. Patrick's Day every year, and I love it.
So if you're feeling it, start your own tradition, and make it as big and elaborate as you want. Or simply surprise your kids with some green pancakes – I promise, they'll still feel loved either way.
Happy St. Patrick's Day, Mama!
How do you celebrate St. Patrick's Day? Tell me below, and be sure to share this post with your kids' grandparents!
Posts You Might Like: