We are a participant in the Amazon Services LLC Associates Program, an affiliate advertising program designed to provide a means for sites to earn fees by linking to Amazon.com.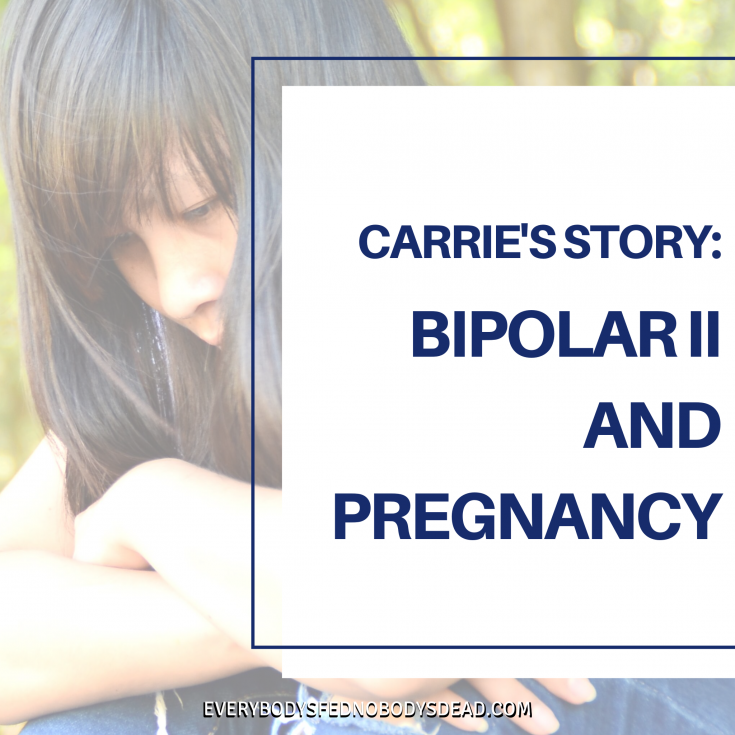 This story is a part of our Raw Motherhood series, a collection of true accounts from real moms. We hope these stories will help shed light on real issues, but we are not medical professionals and are not offering medical advice. If you are in need of immediate help or feel you could be a harm to yourself or others, please call 911.
Growing up, having kids was one of those things I never gave much thought to.
I just always knew I'd grow up, get married, and have kids. Even when I entered my twenties and I began struggling with depression, that plan never changed.
Every year my depression seemed to worsen and take longer to recover from.
I still never veered from my internal plan, even when in 2009, at age 28, I was diagnosed with bipolar depressive disorder. I was great about taking my medications, seeing my therapist, and seeking additional help when it was necessary.
In 2014, I met my now-husband, Josh, and we both knew right away that we wanted children in our future. What we didn't anticipate was the up-hill battle it would be with my bipolar diagnosis.
As soon as we decided to start a family, I began researching my medications and whether or not I could take them while pregnant. I discussed my findings with my husband and we recognized that while there would be potential risks to our baby, there were very real risks to my health if I did not take medication while I was pregnant. We decided that if my doctors (psychiatrist and ob-gyn) felt it was necessary, I would take medication.
At my next psychiatrist appointment, I announced to my psychiatrist that my husband and I wanted to try to for a baby.
I will never forget the look in her eyes.
"Seriously?" she said. When I nodded, too stunned to speak, she sighed and said, "Well, it's going to take us one year to wean you off your medication. At that point, you can begin trying to conceive."
I didn't say a word. I gathered up my things and left the office. I totally understood the safety concerns, but the thought of waiting an entire year to wean off of my medication seemed ridiculous. However, this actually ended up being for the best, as it was not easy getting pregnant.
We struggled to get pregnant for two long years.
During that time, I became depressed. My husband became depressed.
The Christmas before we got pregnant, my husband's grandfather told us, "If you haven't gotten pregnant already, you might as well give up already because one of you or both of you are broken."
Little did he know, we had already started looking into adoption due to how long it was taking us to get pregnant. Sadly, through research, we discovered that adoption was highly unlikely unless I could make it two years without having a major mental health episode.
While some countries will not approve international adoption to anyone with a history of mental health issues, domestic American adoptions do not necessarily exclude candidates with a history of mental illness. Every country and adoption agency has its own standards for adoption, but generally, if there's a concern about your mental health, your doctor and social worker will need to prove that you're fit to parent.
We were elated when we found out we were pregnant in February of 2016 and my son was born in October.
I was so lucky to not experience any postpartum mood disorders.
I did take medication during my pregnancy, but at a very, very low dose and only for a short time after giving birth. I joke that giving birth straightened me out for a long time.
There were so many safeguards in place for my mental health after the birth of my son. I'm so thankful that I never needed to use them, but I'm so glad they were there. My family, therapist, psychiatrist, ob-gyn, and friends were all supportive, and they were watching for signs of depression.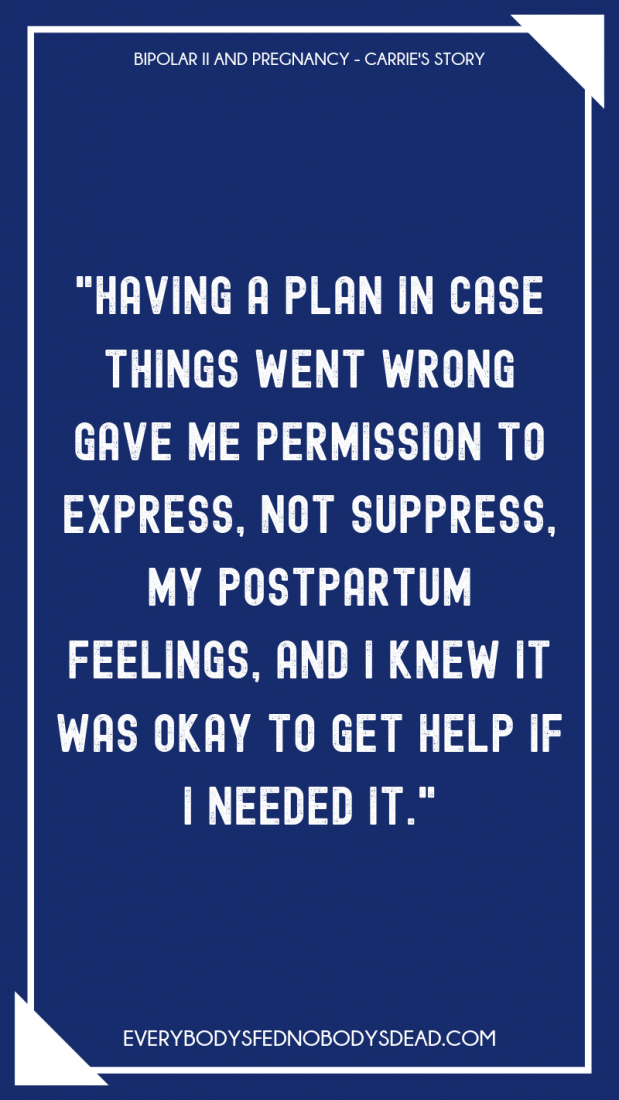 Having a plan in case things went wrong gave me permission to express, not suppress, my postpartum feelings, and I knew it was okay to get help if I needed it. bipolar
I wish that more doctors would talk to pregnant moms about their mental health support plan. I knew that if I didn't ask for help, or missed a sign that meant I needed help, my family and friends could reach out to my doctors to help me get the help I needed.
Now that I'm dealing with a 'terrible-twos' toddler, I take medication again to maintain my mental health, and I see a therapist. The one gift that I have promised to give my son above all others is a healthy mother.
– Carrie
If you have a history of mental illness and/or bipolar depressive disorder, it's important to create a mental health care plan.
If you're not sure where to start, your doctor should provide you with a list of resources and ideas, and they can refer you to local therapists and psychiatrists.
You can also grab a copy of my free ebook, How to Talk to Your Doctor About Your Mental Health.
For more stories about depression and bipolar II, be sure to check out Morgan's Painful Loss and Mental Health Battle and What If You Don't Love Being a Mom?. You can also join the Facebook group, Raw Motherhood, to find more support and resources.
Posts You Might Like: