We are a participant in the Amazon Services LLC Associates Program, an affiliate advertising program designed to provide a means for sites to earn fees by linking to Amazon.com.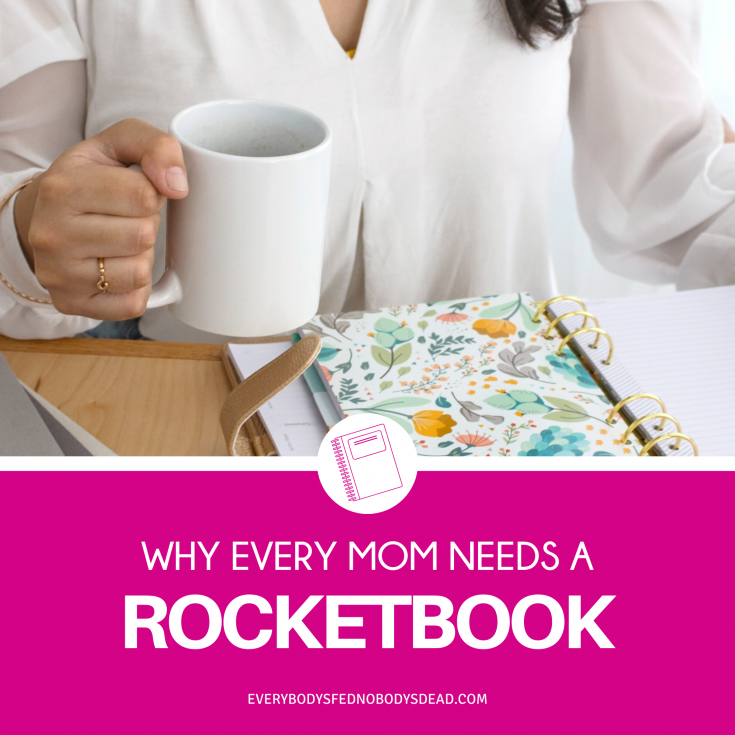 Even though I'm far too much of a hot mess to ever be a "Type A" mom, I've always been a list-maker.
As a child, I journaled daily, which I now see helped me process information and remember important details. I often journaled in a bulleted format, listing out what I had done each day or what issues stressed me out.
I didn't realize how much I relied on lists until I worked at a law firm after graduating college. Coincidentally, this is also when I realized how much I suck at multi-tasking.
These discoveries led me to list-making as a sanity saver.
I have notebooks filled with random thoughts, budgets, blogging ideas, meal planning, to-do lists, wish lists, lists of things I need to buy or fix… You name it, it's on a list somewhere in my house.
And try as hard as I might, I can't switch to digital listmaking. One year I even made that a New Year's resolution, thinking that would force a change.
Nope.
The biggest reason I wanted to stop using paper was that I felt guilty about my paper usage. Aside from making lists daily, I also go through a lot of paper making meal plans. Again, though I've tried to do it digitally, I enjoy paper more, and I prefer to have a physical notebook to carry around the grocery store with me as I shop. I also like to look back at old meal plans for ideas.
Alas, writing on paper will forever be how I make lists, even with amazing technology encouraging me to work digitally.
Enter Rocketbook.
When I first heard of the Rocketbook a few years ago, I knew it was for me. The perfect marriage of tech and good old-fashioned paper, the Rocketbook became a complete sanity-saver for this very forgetful mom.
What is a Rocketbook?
I'm so glad you asked!
Rocketbooks are notebooks that you can wipe clean with water and reuse.
Please note: only the Rocketbook Wave is microwavable.
Kind of mindblowing, right?
As someone who uses a LOT of notebooks for her many to-do lists, I was pretty excited to find out that I'd no longer have to dig through my piles of notebooks to find the correct one. I could also quit feeling guilty about my paper usage.
Rocketbooks act as normal notebooks, but they're not made of paper, and when used with Frixion erasable pens (my FAVORITE pens!), they can easily be wiped clean with a damp cloth to be used over and over.
But my absolute favorite part of the Rocketbook is how it works with your digital cloud.
The free Rocketbook app allows you to sync up your notes with online services like Dropbox, Evernote, your Google drive, or your email to save your notes digitally. You can even save notes into specific files within those cloud products and search with ease thanks to Rocketbook's smart titles and smart search.
Check out this excellent video to see the Rocketbook in action:
It totally breaks my heart that I didn't have this when I was in college!
But thankfully I have it now, and it's my mom sanity-saver.
If for some insane reason you're still not convinced yet that you need a Rocketbook, let me walk you through how I use it to meal plan.
Meal planning with the Rocketbook:
This is the most popular Rocketbook and the only one I currently own (I snagged it during Amazon Prime Day!). It's a medium-sized notebook with 36 dotted grid pages, and it comes with a cleaning cloth and one Frixion pen. It's incredibly lightweight and has a slim profile, making it a breeze to toss in my purse or diaper bag when I'm on the go.
I get a lot of questions about how I meal plan, so I decided this would be the perfect time to show how I use the Rocketbook.
Even if I only used the Rocketbook for meal planning, it would still be one of my most valuable purchases, and I can't express enough how much moms everywhere need it!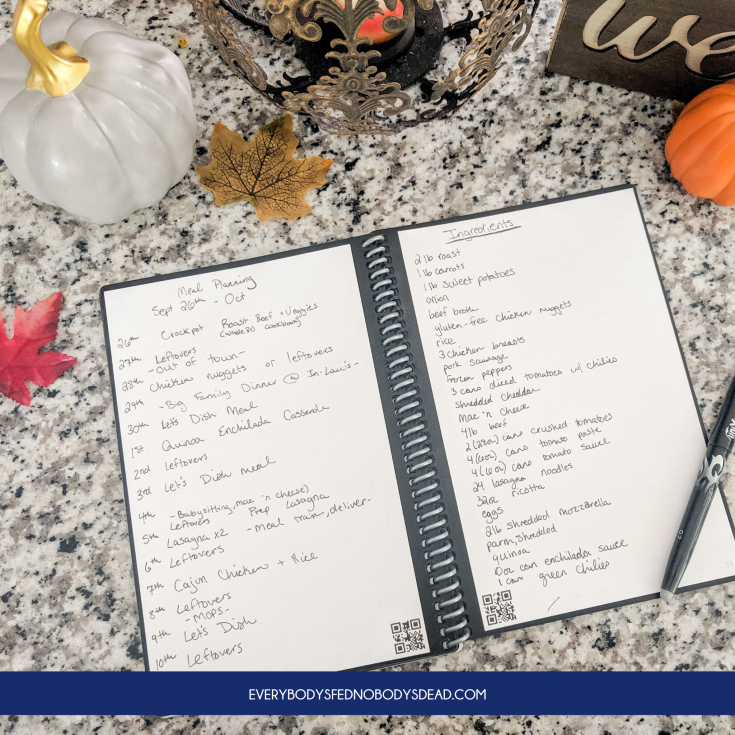 Our income is biweekly, so I meal plan for a two-week timeframe.
As a mom, things change constantly, so I try to keep my meal plan very flexible, and I rely heavily on leftovers. I also make use of our deep freeze, buy meat in bulk, and every month we order premade meals from Let's Dish, a local option that allows me to choose delicious meals to freeze until needed.
When I meal plan, I make a list of every date in the upcoming two weeks, and I write out major events that could/will interrupt mealtime, such as shopping trips, going out of town, dinner at a friend's, etc. Then I plan meals around that, usually sticking with a few tried-and-true favorites, and adding in one or two new dishes.
My husband works on-call, meaning we never know what days or times he'll be home, so keeping a flexible schedule and always having food in the freezer that can be prepped quickly is a must in our home.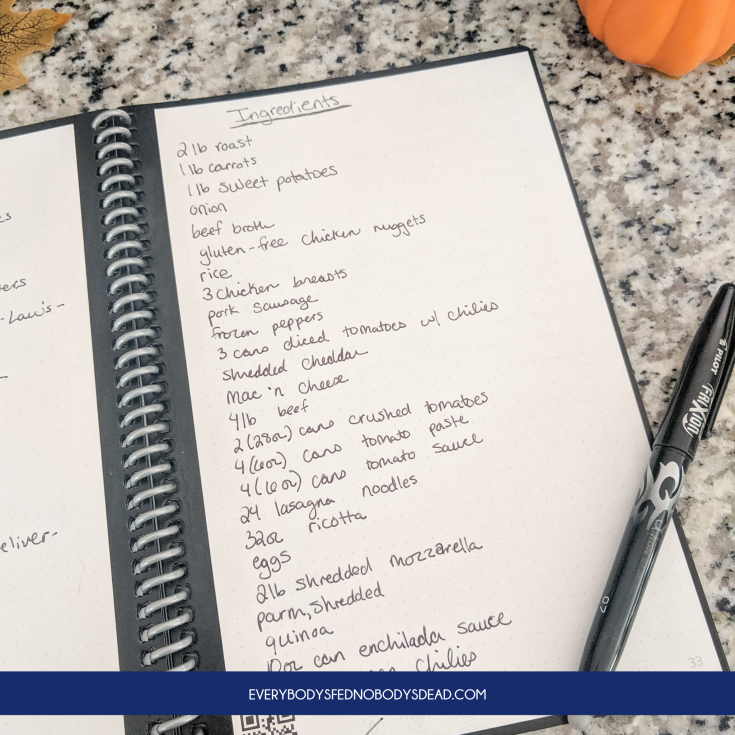 After creating a list of meals, I go through each recipe individually and write down the ingredients needed. This is where the Frixion pen comes in handy, as I can easily erase and edit the list as I add items together.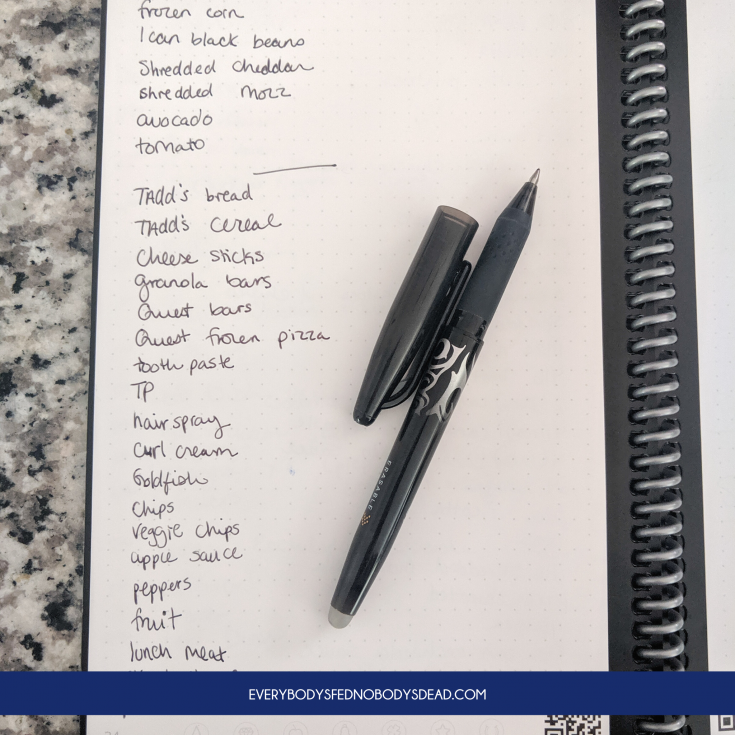 After writing out the meal ingredients, I add all other items we need, like snacks, fruit, lunch items, etc. Then I check my fridge, freezer, and pantry to make sure I don't buy anything I already have.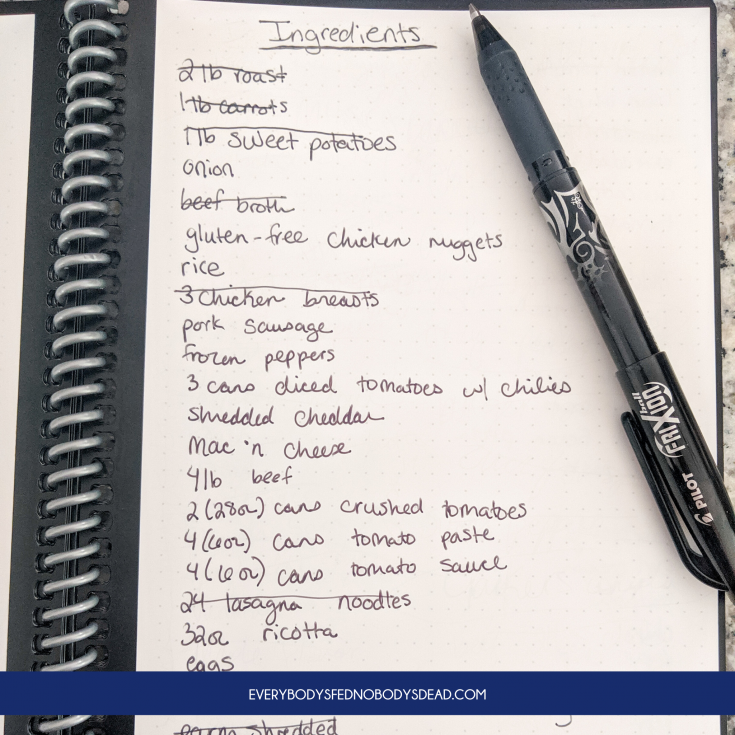 Once my list is done, I recreate it in a more shopping-friendly format. This is done in one of two ways depending on how many items we're getting and how many stores we're shopping at, but it's really just putting the items in the correct shopping categories.
I put all of my groceries into one of these categories:
Dairy
Produce
Meat
Frozen
Canned
Packaged
Miscellaneous
Non-Food
Sometimes I make this list in my Rocketbook, which I carry through the store so I can cross items off as I shop, or I use a template I created in Evernote and digitally check off items as I go.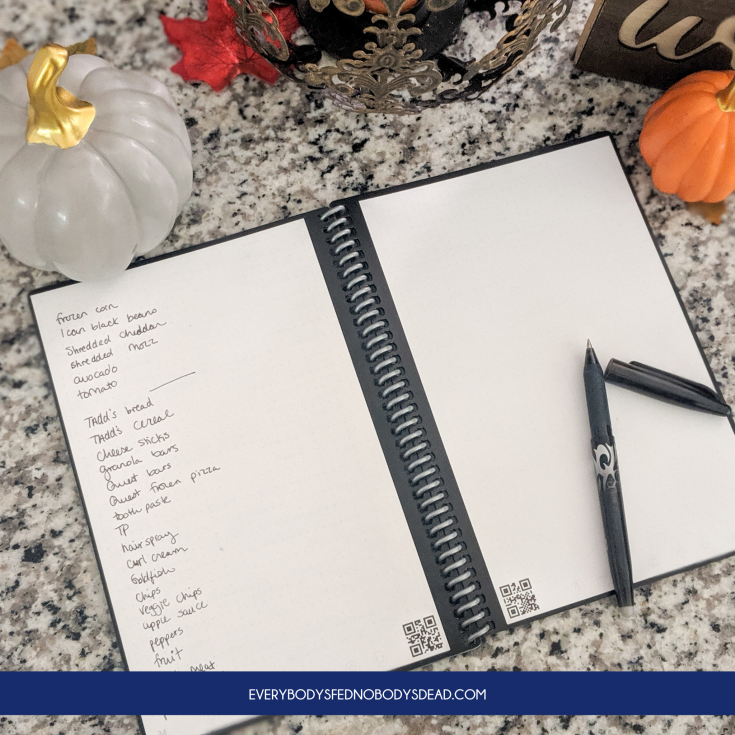 Before I wipe my Rocketbook clean, I make sure to upload it onto the app.
Down at the bottom of each page is a QR code and little icons. Each icon can be attached to a specific cloud location to save the page digitally. If that sounds too techy for you, don't worry – the app walks you through the process.
I've assigned each icon its own digital location, and I've even given 1 icon it's own "Meal Planning" notebook in Evernote. This means that when I mark that specific icon and then upload the page to the Rocketbook app, it sends that page directly into that digital notebook. This keeps all of my meal planning pages together in one place, so I can erase my Rocketbook, but all of my past meal plans are easily accessible.
Pretty cool, huh?
And that was just meal planning – imagine the possibilities!
You can make a Christmas wishlist and instantly email it to your husband. You can write down a list of clothes you need to buy for family pictures and save the note to your phone to check when you're out shopping. You can make a list of questions to ask your doctor and access them at future appointments. You can take business or school notes and then separate them automatically by subject.
You can do all of this while erasing and reusing the same notebook over and over again.
So what are you waiting for?!? Go grab a Rocketbook now on Amazon!
Right now I'm eyeing the Rocketbook Fusion, a larger notebook with different page styles (including monthly and weekly calendar pages and a task list page), and the Rocketbook Color, a reusable coloring pad that allows you to digitally save your kid's artwork.
Mama, save your sanity.
Being a mom is exhausting and hard, but we're still expected to feed our families, keep our houses clean, and remember things like birthdays, all without losing our minds.
I have yet to figure out how to do that successfully, but at least I've got my Rocketbook to remind me of all the things I forget to do.
Be right back, I should probably go check the laundry…
If you love your Rocketbook, let me know below! And please share this post on social media for your other list-taking friends.
Posts You Might Like: