We are a participant in the Amazon Services LLC Associates Program, an affiliate advertising program designed to provide a means for sites to earn fees by linking to Amazon.com.

I used to hate memory foam.
I sleep hot, and I always found memory foam to be stifling. So four years ago when our mattress was at the end of its life and my husband suggested a memory foam mattress topper, it took a lot of convincing before I was willing to give it a try.
We ordered this* memory foam topper from Amazon based on the price and great reviews. We removed it from the box and set it out so it could reach the correct height. Then before bedtime, we lifted it onto our mattress and settled in for a night of – hopefully – wonderful sleep.
The first night using the topper resulted in very little sleep. I became frustrated and hot within just a few hours. I had been worried about the heat, but what I hadn't considered was how confining memory foam can be. Every time I tried to turn or readjust, it felt like a workout. Rather than just rolling over and falling back asleep, I spent the night fighting to get comfortable.
The next morning my husband was sympathetic but he asked me to try for a few more nights. After the third sleepless night, I was beyond frustrated and tired, so we made a trip to the furniture store.
We spent an hour laying on every mattress in the store.
I was determined to find the perfect mattress. We'd never purchased one as a married couple before, and I knew that my future pregnant body would one day regret getting a bad mattress.
We finally found a wonderful mattress… that cost over $3000. Not only did we not have that money ready to spend, but my tightwad tendencies balked at the idea of spending so much. I casually shared this with the salesman, explaining that we couldn't make a purchase that day, but that we would be needing a new mattress very soon.
And then he told me an amazing trick.
The salesman shared that because of the heaviness of memory foam, it can almost adhere itself to the regular mattress below. This is why it's so hard to move on top of it, and it can almost feel like it's fighting against your body. But, if the memory foam topper is independent of the mattress, it will have more flexibility. This allows for more comfort and less trapped heat.
To keep the mattress and foam topper independent of each other, they need something between them: a fitted sheet.
This sounded too easy, and I was skeptical that I'd notice a difference. But my husband, reluctant to purchase a brand new bed, asked me to give it a shot.
We went home that evening and reconfigured our bedding based on the salesman's advice:
Regular Mattress
Fitted Sheet
Memory Foam Topper
Mattress Protector (Optional, but I Highly Recommend)
Fitted Sheet
The difference shocked me.
I slept better that night than I had in weeks, and the next few nights were even better.
Almost 4 years later and we still haven't bought a new bed. Our memory foam topper is still in excellent condition and hasn't lost much (if any) of its height.
It's amazing how such a simple fix has totally changed my dislike of memory foam. There was an adjustment period, but I love how supported my back and hips feel at night, and I no longer struggle with overheating.
I'm so appreciative of the mattress salesman that shared this hack with me, though I do feel a little bad that he lost out on a potential sale. But the money we saved from purchasing a new mattress was a blessing, especially when I did eventually get pregnant and have a baby. And though my pregnancy was very rough, I never suffered many of the muscle aches and pains that I know so many moms experience. I credit that to my chiropractor and my mattress topper.
I love my memory foam topper.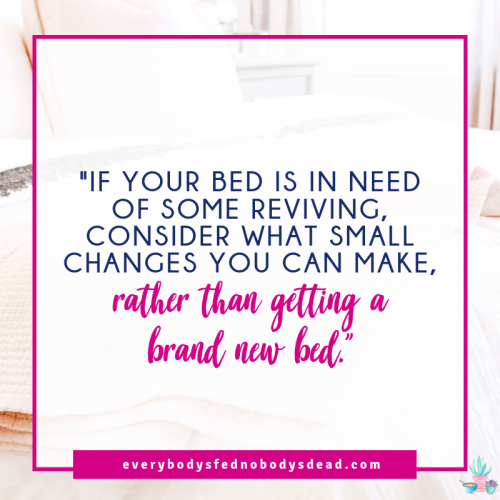 If your bed is in need of some reviving, consider what small changes you can make, rather than getting a brand new bed. Sometimes something as simple as a new pillow can even make a huge difference. If you haven't already, make sure to try my easy Essential Oil Blend to Help Fight Insomnia.
And though I love memory foam toppers, I personally don't enjoy beds made of total foam. I recommend getting a normal mattress with a foam topper, or a memory foam mattress with a pillow top, especially if you struggle with overheating or hip pain as I do. These combinations should provide the best comfort and flexibility.
*Amazon prices and products change over time, so be sure to look at similar products and find the best fit for you.
Comment below if you try out this trick. And check out Baby Sleep Safety – My Interview with an Expert Sleep Consultant for tips for your baby's sleep!
Posts You Might Like: