We are a participant in the Amazon Services LLC Associates Program, an affiliate advertising program designed to provide a means for sites to earn fees by linking to Amazon.com.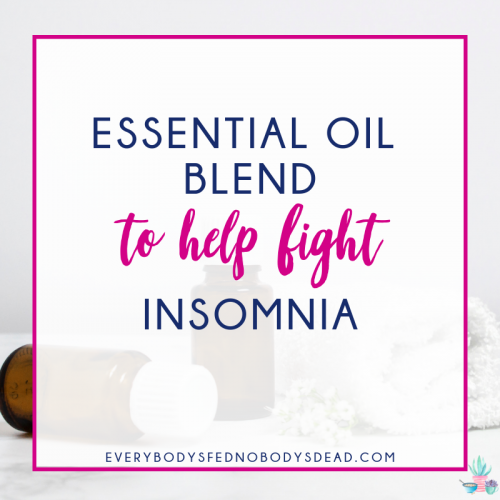 Disclaimer: I am not a medical professional, and am in no way promoting essential oils as a way to cure any ailments. You should only use essential oils with caution, especially for children and pregnant women. 
I'm a terrible sleeper.
I've always battled insomnia and exhaustion, and I'll admit that I probably don't have the best sleep hygiene. I'm a night owl who stays up way too late. Then I struggle to fall asleep, as I know I face a night of tossing and turning. Bad dreams leave me feeling unrested, and I oversleep, leading to feeling overtired.
Even though I was finally diagnosed with sleep apnea in 2018, I still struggle with falling asleep.
It's a vicious cycle that I've always fought, so I'm always on the search for ways to improve the likelihood of a good night's rest.
I love my amazing memory foam bed topper, and I regularly listen to podcasts to fall asleep. But my nighttime essential oils are, well, essential.
I've been using this blend for many years, and with great success. I'm not a medical doctor, and I am not claiming that these oils will cure anything. I just happen to love essential oils, and I enjoy using them in my home.
What I love about this recipe is how easy it is to make. All items needed are easy to find, and both of the essential oils are more affordable than many. You will need a roller bottle, which I purchase in a pack here, as well as a plastic dropper that's usually included. These work really well, and the dark glass helps protect the oils from sunlight.
Insomnia Fighting Bedtime Oil Blend: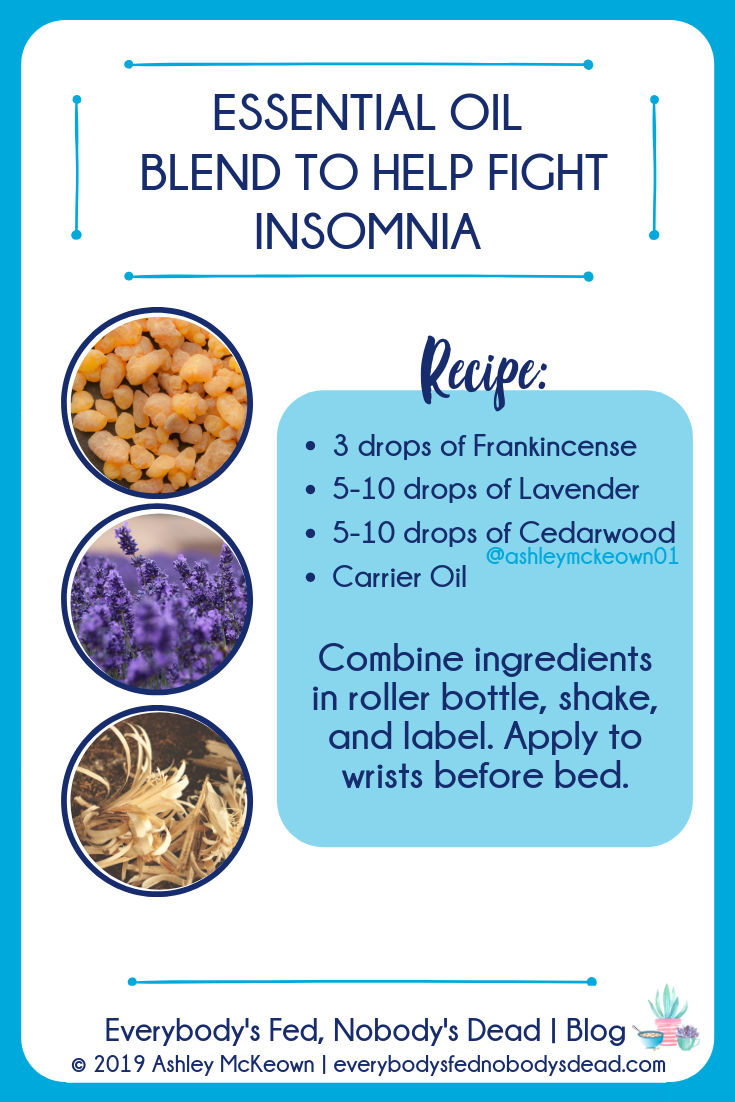 Directions:
Begin by pouring essential oils into the roller bottle. Fill the remaining space with the carrier oil, leaving a little room on top to place the roller ball. If you find it hard to place the top piece in the bottle, use the cap to help you press it down and secure into place. Give it a few gentle shakes, label it, and you're done!
The Lavender and Cedarwood (and Frankincense!) make a great bedtime combo, ideally leaving you feeling relaxed, and helping to calm your mind. This can be especially great after a very stressful day, or any day you come into contact with a toddler.
So obviously I use this frequently.
As you wind down in the evening before bed, apply the roller bottle to the inside of your wrists, and then rub your wrists together to absorb the oils more quickly. You can also use the roller bottle on the bottoms of your feet, behind your ears, or even under your nose to keep the scent close!
I hope this recipe can help you battle insomnia. Be sure to share this on Pinterest for your sleepy friends, and grab your free ebook, How to Talk to Your Doctor About Your Mental Health.
Posts You Might Like: