We are a participant in the Amazon Services LLC Associates Program, an affiliate advertising program designed to provide a means for sites to earn fees by linking to Amazon.com.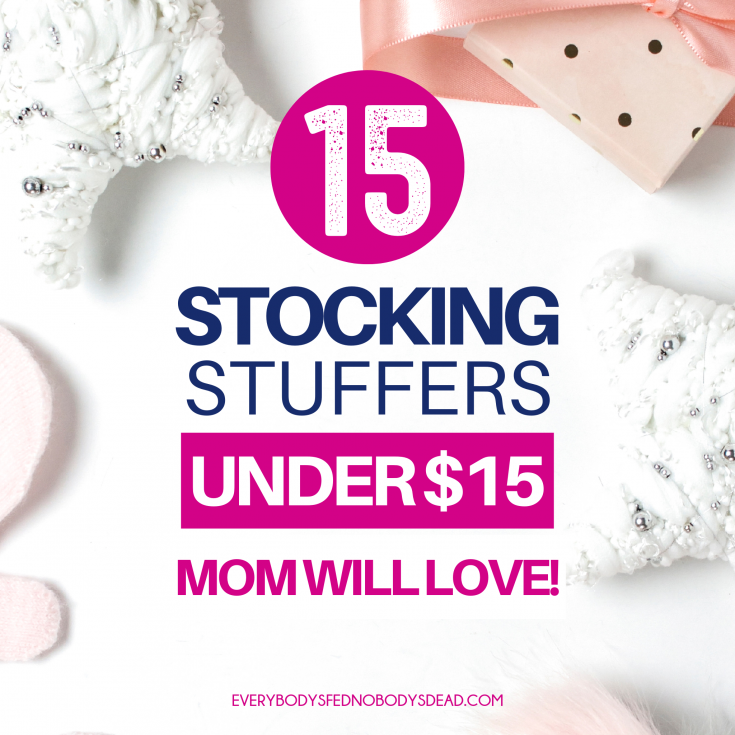 Christmas is almost here!
You've already finished your holiday shopping, all the presents are wrapped, and you have plenty of time to sit back and relax with some hot chocolate, right…?
Don't worry, I'm totally kidding! I get it – the holidays are a mad dash to the finish line. And if you're like me, you always seem to forget something from your to-do list.
Every Christmas I forget about stocking stuffers. I'm so focused on picking out the perfect present that I forget about all the fun of stockings, and really, they are fun. The big gifts under the tree are wonderful, but sometimes the things we use the most are small items. They don't even cost much.
My mom is an expert at stocking stuffers, filling our stockings yearly with our favorite candies, jewelry, makeup, tools, and gadgets that I had no idea I needed. Inspired by her creativity, I've compiled a list of easy stocking stuffers. You're sure to find something here for every mom/bestie/co-worker.
The best part? All of these items are under $15! And since they ship from Amazon Prime in two days, even my fellow procrastinators can grab some great gifts in time for Christmas Day.
15 Stocking Stuffers Mom Will Love:
FOR THE PLANNER
1. Happy Planner Sticker Value Pack: I'm a huge fan of my Happy Planner, but no matter what planner you use, this set of nearly 2000 stickers will help any mom stay organized with style. These stickers help track to-do items and remind you of important dates, and at under $15, this pack is a steal.
2. Washi Tape: Washi tape is another great item for planner-addicts, but it's also great for crafters, note-takers, teachers, or anyone looking to spruce up everyday items. The possibilities are endless, and it'll spark creativity in the artists in your life. (It's also a great stocking stuffer for toddlers!)
FOR THE FASHIONISTA
3. Heartbeat Rose Gold Necklace: I love this necklace. The heartbeat design is a great conversation starter, and it's a unique gift for a loved one or someone who works in the medical field. The stainless steel adds durability, making it a high-quality gift under budget.
4. Trendy Clutch: On the rare occasion I get to dress up and go out for a formal event or date, I need a nice clutch to carry my ID, phone, and lip gloss. Since carrying the diaper bag might clash with the heels, every mom needs a cute bag to pull her outfit together. I love that this clutch can go with any outfit – versatility is always good.
5. C. C. Beanie: Ah, the skully beanie. Once a hat worn by teen skaters, this recognizable beanie is now a staple of winter wardrobes everywhere, completing the basic ensemble of vests, riding boots, scarves, and a coffee in hand. Available in a variety of styles and colors, it's hard to go wrong with this gift.
6. Warm, Cozy Scarf: Giant shawl scarves are beloved for a reason: they're cute and warm. Most moms love things that are cute and warm, and it's a safe bet that this gift will be well-used.
7. Multi-Card Wallet: This little bifold has a slim profile and a lot of storage. Though it probably won't hold your phone, it will hold just about every card you own, as well as cash and a checkbook. This practical stocking stuffer is a smart and thoughtful gift. Bonus: The RFID blocking feature keeps your personal info safe, and it's handmade!
FOR THE MAKE-UP LOVER
8. Makeup Blending Sponge: You can never have too many makeup sponges, and if you use yours daily (like me), this little set will allow you to always have a clean one ready when you need it. Super soft and easy to use, these cool little tools can be used wet or dry with all of your favorite makeup products.
9. Makeup Brushes: If you're not a fan of sponges, or you only use powdered makeup, great brushes are a must-have. This 14 piece set is an awesome deal, and it has rave reviews, making it an easy gift for anyone on your list!
10. Eyeshadow Palette: I rarely remember to purchase new makeup, which isn't a good habit, given that old makeup can be a breeding ground for bacteria. Gift your favorite makeup fan this gorgeous and affordable eyeshadow set that's user-friendly and flattering.
11. Slipper Socks with Grippers: Fuzzy socks with rubber grips on the bottom are awesome when you have wood floors! You can never have too many socks, and when you live up north and your feet are always cold, they're a necessity.
12. eos Lip Balm: It's lip balm that's organic and smells amazing. What mom wouldn't love that in her stocking?
FOR THE READER
13. Bossypants by Tina Fey: Moms everywhere love this book because Tina Fey is hilarious and relatable. If you've never read it, grab a copy and prepare to be entertained. If you have read it, add it to your personal library to enjoy for years to come.
14. I Brushed My Hair Today: A Mom Journal for Mostly Together Moms: This hilarious and honest journal is perfect for any mom with a sense of humor! Read my review to discover why this is a must-have: I Brushed My Hair Today – A Mom Journal REVIEW.
15. Good Days Start with Gratitude Journal: For more seasoned journalers, this beautiful notebook encourages you to push past basic daily writings to focus on gratitude and joy. Start 2020 off on the right foot with positivity and thankfulness.
BONUS ITEM:
Rocketbook Everlast Mini: This adorable notebook will get years of use! You can read all about why I think every mom needs a Rocketbook HERE.
Happy shopping!
This Christmas, fill your mom's stocking with gifts she'll use and love. And make sure to add some of these items to your own wish-list!
Now, check out Christmas Gifts Under $50 for the Cool Mom to find the perfect gifts for under the tree.
Are you a fan of stocking stuffers? Tell me below! And be sure to share this on Pinterest!
Posts You Might Like: