We are a participant in the Amazon Services LLC Associates Program, an affiliate advertising program designed to provide a means for sites to earn fees by linking to Amazon.com.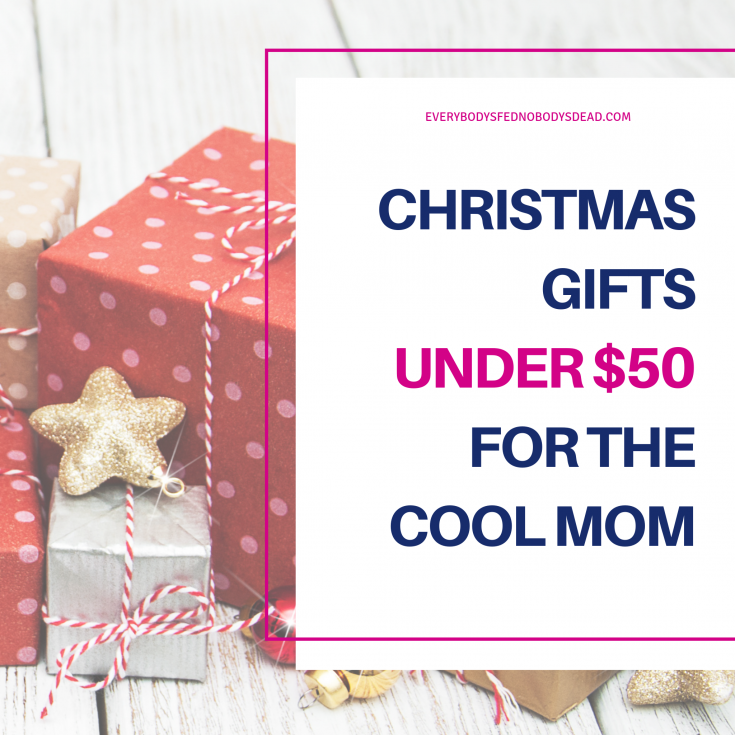 What are you gifting your mom this Christmas?
Christmas is just around the corner, which means it's time to start gift-hunting for friends and loved ones (check out my list of toddler stocking stuffers).
Luckily, I've got you covered with a few people! Whether you're shopping for your mom, your mom bestie, your book club's gift exchange, or yourself (no judgment!), these gifts for the 'cool' mom are sure to be winners.
I personally dislike braving the Minnesota cold and holiday crowds, so I do most of my Christmas shopping online. It's hard to beat shopping in my PJs and 2-day free shipping.
So snuggle up with your blanket and a cup of hot chocolate (and earplugs if your toddler is nearby); it's time to shop for your favorite cool mom!
FOR THE COFFEE DRINKER
1. Funny Coffee Mug: Mom really just wants some sleep for Christmas. But since that's never going to happen, give her the next best thing: an easy way for her to express to her family that, for their own safety, they should probably leave her alone for a few minutes.
2. Novelty Socks: These comfy socks are sure to make her smile! And (fingers crossed) her kids will get the hint and learn to make her some coffee.
FOR THE #BOSSBABE
3. Laptop Bag: Laptops need more protection than a diaper bag can provide, and this synthetic leather tote offers style, as well as durability. Perfect for work, travel, or the coffee shop, this is a gift that will get lots of use. It's even on my wishlist this year!
4. Kate Spade Notebook: A beautiful notebook begs for new words. Inspire the moms in your life to put pen to paper and fill the pages of this lovely floral journal with all of their hopes for the new year.
5. Rocketbook Reusable Notebook: This incredible notebook wipes clean, meaning it can be used again and again! It also allows you to upload your notes to places like Evernote and Dropbox. (I got a great deal on mine during Amazon's Prime Day! Check out how I use it for meal planning and why I think every mom should have one HERE.)
FOR THE FOODIE
6 & 7. Cravings and Cravings: Hungry for More: Chrissy Teigen is arguably one of the biggest social media stars right now (and you have to love her honesty about postpartum life), and if you've ever checked out her Insta feed, you've seen the gorgeous meals she regularly cooks for her family. Give your girlfriend the gift of a cookbook filled with delicious and indulgent comfort foods to remind her that food is meant to be loved and enjoyed.
8. Retro Apron: What a cute way to add some spice to the kitchen! Gift your mom a cute apron to make holiday cooking a little more fun.
FOR THE SELF-CARE FAN
9. Drink Suction Cup Holder: If you're a mom, you deserve a relaxing bath (and maybe some leftover Halloween chocolate…) at the end of the day, just to celebrate surviving. And if you feel like raising a glass to toast that sentiment, you'll have the perfect place to put it when the glass is empty.
10. Himalayan Salt Lamp: This hand-carved lamp gives off a warm amber glow, and since no two are alike, it makes a unique gift!
11. Tea Tree Foot Soak: After a long day of chasing crazy kids, pampering your feet is probably low on your list of priorities. But occasionally it's good to cuddle up on the couch and indulge in a soothing foot soak. Your poor feet deserve it!
FOR THE TOURIST
12. Packing Cubes: I'm all about trying to minimize stress while traveling, and packing can be a big pain. These cubes help keep my like-items together (rather than just floating around in my suitcase), and they make it really easy to find what I need without unpacking my entire suitcase hunting for one item. My husband loves our blue set!
13. Hanging Toiletry Bag: Stay organized and trendy no matter where you go with this adorable bag that boasts multiple compartments and an anti-bacterial lining. How gorgeous is this print?!? And bonus: it can hold a ton of stuff – during our last trip I put both my and my husband's toiletries inside!
14. Travel Passport Wallet: This affordable wallet looks like a fashionable clutch, and it comes in a wide variety of colors. Never again lose your passport, cash, ID, or plane tickets as you travel the globe.
FOR THE GAME NIGHT HOST
15. Codenames Word Game: This social word game combines espionage, deduction skills, and a bit of luck, resulting in a game suitable for all ages. My husband and I even enjoy the 2-player rules!
16. What Do You Meme?: Not appropriate for children or the easily offended, this adult party game is perfect for big crowds, allowing up to 20 players! Compete to out-meme your friends, and no matter who wins, you'll all be laughing.
FOR THE TECHIE
17. Portable Charger: Even when you're running on empty, make sure your electronics are fully charged with my favorite external battery. The cute color keeps it from getting lost among other black electronics, and the slim profile makes it great for slipping into diaper bags pockets.
18. Multi-Device Charging Station: Keep all of your electronics (and their cords!) in one place. This cute docking station is perfect for home or the office, and it's even strong enough to hold your laptop. This is a great gift for the mom like me who wants all of her electronics close by.
19. Wireless Bluetooth Earbuds: I initially purchased these earbuds to wear while exercising, but I've been surprised by how much they actually get used. In the morning I can listen to music while I work out, but I can also use them in the evenings when I'm doing laundry or cleaning the bathroom and everyone else is asleep.
FOR THE ACCESSORIZER
20. Jewelry Box: I don't wear jewelry nearly as often as I did before having kids, but I still have many pieces that I treasure and want to keep safe until date nights and weddings. This beautiful box can keep jewelry protected from tangles and sticky hands, and the removable top layer allows for tons of storage.
21. Ulta Gift Card: It's hard to go wrong with gift cards, and what mom doesn't love splurging at Ulta? It's important to remember to replace your makeup frequently, so give your bestie an excuse to treat herself.
22. Deathly Hallows Bracelet: Let your Harry Potter fandom show with this dainty, feminine bracelet. The uniform silver makes it an easy addition to any outfit, for work or the playground.
FOR THE SNARKY MOM
23. Snarky Coloring Book: Adult coloring books are all the rage, and what better way to relax than by coloring pictures with sarcastic captions about motherhood! A genius idea for a coloring book that I wish I'd come up with, this gift would be great for your bestie or your favorite gift exchange. I recommend these pencils: Sargent Art Premium Coloring Pencils.
24. World's Okayest Mom Mug: Not a gift for every mom, but the perfect gift for the right mom. Match me (because of course, I have one), or gift to your mom friend; it also makes a great container to fill with lots of smaller gifts.
FOR THE BOOKWORM
25. Talking as Fast as I Can by Lauren Graham: Oh, Lauren Graham, how I love thee. As a hardcore Gilmore Girls fan, this was a must-read that I fully enjoyed. I recommend the audiobook, read by Lauren, for the full experience.
26. Confessions of a Domestic Failure by Bunmi Laditan: I've joked before that my pen name must be Bunmi Laditan because I feel like I wrote this book. While that sadly is not the case, the main character's name IS ASHLEY, so maybe I inspired it…? However the story came to be, it's hilarious, honest, and relatable, and if you're a mom who's ever struggled, this book is for you.
27. I Just Want to Pee Alone: A collaboration by well-known mommy bloggers, this collection of essays will have you in stitches as it covers breastfeeding, bad family vacations, and the hazards of cleaning with children. A great gift for moms who need to know they're not alone in the trenches.
I hope this gift guide helps you cross a few people off your list or at least sparks some ideas! And don't forget to add your favorite items to your own list and gently remind your husband to check it soon (because you don't have to do all the work!).
If you have any other ideas for gifts for moms, comment below, and then check out Stocking Stuffers Under $15 That Mom Will Love and The Ultimate List of Toddler Stocking Stuffers.
Posts You Might Like: