We are a participant in the Amazon Services LLC Associates Program, an affiliate advertising program designed to provide a means for sites to earn fees by linking to Amazon.com.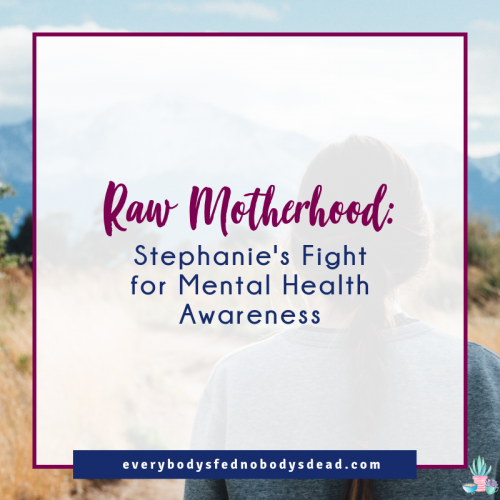 This story is a part of our Raw Motherhood series, a collection of true accounts from real moms. We hope these stories will help shed light on real issues, but we are not medical professionals and are not offering medical advice. If you are in need of immediate help or feel you could be a harm to yourself or others, please call 911.
My world completely changed when I found out I was pregnant.
It was May of 2001, and my husband and I were about to move from Minnesota to attend the Rhema Bible Training Center in Oklahoma. We'd been married for almost four years, but a baby wasn't currently on my radar. And though I was excited to have a baby, I was sad that I wouldn't be able to attend school because of my due date.
Due to many years spent in counseling, I was able to process my sadness in a healthy way. In the late '90s I'd been diagnosed with major depressive disorder, and at that time I began taking antidepressants.
Fast forward to David's birth:
My son's arrival brought nothing but joy and love in abundance! Our family traveled from Iowa, Minnesota, Mississippi, and Texas to celebrate with us, and my parents came a week before my due date. They took care of me and let me rest as we waited. I'd gained almost 90 pounds during my pregnancy, and I was extremely uncomfortable. David did not make his appearance until six days after his due date, so the uncomfortable quotient was OFF the charts!
My parents stayed another week after David was born to help Ed and I adjust to our roles as parents.
And then it was just the three of us.
As we got into a routine for our family with no extra support, I adjusted well and followed the advice of my friends who had gone before me. "When the baby sleeps," they told me, "sleep! The housework will still be there," so I did exactly that. I ate healthier and began to lose the baby weight.
The school year wrapped up, and we sensed a nudge from God to leave Tulsa. We prayed about moving to Chicago, Dallas, or Minneapolis, but it was clear to us that it was time to return home to Minnesota. Being back home and attending our home church with our new addition was wonderful. Some gracious friends even opened their home to us until we were able to buy a house. All of the small details continued to work out for our family.
Within six weeks of returning to Minnesota, we located, purchased, and moved into a brand new two-bedroom townhome in a Minneapolis suburb. I felt God's hand on every step of the process.
We settled into our new home and I flourished in my role as a stay-at-home mom. We plugged back into ministries at our church. Everything was going amazingly well.
Then out of nowhere, I was hit with postpartum depression.
I struggled to take care of my baby and spent hours each day in tears. I wasn't keeping up with the household chores while my husband was gone twelve hours a day, and I felt like a failure. My thoughts would wander, and I began believing lies about myself.
The depression just got worse, and I felt so ashamed. I was so blessed to be able to stay home with my baby. All of my needs were met. My husband loved me. I had a beautiful baby boy. What the heck did I have to feel depressed about?
I had a doctor increase the dosage of my antidepressants, hoping it would help lift me out of my sadness.
But the depressive episodes increased in intensity and duration over the course of David's young life. They seemed to be triggered by what I perceived as stressful events.
I did not use healthy coping skills for my stress. I self-medicated with food, causing my weight to increase after losing most of the weight I had gained during pregnancy. Looking at myself in the mirror was upsetting. My thoughts spiraled out of control, and I stopped doing housework. I watched television shows that actually fed into the lies and drama already in my head.
I was typically able to "snap" out of my unhealthy coping skills after a short period of time. Even though my house was a disaster, I could get it back in order within three or four days.

I struggled with feeling like a failure as a mom and wife.
I also struggled with taking my medication because I knew that I served a big, loving God who was capable of healing me. So I started wondering what I was doing 'wrong' that God hadn't taken away my pain.
A mentor at church shared with me that she had a medical condition, and if she didn't take her medicine, she would die. She asked me if I thought she lacked faith. I absolutely didn't! I looked up to her and her faith journey. This one question revolutionized my thinking in this area and set me free from feeling like a failure as a Christian.
When David was five years old, we moved.
My husband had got a job with a new company, and the CEO had personally sought him out for the position. This was an incredible opportunity for him, and I loved seeing someone else treasure what I could already see in my husband.
I was excited for the new journey ahead of us. We left our townhome and moved an hour and a half south to a three-bedroom rambler with lake access out in the country. My husband was thrilled to be out of the hustle and bustle of the cities. David was overjoyed at the space to run and play in our backyard and excited to live in a neighborhood filled with other kids.
I, on the other hand, missed our church community and my friends. It was over an hour to drive there, and we were willing to do it, but again we heard from God. He wanted us to plug into a local church in our new community.
It took a while to build friendships and make connections.
It always does! But this was especially tough for me because I didn't feel close enough to anyone to share my mental health struggles. I was embarrassed to be on medication and still dealing with depressive episodes.
We'd been at our previous church for a decade (total) when we moved, and we left our church with the blessing of our pastors. They prayed for us and knew we would eventually get connected. How right they were!
Over the years we began to connect and build community in our new home. Our church walked side by side with our family as we dealt with job loss, bankruptcy, and the increasing intensity of my depressive episodes.
When things got really hard, I would go months disconnected from everyone and everything except work. Putting on a front at work consumed all my energy, and I used all of the sick leave I had available. At the peak of my depressive episodes, I would be in bed at 5:30 pm and struggling to get out of bed at 7 am the next morning. Going to bed that early meant that I was disconnecting myself from my family and friends, which damaged some relationships.
The most significant damage that I have seen is with my son, who is now in high school. He deals with low self-esteem and thinking he doesn't measure up. When my baby was diagnosed with anxiety and depression, it broke my heart. I am currently working on reconnecting with David and repairing the damage that my mental illness has caused.
So why do I share my story?
It's good for other moms to see that they are not alone. I have struggled with my mental health for thirty years. The best thing I've ever done for myself was to find a Christian counselor in town and attend weekly sessions with her. During those weekly sessions, she helped me to replace the lies that I wasn't enough, that I was a failure, and that I was unloved.
I now believe the truth: I am valuable the way that I am, and I am infinity loved and treasured, not only by my Heavenly Father but also by the many people I have the pleasure and honor of calling my friends.
The second best thing is opening up about my mental health journey. Talking about it publicly is something that I feel comfortable doing, not for attention, but to bring awareness to mental health.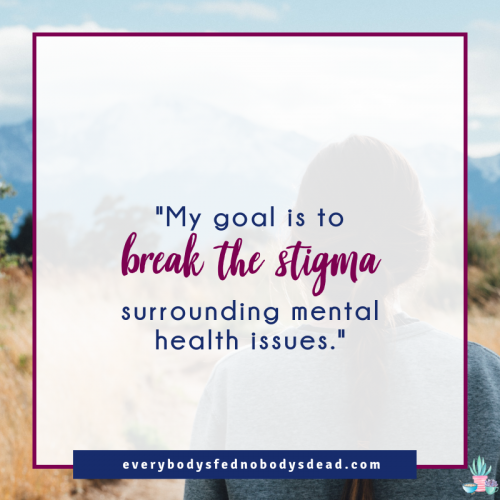 My goal is to break the stigma surrounding mental health issues.
Join me on this journey by sharing your story through a live video or post on social media with the hashtag #storiesoverstigma.
If my story resonated with you or you have any questions, you can find me on Facebook. I would LOVE to connect with you as we continue to walk together through the many battles in life.
Thank you, Ashley, for the Raw Motherhood community, and for this opportunity to share my story. I pray that it touches your heart and helps you know that you are not alone!
– Stephanie
If you feel that you could be suffering from depression, please speak with your doctor, and refer to our Glossary for more information on mental health conditions. Be sure to share this post on Pinterest for other moms in need of support!
Posts You Might Like: