We are a participant in the Amazon Services LLC Associates Program, an affiliate advertising program designed to provide a means for sites to earn fees by linking to Amazon.com.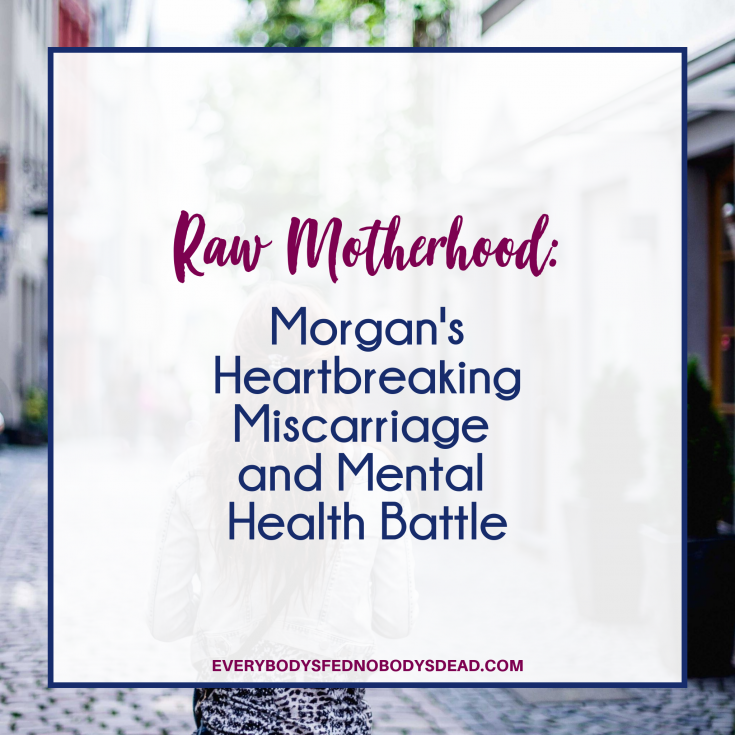 This story is a part of our Raw Motherhood series, a collection of true accounts from real moms. We hope these stories will help shed light on real issues, but we are not medical professionals and are not offering medical advice. If you are in need of immediate help or feel you could be a harm to yourself or others, please call 911. miscarriage
I'm here to talk to you about something that no one really understands or talks about.
It's that aisle of Target. The one that stares at you with the pastel baby blues and soft yellows. It's the aisle that you have to face head on every time you need the electronics or toys. For most people, this aisle doesn't matter. They put little to no thought into those tiny baby booties hanging off the hooks. But I have a secret.
This aisle haunts me.
Even though I'm in my favorite store, this aisle forces me to confront the darkest thing I've ever experienced.
My friends, I had a miscarriage.
It's something I live with every day, yet have probably actually told less than ten people about. Not even my immediate family know this about me. I was ashamed for a long time about this subject. The word still makes me cringe to read or to type, and it's something that I have a hard time facing.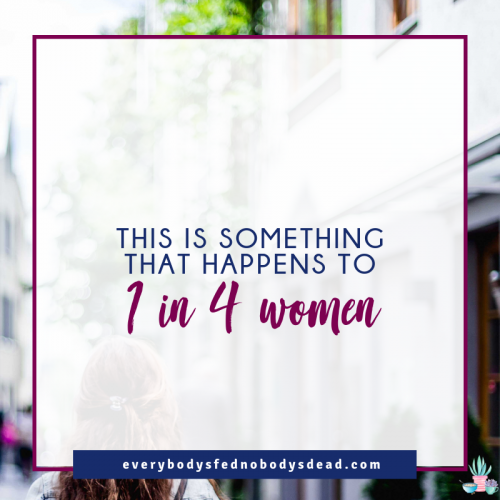 But I need to talk about it for me and for you. This is something that happens to 1 in 4 women, and in an offhand comment my Grandma made once when we were watching The Help, apparently, it happens to all women in 1 in 4 of their pregnancies. Yet for such a common thing, it feels much too taboo to even bring up in conversation.
I dodge the subject if it gets close, just like I dodge that aisle every single time I go to Target. It's a painful reminder of something I cannot obtain.
Friends casually ask me all the time when I plan to start having kids with my husband. They gush over how I'd be a great mom. Internally I'm screaming I KNOW! I FRIGGIN KNOW I WOULD!
But I politely smile or insert a cute emoji, say "thanks," and leave it at that. It's better than trying to explain that my health has made it impossible for me to track my cycle accurately so I can't even start trying, or to offhandedly mention that I got pregnant once totally by accident and now no matter how hard I try I can't seem to do it again.
This is such a private and personal thing for me that this is the first time I've ever spoken, er, I guess, written about it, but when certain people ask, you answer.
For most of my life, I put up the toughest front about children and procreating in general.
Producing 'mini-mes' wasn't something I was too keen on, especially since I had helped raise my siblings who are almost a decade younger than me. I would adamantly state to anyone that asked that I wasn't ever getting married or having kids. But I'll have you know, I just celebrated my second wedding anniversary.
The problem with taking such a strong stance against something for your entire life is that when you change your mind you have a lot of people to inform. The guilt of wanting children is something I wasn't expecting.
There are a lot of women, especially in my friend group, that have no desire to have children. I would be the first in my friend group to have the desire to have a kid on purpose. But that's assuming none of my friends are also writing secret blog posts right now about their wish for children!
I do not talk about this with anyone.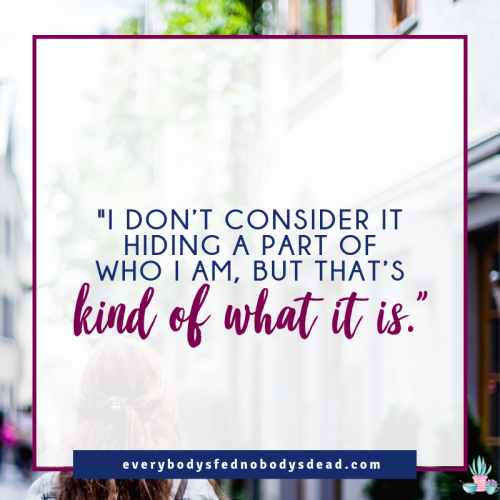 There is one person who has a vague idea about my future plans, but aside from my husband, this secret is solely my own. My solo trips to the store can feature longingly looking at newborn footie pajamas and tiny car seats. But the moment I'm actually with someone else, I become extremely embarrassed about this, even making jokes. I don't consider it hiding a part of who I am, but that's kind of what it is.
I live a double life of putting on the face of not wanting children while secretly wanting one so badly. Maybe I keep up the front for my own selfish reasons, that way if it happens again, I won't be as crushed. I mean if I never really wanted it, then I won't be sad when it happens, right?
WRONG. Oh, so, wrong.
Because that was me the first time around. I was in the middle of the worst manic episode of my life (I was diagnosed with bipolar II), and I was living recklessly and frivolously.
I had no idea that I was pregnant until I was already 9 weeks along.
Then I lost my baby at 12 weeks. It was the most sobering, miserable, heart-wrenching experience of my entire life.
I went through it alone, on the bathroom floor of my boyfriend's apartment, covered in blood for what seemed like hours until he found me and we googled "miscarriage". We didn't want a baby then and we weren't ready, so there's some kind of "silver lining/everything happens for a reason" line here. This experience showed us that this was something we did want, and that brought us closer together.
The time that followed is a blur, an absolute blur. This is probably because I was in a post-manic episode and also because my brain is probably protecting me from that heartache I felt. The world came crashing down around me and I refused to pick up the pieces for a long time.
The depression took over. I think I cried for half a year over the pain of our loss, and then for weeks leading up to and approaching that one year mark.
All I had for a long time was tears.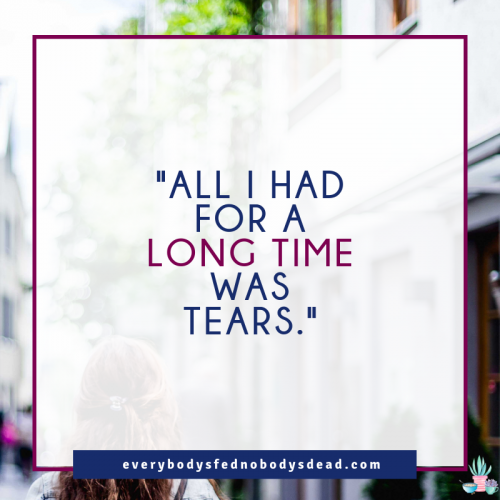 It took a toll on me and my relationships with my husband, family, and friends. They saw this super depressed person, and they didn't have any idea what was causing my pain. I kept everything inside. I didn't want the look of pity from others, that just feels like reliving that horrible pain all over again.
One year and two months after my miscarriage, I had my first fibromyalgia flare. I had no idea what it was at the time. It was intense, the pain was insurmountable, and I physically couldn't move from my bed. I felt paralyzed.
The doctors assured me that my miscarriage didn't set off the fibromyalgia and that fibro didn't cause the event either; it's just something that happens. That's the hardest part to accept: this is just something that happens.
My fibro makes every day a living hell; there's not really a better way to phrase it. Some days are better than others, and this scares me for the future.
How will I be able to be a parent to my child when sometimes I can't even be a wife to my husband? Questions flood my brain 24/7: could I even do this with my health? Carrying a child and childbirth is not something I'm sure my body could handle. But it's something that I'm willing to fight for, and I think that's what matters the most.
My health is a topic I don't go too in-depth on often.
When I was first diagnosed, I felt bombarded, and I overshared on social media. At that point in my life, the internet was the only place I could vent about myself and my illnesses. I struggle deeply with depression, bipolar, and fibromyalgia.
It's some kind of deadly trifecta if you ask me.
I become lost inside myself and was unable to leave my house for days or weeks at a time. The pain was insurmountable and indescribable, but if you want to try and imagine: it's like being set on fire while being consumed alive by rabid carnivores and also being stabbed everywhere while being eaten alive by fire ants.
Fibro is very complicated, and expensive to treat. I was on a medication that was $750 a month. I risked death to wean myself off the drug so that I could have money for rent because coincidentally that's the same amount I pay in rent. 30 days of medication or 30 days of housing? It was an easy choice in the end because my medication was bankrupting me.

I'm one of my only friends who has more medical debt than student loan debt. My $17k in medical debt didn't come with a fancy loan or a set interest fee. It was accrued with credit cards over multiple $150 ER copays, $75 copays, $750 medications, and specialists upon specialists with $50+ copays.
Being sick is the most expensive thing that's ever happened to me.
Do I think for one second that having a child will improve my financial well-being or change the status of my debt positively? No! I don't! I'm not daft, I know kids are expensive. I see the price of diapers, of little socks, medicine, and everything else.
But I want that. I can't change it, no matter how hard I try to will away this feeling.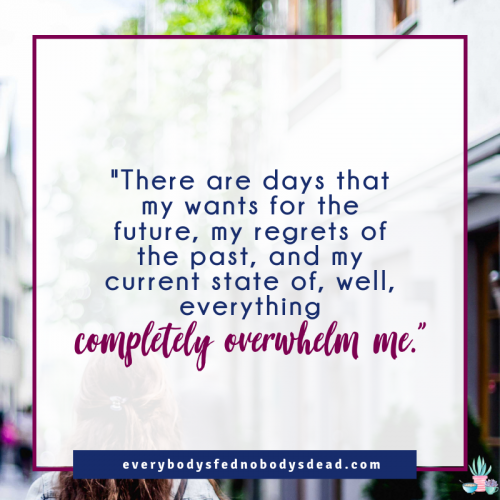 There are days that my wants for the future, my regrets of the past, and my current state of, well, everything completely overwhelm me.
I mentioned I can become lost inside of myself, but it's more than that. It's this auto-pilot mode, just smiling and waving, but not really engaging. I was on a very popular antidepressant for years, and it made me a zombie. I felt things, but my apathy was gone and replaced with the inability to care about the results of my actions or their consequences.
My medication made me unable to see a manic episode when I was inside one, and it caused me to make some seriously reckless moves. Thanks to the support of some amazing friends, I was able to break the "spell" I was under. I'm trying to move forward, but there was damage done, and I'm picking up the pieces of the things I broke in the process.
There's this cliche quote that says "I do not apologize for how I repair what someone else broke" – that's exactly how I felt coming out of this last episode.
A little bit about manic episodes for those that don't know:
Symptoms of a manic episode include, but are not limited to: mood changes, sudden changes in energy and activity, speech disruptions, impaired judgment, changes in thought patterns, development of psychosis, reduced need for sleep, increased rate of speech, being easily distracted, high self-esteem, an increased interest in goal-oriented activities, an increased pursuit of risky or dangerous activities, extreme excitability, extreme irritability, hostility, inappropriate or brash behavior, an apparent lack of insight into the consequences, reckless and extravagant spending, and hypersexuality and sexually provocative behaviors.
Each manic episode is unique to the person who is experiencing it. And for me, each manic episode has been extremely different from the last.
I've had four identified manic episodes in my life, but I assume some moments as a child I took as sheer months of joy were actual months of mania. The extreme pitfall of depression that follows the extreme high of a manic episode is absolutely some of the worst sadness I've ever felt. Even with my medication, I had a rough time seeing the other side.
After my last extreme depressive episode ended and I picked up the pieces of my life post-manic, I decided to completely stop my medication.
That's not how I want to live.
There's an insane window of clarity that comes after being manic that shows you what you want and what's important. Sometimes your brain clears enough to know how to achieve your goals and shift your priorities. I quit my job for a better one, dumped toxic friendships, and recentered my priorities.
What I really want is to raise a family with my husband, and to create a better future for me and us.
This is what we're supposed to do. All the turmoil and struggle will be worth it for the tiny feet and soft smiles.
Will I still feel that way when it's eye-rolls and snarky attitudes? Who knows! But I have earned my place in this world, and I want to experience all of those ups and downs for myself.
So if you see me in Target and I'm longingly looking off in the distance or walking at an unusually fast pace it's probably because I'm avoiding that aisle, or a baby, or a cute little pajama set. Or, let's be honest, I'm avoiding someone I know. But until I'm ready to face that aisle, you can find me begrudgingly forking out way too much money for a stick I pee on almost every month, crossing my fingers so hard to see that dang plus sign!
Inevitably it's negative, again. But I once again swallow my disappointment and say, "Let's try again!"
Because I'm going to keep trying.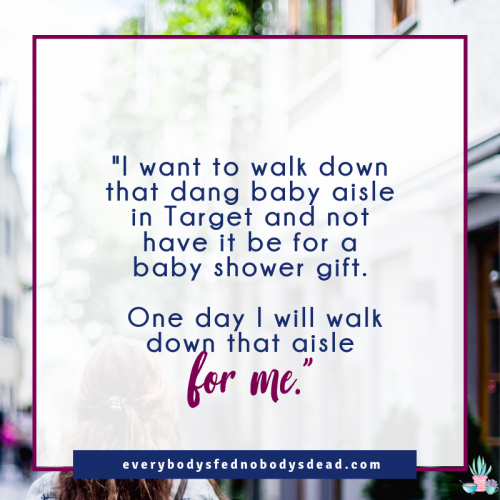 I want to walk down that dang baby aisle in Target and not have it be for a baby shower gift. One day I will walk down that aisle for me.
– Morgan*
*Author's name has been changed to protect privacy.
Thank you for reading Morgan's story in the Raw Motherhood series. If you feel that you could be suffering from depression or bipolar disorder, speak with a medical professional. If you need more information on the terms used in this article or resources, please refer to our Glossary.
Posts You Might Like: