We are a participant in the Amazon Services LLC Associates Program, an affiliate advertising program designed to provide a means for sites to earn fees by linking to Amazon.com.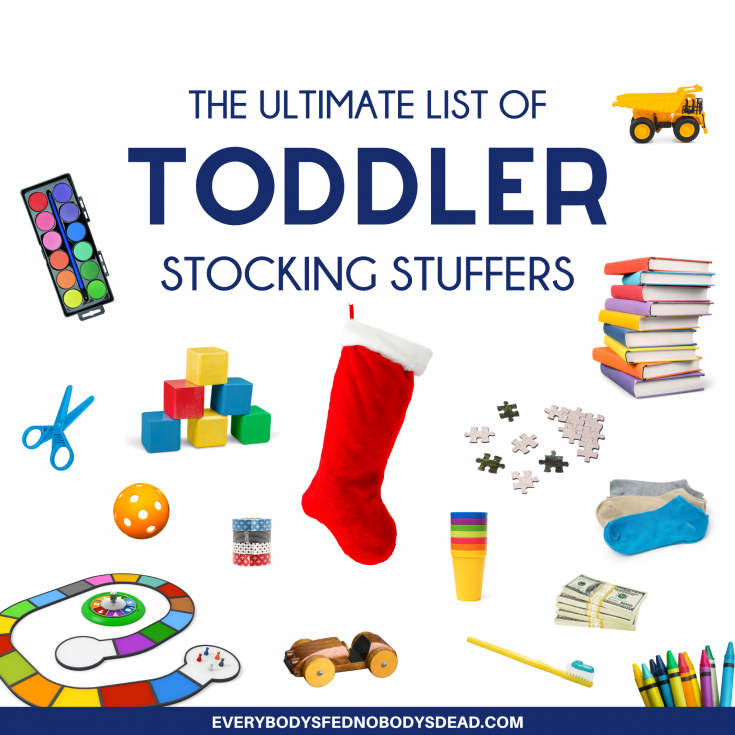 Stocking stuffers are a majorly underrated part of Christmas and gift-giving.
Gifts don't have to be expensive to be valuable and special, and stockings provide the perfect opportunity to surprise others with little items they forgot they wanted or needed.
In our family, we follow the 4-gift rule (want, need, wear, and read) for presents, so I enjoy filling up the stockings with items that don't always fit those categories, or are smaller items I know will be loved.
Toddlers are fun to buy for, and toddler stocking stuffers can be fun and affordable, without being low on quality.
Every item on this list is under $15 (at the current time of publication), and a few of these items could easily stand alone as stocking stuffers because they're THAT GOOD.
So rather than filling your toddler's stocking with junk that will be broken or tossed on December 26th, pick a few quality items for your toddler's stocking that will be well-loved and see years of use! And if you still feel that only an item or two in a stocking isn't enough, you can always throw in an orange and some leftover Halloween candy.
All items listed can be found on Amazon because this blogger is addicted to Prime 2-day shipping. Click the banner below to start your 30-day free trial.
The Ultimate List of Toddler Stocking Stuffers:
Toys
Melissa & Doug Pretend-to-Spend Wallet – I'm a huge fan of Melissa & Doug products because they are consistently good quality and excellent for open-ended play. My toddler is fascinated by money, and unlike many products on the market, this wallet set actually looks realistic, meaning she'll actually play with it, rather than asking to play with my wallet.
Pull Back Vehicles – These very tiny cars and trucks come in lots of styles and colors, making them an excellent stocking stuffer for tiny hands. Toddlers will love zooming these around and being able to keep them in pockets.
Toy Keys – Ah, a noisy toy: every parent's nightmare. Though I don't allow many toys with sound into our home, giving my toddler her own set of keys has kept her from stealing mine.
Bristle Blocks – Blocks are an ageless toy, and presenting them in a unique and sensory-friendly texture makes these blocks a big hit! Bristle Blocks are bright and colorful and fit together at any angle, making them a favorite for years to come.
Toy Story Pack by Little People – You can never go wrong with Little People! If your kid is even half as obsessed with Forky as my toddler, this stocking stuffer will definitely bring big smiles.
Fidget Pop Tube Toys – Not gonna lie, these toys might drive you a little crazy. But with tons of opportunities for sensory stimulation and developing fine motor skills, poppable tubes make awesome gifts. Young kids will love how they feel and sound, and older kids will find them calming and soothing.
The Sneaky, Snacky Squirrel Game – This Amazon-favorite gets rave reviews for being similar to the classic Hi-Ho Cherry-O, but with added educational elements. A fun game for everyone, kids won't even realize they're learning and building skills!
Water Beads – Yes, it does say 20,000 water beads – DO NOT DROP THEM ON THE FLOOR! Not that I have any personal experience… But if you can manage to keep them contained, water beads provide hours of entertainment with little adult work/prep required.
Water Wow! Dinosaurs Reusable Water-Reveal Activity Pad – Easily one of the most loved toys in our house, Melissa & Doug water reveal pads are brilliant, and every toddler should have (at least) one. These cheap and reusable coloring pads are mess-free, reusable, and only require water!
Melissa & Doug Solar System Floor Puzzle – This jumbo 48-piece puzzle is great for tiny hands, and it's another toy that promotes learning and hand-eye coordination while still being fun. Kids will love doing this solo, with mom or dad as they learn the planets, or with friends!
Melissa & Doug My First Temporary Tattoos – Everyone loves temporary tattoos (even me – I can regularly be found applying kid tattoos or Bible verses), and this kid-friendly pack is filled with fun designs and bright colors. Bonus: temp tattoos also make great alternatives to candy rewards!
Books
Press Here Board Book – Press Here is an interactive board book that encourages imagination and participation. Even adults will enjoy it!
Potty Time! Board Book – This book features music and sounds from the TV show, so kids familiar with Daniel Tiger will be thrilled to play and learn along. I also highly recommend the Potty Time Toy, which allows kids to practice putting Daniel on the potty and flushing.
Essentials
Ankle Socks With Grips – ALL toddler socks should have grips on them. Seriously, toddlers are the most accident-prone people on the planet… Give your kids something they actually need this Christmas by stuffing your toddler's stocking with a few pairs of socks.
Munchkin Splash Toddler Cups – Munchkin products really stand up to toddler abuse, and if you're ready for your kids to move away from sippy cups, these are a great solution. Though not spill-proof, these cups work with or without a lid, and straws can fit in the lid opening.
Electric Toothbrush – This 2-stage toothbrush provides different heads for different ages and includes a built-in timer to ensure your kid brushes for the full 2 minutes. It also lights up and vibrates, making tooth-brushing more fun and less of a battle.
CamelBak Kids Water Bottle – CamelBack water bottles come in a huge variety of colors and styles, making them a great diaper-bag item because they're unique and harder to lose.
Bathtime Toys
Munchkin Fishin' Bath Toy – I try to find bath toys that won't get gross and moldy, and this toy has lasted in our bath for quite a few years. It's a simple toy, but it has a strong magnet, and my only complaint is that it doesn't actually reel in the fish. This is a toy my toddler reaches for again and again, and even I enjoy "fishing" with her.
Toy Basketball Hoop – Rather than using suction cups, this bath toy smartly fits over the bathtub faucet, making it durable and easy for toddlers to reach. It's also easy to clean!
The First Years Stack Up Cup Toys – When it comes to open-ended play, you just can't beat cups. My daughter would pour water from cup to cup for hours if I let her. If you don't already have these, they're a versatile and long-lasting toy that will be passed down through the years.
Baby Bath Books – For some reason, doing anything in the bath automatically makes it more fun, and reading is no exception. Bath-safe books are always a cheap and easy way to provide screenless entertainment.
Crafts and Supplies
Melissa & Doug Decorate-Your-Own Wooden Craft Kits Set – Through probably ideal for older kids, this activity provides a lot of opportunities for learning and skill-building, and can easily be modified based on the child's skill level. Older kids will love building their own toy, while younger toddlers can enjoy painting the car mommy or daddy already assembled.
Sponge Painting Brushes Kit – At less than $15, this painting kit comes packed with supplies for your aspiring artist. Fill their stockings to the brim with tools to create for hours (so you can actually have some quiet time!).
Crayola Jumbo Crayons – Maybe your toddlers are kinder to their crayons, but my kid is a very aggressive colorer, and after she's broken a crayon, the paper must be removed. This makes me crazy, so I buy her new crayons every few months, and the jumbo crayons are slightly harder to break.
Crayola Washable Kids Paint – Pair these pretty paints with some paper and an easel and let your toddler create a masterpiece! This set of 12 washable paints includes 6 with glitter.
Washi Tape – I know it seems like a strange addition to this list, but washi tape makes an awesome stocking stuffer. Kids love the bright patterns and colors, and the thin tape is easy to rip, meaning toddlers can use it independently to make pictures and lines. It's also not very sticky, making it great for windows, or to use in an airplane.
Learning and Practicing
Toddler Coloring Book – Toddlers can work on numbers, colors, and shapes as they color in this happy and bright coloring book. Each page is printed on just one side to prevent color bleeding.
My First Brain Quest – I loved Brain Quest cards as a kid! These cards stay together so they can't be lost, and each card includes pictures and questions to ask your toddler. Work through a few at a time to keep your toddler excited for the next round.
Melissa & Doug Scissor Skills Activity Book – While I personally prefer my toddler use real scissors (she's been using them since she was 2.5), this activity book provides safety scissors and easy shapes for younger kids as they work on hand-eye coordination skills.
First Words Flash Cards – Make a game of learning words and letters with this set of 54 double-sided word cards. Once that's mastered, move on to Colors & Shapes, the Alphabet, or Numbers.
Mama, don't stress about gifts.
Remember that Christmas isn't just about the gifts.
Rather than giving your kids tons of presents they don't need, be more decerning in what you gift, choosing quality over quantity.
Give each kid a few gifts, put a few things in their stockings, and sit back with a hot cup of coffee on Christmas morning as they rip into their presents. You'll be far more relaxed, and your kids will still feel loved.
Merry Christmas from Everybody's Fed, Nobody's Dead!
Be sure to check out our other Christmas posts for even more gift ideas: Stocking Stuffers Under $15 That Mom Will Love and Christmas Gifts Under $50 for the Cool Mom.
Posts You Might Like: