We are a participant in the Amazon Services LLC Associates Program, an affiliate advertising program designed to provide a means for sites to earn fees by linking to Amazon.com.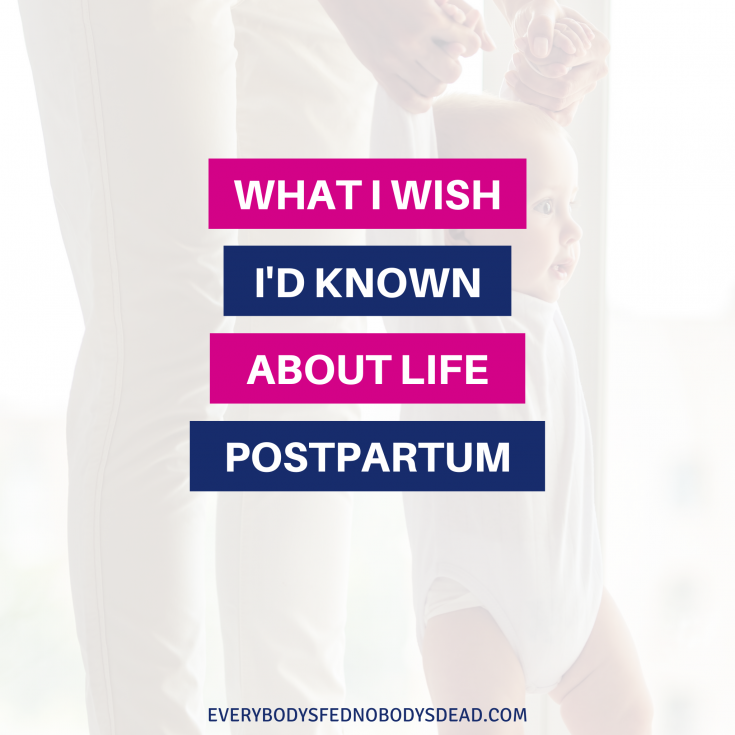 I always knew that having kids would be life-changing, but I didn't realize I would become a completely new person postpartum.
I understood (or thought I understood) that taking care of a new baby would involve learning new things, but to my surprise, caring for my new self was almost more difficult than caring for my baby. Almost.
Our world is filled with books, websites, and well-meaning friends ready to share their wisdom for raising tiny terrorists humans. But when it comes to new moms, society is often at a loss for how to help them.
Motherhood used to be a community. Women used to work together and learn together. It used to take a village. But now, we're all islands, trying to navigate the rough waters alone, missing out on the support, compassion, information, and help we so desperately need.
"No, we're not oppressed in the same ways that we used to be (nor in the ways other women around the world still are), but make no mistake about it:

In the absence of the village, we're disadvantaged like never before. We may have more freedoms than our foremothers, but our burden remains disproportionately, oppressively heavy."
– Beth Berry, In the absence of 'the village,' mothers struggle most
It took me a long time to find my village. It took me a long time to ask for help, to feel supported, and to learn who I was postpartum.
My hope is that other moms never experience these struggles, but the reality is that most will. So let's share information, build communities to offer support, and encourage other moms on their journeys.
Here's what I wish I'd known about life postpartum:
Postpartum Depression Isn't the Only Mood Disorder
Though there's still a long way to go, societal awareness and destigmatization of postpartum depression are on the rise. Celebrities like Chrissy Teigen and the Duchess have been vocal about the struggles of motherhood, and social media is giving moms a voice.
This led me to believe not only that there would be plenty of help and resources available if I ever experienced PPD, but that it would be the only thing I could experience.
Though neither of these things turned out to be true, I was blessed to only experience postpartum depression and nothing more severe. But it wasn't until I began the journey of trying to take care of my mental health and manage my depression that I even learned about all of the different postpartum mood disorders.
If you want to learn more about each of the perinatal mood and anxiety disorders (PMAD), Postpartum Support International has a fantastic info sheet, and you can also check out our Glossary for definitions and corresponding resources.
But since I won't be going into depth about the different mood disorders in this post, it's important to know that, not only are there several other mood disorders, but postpartum anxiety is becoming even more common than postpartum depression. As doctors learn more, they're doing a better job of giving correct diagnoses, rather than just calling postpartum mood disorders "depression," but disorders like postpartum anxiety or perinatal OCD are frequently treated like PPD, which isn't always what the patient needs.
No matter your diagnosis, it's best to be aware of all the possible mood disorders and their symptoms so you can be best prepared for How to Talk to Your Doctor About Your Mental Health.
You'll Imagine Horrible Things, and It's Probably Normal
This is something rarely talked about because moms feel so ashamed, but intrusive thoughts are usually a normal part of the postpartum period.
When I first began imagining horrible situations like dropping my baby, driving into oncoming traffic, or accidentally suffocating my daughter in her sleep, I was terrified. I thought something was wrong with my brain, and I was scared to tell anyone in case my baby was taken from me.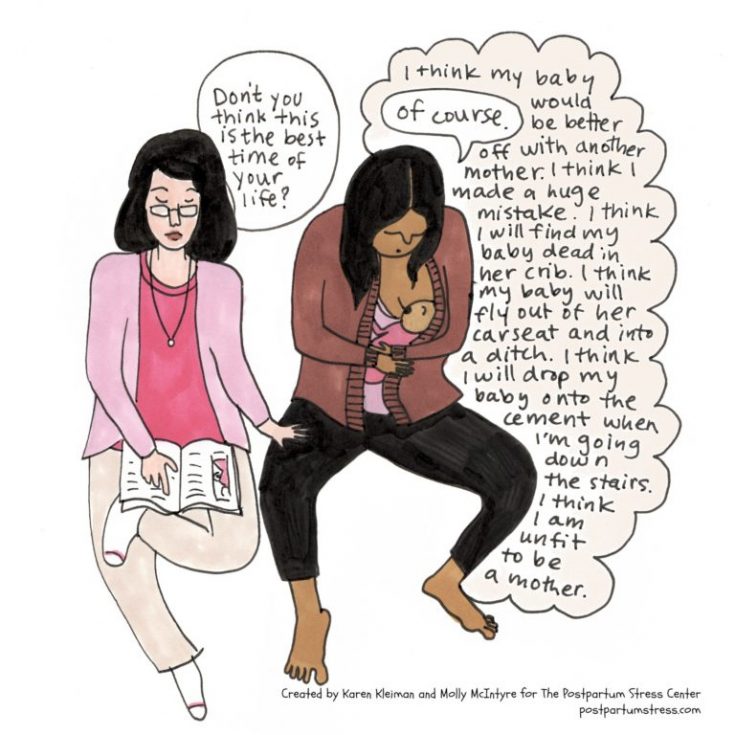 Eventually, I began to ignore the intruding thoughts, and they became less and less frequent.
Intruding thoughts are scary and uncomfortable, but as long as they aren't accompanied by a mood disorder, they don't cause you to change your behavior, and they get better (not worse) with time, these thoughts are likely normal.
Fear of letting others hold your baby could be a normal adjustment to motherhood, but refusing to let anyone care for or watch your baby could be a sign of PPA or OCD. Being nervous about having your baby around escalators could just be a cautious behavior, but refusing to go anywhere that has escalators is irrational behavior, and could point to a larger problem.
It's important to monitor these behaviors and speak to your doctor if the intruding thoughts become more than just passing thoughts.
Sleep Deprivation is Serious
Before having a kid, I inwardly rolled my eyes when parents complained about how tired they were. Seriously, we're all tired, I'd think to myself. You chose to have kids. Just try to sleep more.
Yes, my pre-kid naivety was pretty impressive.
Sleep deprivation is without a doubt the worst form of torture I've ever experienced. I became so delirious and emotional that I believe I had a brief psychotic episode.
Eventually, my exhaustion led me to seek out answers, and I was diagnosed with sleep apnea.
So yes, the extreme exhaustion I experienced wasn't normal, thank goodness. When nursing a newborn at 3 am, I often wondered how anyone survived this level of insanity, and I'm thankful to know now that most moms are running on a little more sleep than I was.
When I incorrectly thought I was experiencing a normal level of postpartum exhaustion, I wondered how in the world moms were keeping themselves and their kids alive! I was too scared to drive the first year of my daughter's life because I couldn't keep my eyes open when I was behind the wheel. Now that I've been using a CPAP machine for almost a year, I'm amazed at how much more human I feel for the first time in my life.
But even though my situation was more unique than most, it still highlights something really important: sleep is completely vital and needs to be taken seriously.
We're all aware of the negative effects of lack of sleep, but many people fail to use the information to improve their quality of sleep, and for new moms, that can be disastrous.
Not only are new moms recovering from a major physical event, but they're trying to keep a tiny human alive as they learn the entirely new and life-changing role of motherhood. Any of those things on their own would be hard enough, but when you combine them and add extreme exhaustion, you create an explosive cocktail.
Mama, if you're reading this, you already know what it's like. But the rest of society needs to grasp the severity of sleep deprivation new moms face because this is an issue that has the potential to affect others.
New moms need to be supported, and since sleep is non-negotiable, there needs to be more compassion and resources for struggling moms.
If you know a new mom, find a way to GIVE HER A NAP. Seriously, when I had a newborn, my greatest wish in the world was that someone would let me sleep, bring my baby to my bed to nurse, and then take her away again so I could go right back to sleep.
When Chrissy Teigen shared that she would be hiring a night nurse after giving birth to her daughter, people were outraged that she would choose to "pawn off" her baby on someone else.
Excuse me for a minute… My eyes just rolled so far into the back of my head that they got stuck…
I love this quote from Mary Sauer on Babble:
"Why on earth do we insist on making motherhood any harder than it has to be? And why do we feel the need to not only make motherhood hard for ourselves, but to also impose our own ridiculous standards on mothers everywhere?"
– Mary Sauer, IF I COULD HIRE A NIGHT NURSE LIKE CHRISSY TEIGEN, HECK YEAH I WOULD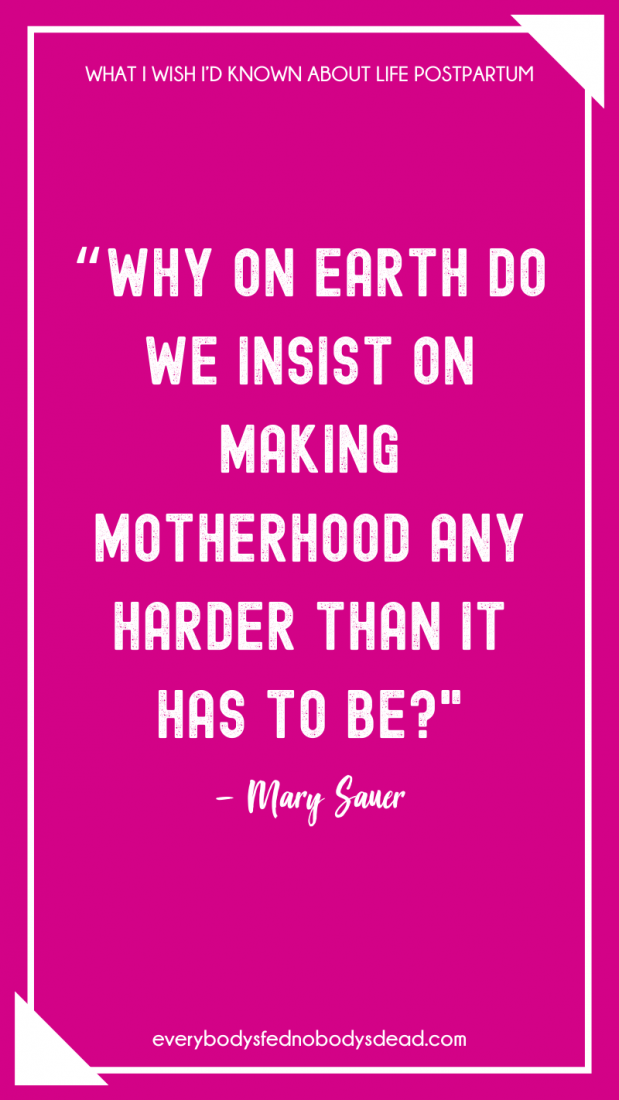 If you can get help, do. If you can afford a night nurse, a sitter, or a short-term postpartum doula, do it. And if you're not in a position to pay for help, lean on others. This is the time when moms should band together to help each other out.
And please, if you have any compassion at all for new moms, don't tell them to sleep when the baby sleeps.
Self-Care is Necessary and Rare
Do you remember above when I mentioned my pre-baby naivety? Yeah, well, prepare yourself…
I thought having kids would be a fun thing to do.
Yeah, feel free to laugh. I'll wait.
Right now, I crave boredom. I dream about peace and quiet. I'm desperate for adult interaction, and the thought of spending the day kid-free makes me want to jump for joy.
I'm a battery, and motherhood drains me. Motherhood exhausts me. So taking care of myself has to be on my list of priorities, because it's part of how I battle depression.
Self-care gets a lot of heat for being an elitist luxury and not really treating underlying issues. And to some degree, I can certainly understand the argument. Obviously, a $75 pedicure isn't going to cure depression, let alone be something everyone can afford.
But this idea that self-care is about bubble baths and messages misses the point. Self-care is just a blanket term for the ways in which you uniquely care for yourself.
Once you become a mom, it's easy to lose your identity. Find things that are purely for you and bring you joy, and make sure to schedule them in your life.
If reading relaxes you, carve out 10 minutes to read in the school pick-up line every day. If baking is your therapy, bake something you love late at night once a week. If blogging is your jam, take your laptop to the library and write while you kids read and play. And if therapy is the only way you can move forward, swap babysitting with a neighbor and see a therapist once a month.
If you need more ideas, check out my post on 15 Super Simple Ways to Practice Self-Care.
You have to take care of yourself. You have to. When I meet moms who say they can't remember the last time they did something for themselves, I worry. Burnout is a real issue, and it's easy for moms to go and do and be everything until they completely lose themselves. Busyness is not a badge of honor.
The postpartum period will test you.
Nothing can prepare you for life with a newborn or the ways motherhood will change you. You may find that you adjust to motherhood with ease and grace, but if you're like me, and motherhood doesn't come naturally, know that it's okay. It's okay if you struggle, if you doubt yourself, if you wonder how you'll survive, and if you can't remember the last time you showered.
In case you haven't heard it lately, you're smart, beautiful, and an incredible mother.
Don't let the worst days destroy you. Find your village, take care of yourself and your mental health, and look for ways to find joy in everyday moments.
Thankfully, the postpartum days will eventually end.
What has been your biggest struggle postpartum? Comment below and please share this on Pinterest.
Posts You Might Like: