We are a participant in the Amazon Services LLC Associates Program, an affiliate advertising program designed to provide a means for sites to earn fees by linking to Amazon.com.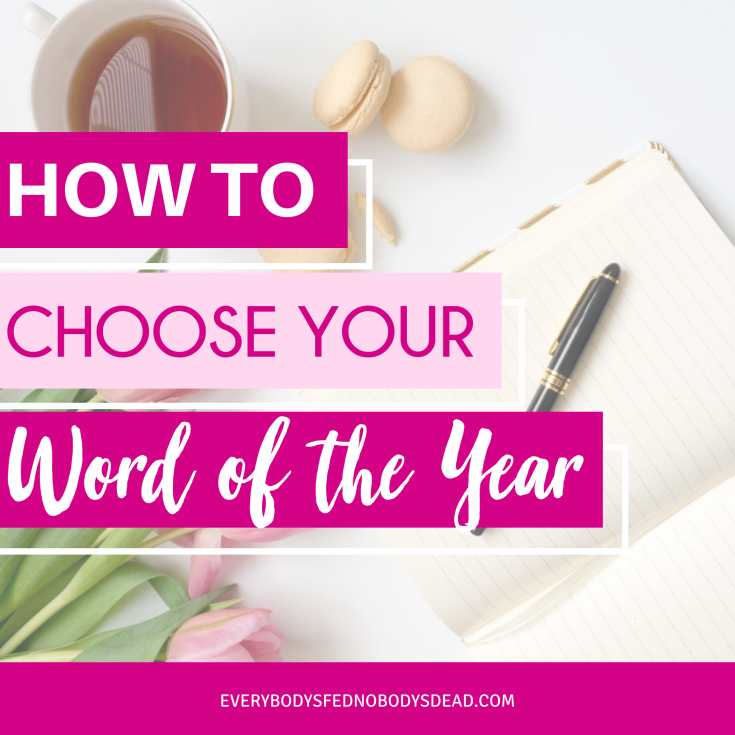 I'm not a fan of New Year's resolutions.
I'm a pretty practical and realistic person, and while I do have personal goals, I know my limits. I know that setting a goal to read the entire Bible in a whole year, lose XX lbs, turn digital, or run a marathon with no experience is setting myself up for failure.
I'm not saying that these things are impossible or unattainable, and I do think it's important to dream big. But I also know what I want in life and how hard it can be to fall short of my goals.
I realize how negative all of that sounds, and I don't mean for it to. But I think we often get nostalgic and unrealistic at the end of the year. We start thinking about all of the ways we've failed in the last year, and we decide to completely transform ourselves within the next year. And when it doesn't happen, we beat ourselves up.
If New Year's resolutions work for you, that's awesome; keep up the good work!
But if you're like me and you yearn to break loose from the constraints you feel every January, I have a better idea for you:
Choose a Word of the Year
When I first heard this idea, I honestly thought it was kind of cheesy. How is a word supposed to replace goals? How does using words like gratitude, achieve, simplify, consistency, lead, or sparkle have any effect on your year?
It's really all about mindset.
Choosing a word of the year isn't about doing a specific set of goals or actions, but rather about framing your year through the lens of your word. When you choose a word, you're creating a guideline for how your year will look. That word becomes a banner that hangs over your decisions, your actions, and your relationships (if applicable).
Let's use an example; let's say that you choose to use the word embrace as your word of the year.
This means that your 'goal' for the year is to embrace anything/everything that comes your way. Maybe you've struggled in the past with trusting others, or you've let fear keep you from dreaming, or you've resisted change in your life. Using this new word encourages you to break out of your comfort zone and say "yes" to things you may not have before.
When you feel the stress of the holidays, you lean into it rather than breaking down. When you feel a tug in your heart to try something new that scares you, you go for it. If a big change comes your way, you decide to find the best in it. You embrace life in a way that makes sense to you.
No one can choose your word for you.
The same way no one could force goals upon you, no one can tell you what you need to focus on in the next year.
Picking a word of the year can seem daunting, but it really doesn't have to be. The trick is to work backward. This is usually what trips people up because they try to find a word they like and then mold to it. It doesn't work that way. You need to figure out what you want in your life. How do you want to feel? What are your priorities? How do you want to affect others? What areas of growth should you think about? How should you challenge yourself? What outcome do you want?
Use these questions to narrow down your field of vision to an emotion or desire you have for the next year, and then find your word from that.
If at this point an obvious word doesn't stand out to you, then you may need to let your word find you. Yes, I know it sounds cheesy.
But this year, my word found me.
I was sitting in church Thanksgiving weekend when I found my word of the year. I'd been looking for a word for a few weeks, but hadn't totally settled on what I wanted to get out of 2019.
That day's sermon was about the toxic thoughts we let into our lives, and how worry and negativity can cause destruction. It was a wonderful message that really hit home for me. 2018 was a year filled with transformation and personal growth, and yet I was still battling depression daily. I'd spent the year wondering things like is this my new normal? Will I always be exhausted and sad? Is this as good as it gets?
I was so tired of the negativity and depression, and suddenly I was hit with CHOOSE JOY. It was such a strong feeling that I smiled and immediately wrote it down in my notes, knowing that I'd found my 'word' of the year (even though it's actually a phrase).
My word sounds kind of lame compared to many of my friends' words.
Words like inspire, cultivate, and renew all sound more fun than my simple three-letter word. But what matters is that it's the right word for me and that it means something to me.
I've already been using my word a bit, and it's given me a wonderful sense of purpose going into the new year. In 2019 I want to find joy. I want to make joy. I want to choose joy.
Ever since giving birth and becoming a mom, joy and happiness haven't been in abundance, and I want to change that. In 2019, I want my family to make memories and do things that fill us all with joy. I want to chase things that excite me and let go of things that cause stress and sadness. I want to take care of myself in ways that foster joy, and learn to find joy in everyday life.
Go find your word.
Use it to guide you to bigger and better things over next year. I hope that when you look back on the next year, it's not with sadness that you haven't accomplished a list of unattainable goals, but with satisfaction that you grew personally.
And then, when you pick a word for the next year, you can build off of the word from the year before, reaching for even more growth and personal development.
Are you a fan of resolutions, or do you pick a word of the year? Let me know in the comments, and if you don't mind, pin this post so your friends can learn about how to pick a word, too!

Posts You Might Like: