We are a participant in the Amazon Services LLC Associates Program, an affiliate advertising program designed to provide a means for sites to earn fees by linking to Amazon.com.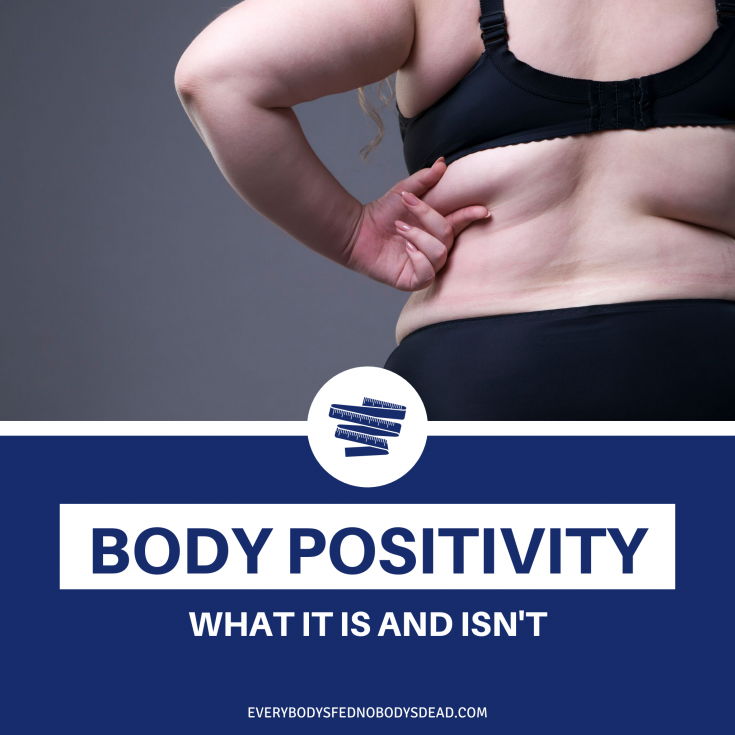 In the last ten years, there's a good chance you've heard the phrase "body positivity" at some point. Maybe you saw it used as a hashtag or in an ad for women's clothing, along with the message to love yourself.
Body positivity sounds nice, right? I mean, positivity is a good thing, right?
Body positivity should be a good thing, but along the way, the definition changed and lost meaning, leaving behind a catchy phrase often used to manipulate consumers.
The first recorded fat activism event took place in 1967, as people marched through Central Park, attempting to bring awareness to the discrimination of fat people.
Like feminism, body positivity and fat activism have changed over time. The definitions evolved from their original intentions as society and corporations commercialized the meaning behind the movement.
As a result, body positivity is misunderstood.
So if you have no idea what it means, you find it unhealthy, or you straight up think body positivity is outdated, set aside your feelings as we reevaluate the definition.
When you truly believe in body positivity, body kindness, body compassion, self-love, body equality, positive self-image, body acceptance, self-esteem, etc, you grow as a person. So rather than dismissing the phrase as cheesy and unhelpful, let's reframe it to help ourselves and society.
What body positivity is and isn't:
Body positivity simply means accepting that every body is a good body.
Yup, it's that simple.
Or at least it can be. It should be.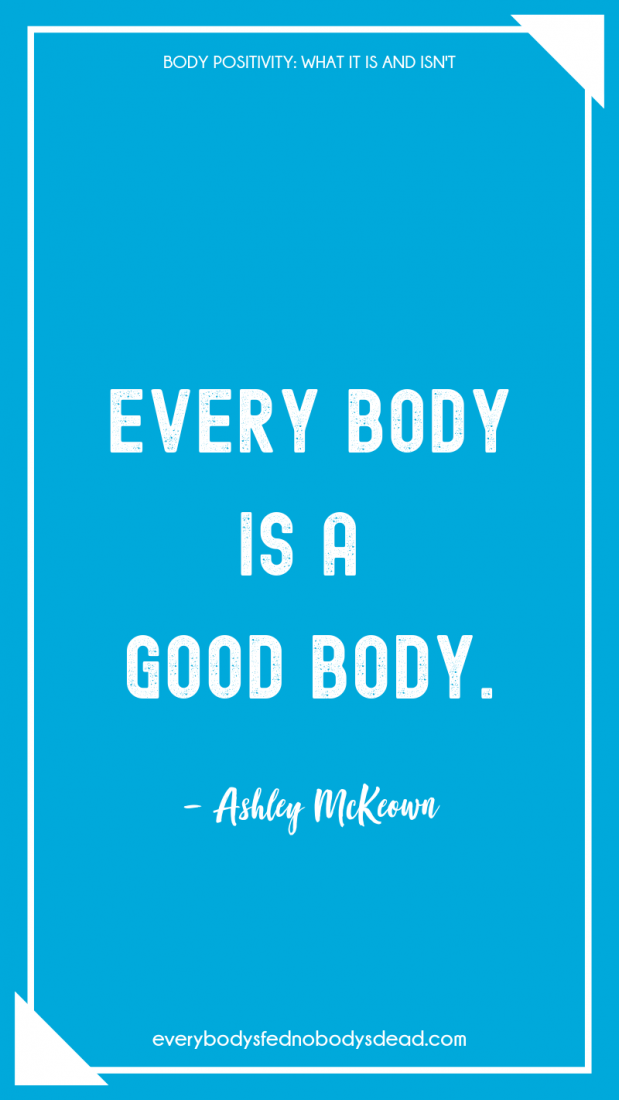 Being body-positive is knowing that society doesn't dictate if your body is good or bad. It's understanding that your value is not tied to your size, shape, color, etc.
Body positivity isn't just for plus-sized women. Body positivity is about accepting the bodies society ignores or looks down on. Thin people, athletes, all skin colors, the disabled, and men and women alike deserve to love their bodies.
Body positivity is about loving yourself and your body right now, not when you decide it's good enough. It doesn't even have to be about weight loss and health. Rather than taking steps to improve your body (like losing weight or working out), it's about accepting it in all forms.
Body positivity is NOT about losing weight.
There's a lot of debate about whether dieting is body-positive.
Here's the thing: dieting and body-positivity are two separate issues that need to coexist.
Now obviously, when you're talking about your body, weight is often a part of that. But it doesn't always have to be.
When you love your body, you want to take care of it. You want to show it love and kindness. But there are a million ways to do that, and what you eat and weigh is only a small part of that.
When you love your body, you love it in all forms. That's not the same as ignoring your weight or blindly believing that you're healthy.
Personally, I don't think dieting to lose weight purely for the sake of losing weight is body positive. However, neither is being a couch potato or refusing to exercise.
We should ALL move and eat well, but not to lose weight or look better in our clothes.
I'll be honest with you: I'd like to lose some weight right now. But not because I don't love myself or my body, and not because I wish I was thinner or prettier or not in plus-sized clothing, but for my health.
This year I was diagnosed with PCOS, and I know (from research and past experience) that even losing 5% of my body weight can jumpstart my fertility.
So how does that fit with my body positivity?
I want to take care of my body. I want to eat cleaner and move more so that my body can be stronger and healthier. This does not mean that I have a set number of pounds to lose, that I get on the scale daily, that I starve myself, or that I workout until I have an asthma attack.
It does mean that I talk to a doctor and nutritionist about my health, I make smart choices about what I eat, and I continue to love my body every day as I try to improve my health.
Body positivity does NOT equal thinking your body is perfect.
The word "positivity" can make the whole movement feel insincere, especially when the media waters it down with something like marketing a diet pill.
Loving your body is a lifelong journey. You and your body will change, and as you transition through life, there will be times you love your body and times it's a struggle. But loving your body means balancing self-care and self-love, and acknowledging that even on the bad days, your body is still a body worth loving.
You don't have to feel wonderful every day to love your body. Separating your worth from your body means you know you don't deserve less than anyone else.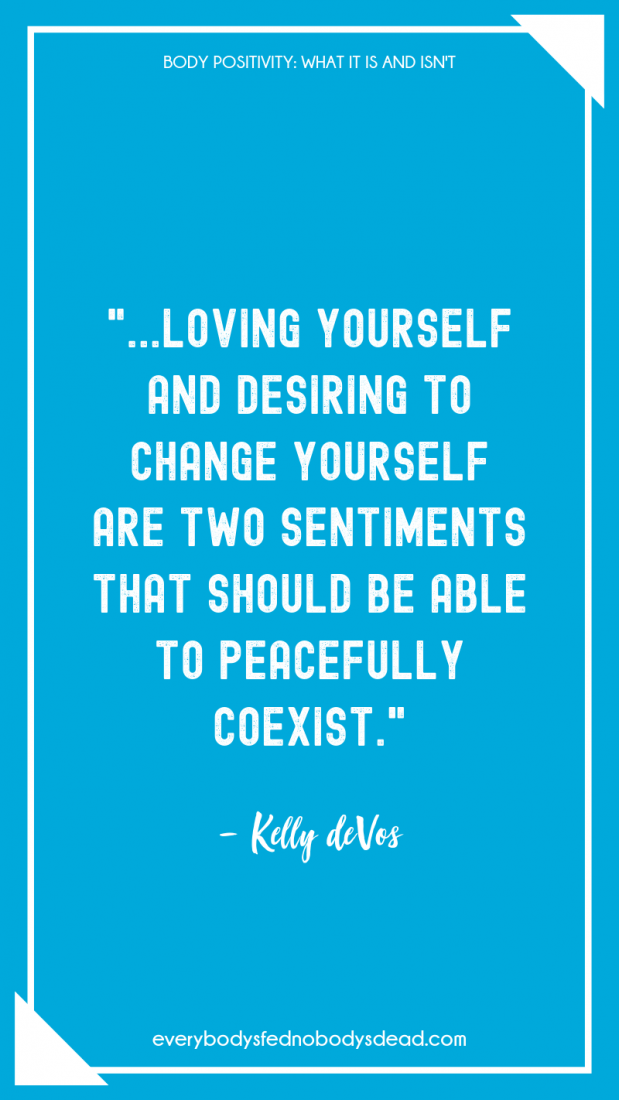 "…loving yourself and desiring to change yourself are two sentiments that should be able to peacefully coexist." – Kelly deVos, The Problem With Body Positivity
Body positivity is NOT just about you.
Our views of beauty and worth are so tied together that we often shame people without even realizing it. Skinny doesn't equal healthy, just as fat doesn't equal lazy.
It's important to consider how you react when you see both a small person and a larger person in a swimsuit or ordering fast food.
Newsflash: OTHER PEOPLE'S BODIES ARE NONE OF YOUR BUSINESS.
Let me say it again for all the gossips in the back: OTHER PEOPLE'S BODIES ARE NONE OF YOUR BUSINESS.
So if you claim to be body-positive, but you're concerned with how much weight your neighbor gained, or your aunt's muffin top bothers you, you're the problem.
Bodily autonomy means you have no say in anyone else's health or appearance.
Body positivity does NOT equal celebrating obesity.
I love this quote from Buzzfeed: "'Promoting obesity' is not a thing. Obesity is not a club that, if the right number of proverbial flyers are handed out, people line up to get into. Living joyfully in one's body and not hesitating to share those joyful moments with others, or giving representation to people who aren't normally visible in media, only 'promotes' not delaying happiness until you reach a certain dress size or number on a scale." (Italics added)
You don't have some moral high ground for being more fit or trim or shapely than someone else. Your body is simply a body, and thinking that someone is lazy, dumb, or ugly because their body is larger than yours is disgusting.
Here's the thing: fat people know they're fat. It affects everything they do every day.
I was once kicked off of the carousel in Mall of America because the lap band didn't fit around my stomach. That's my life.
So why am I not allowed to love myself? Why are thin people the only ones who can embrace body-positivity, but if I love my body, I'm saying that "it's okay to be fat"?
First of all, it is okay to be fat. Secondly, my weight is between me and my doctor only. You don't get to tell me that the extra weight I'm carrying around could shorten my life, because you don't know anything about my health.
I have as much right to wear beautiful clothing, take selfies, and feel confident as anyone else, no matter my size.
Body positivity is not a buzzword.
"…as soon as "body positivity" becomes a marketing tool, it stops being about body positivity…" – Kaila Prins, Psychology Today
When we use phrases like this for marketing or a cute hashtag, it devalues a movement. Body positivity, when truly embraced, has the power to bring people together and reduce prejudice. Can you imagine what the world would look like if we loved and accepted ourselves and others?
Why does it matter?
"I'm not fat, so none of this applies to me."
Being body positive is important for two reasons, the first of which I just said above:
Can you imagine what the world would look like if we loved and accepted ourselves and others?
I've never met anyone who was 100% in love with their body, but if I did, I'd still encourage them to love everyone else's bodies. And since I'm betting you don't love your body 100%, then yes, this does apply to you, no matter your size.
The second reason body positivity is so important is because it's our job to raise future generations without damaging their body image.
I know that's a really tall order – I worry daily about how I influence my daughter's body image. But we have to model loving our bodies so that our children can model it for their children and they can model it for their children.
Tiny ears hear what you say about your body. They hear what you say about the appearance of others. They learn that society places value on what you look like.
All of these things add up, which is why middle school girls skip meals, beg to wear makeup, and wear tight clothing.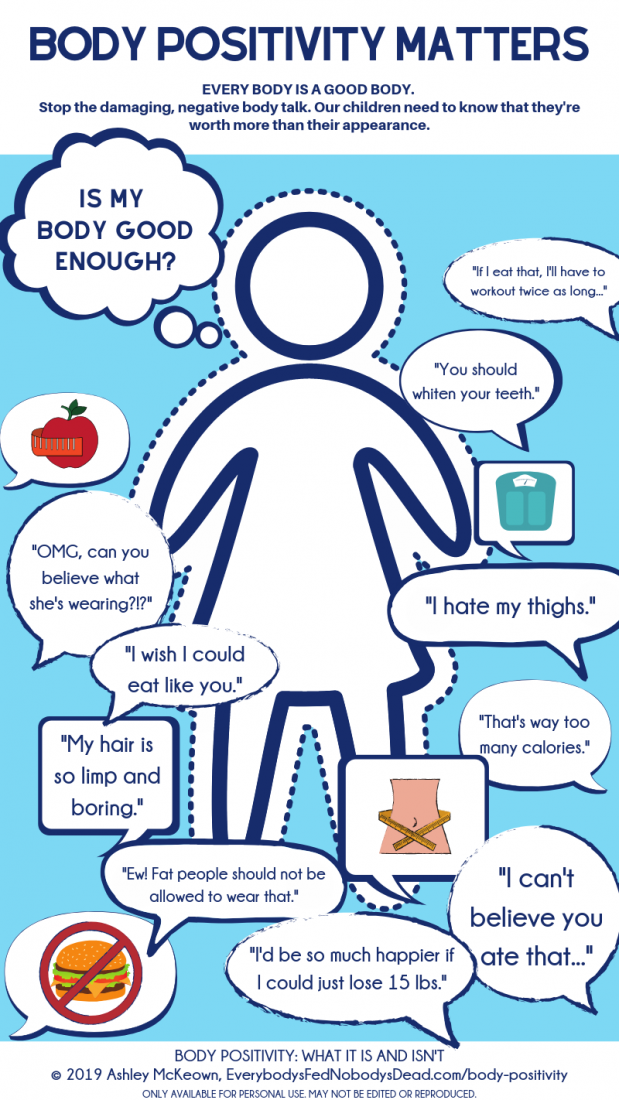 An important aspect of all of this is Fat Activism.
Yes, I did say that body positivity is for all body types, no matter your size. And I don't want that important message to get lost as I focus on fat acceptance.
But Fat Activism is important because fatphobia is a very real problem. Our society drills into our heads that fat = bad. Through the news, clothing models, weight loss programs, jokes, and entertainment, we are inundated with the fear of fat.
This means that fat people receive unsolicited weight loss advice, and are mocked for wearing bikinis and enjoying dessert.
And this means that if you're not fat, you're targeted by corporations that are using fear as a motivator to get you to buy their products. You're also at risk of disordered eating because of the fear of gaining weight.
So why am I tackling this heavy subject?
It's almost the holiday season, and you need to take steps now to care for your mental health.
I go more in-depth on that in the next post, How to Practice Body Positivity During the Holidays, but before you read that, I want you to understand why body positivity even matters.
This post is for everyone (because body positivity is for everyone) but I want to take a second to address the mamas reading this.
The holidays are stressful for everyone, but moms especially feel the stress during the holiday season. Between buying Halloween costumes, organizing Thanksgiving, and finding Christmas gifts, the last few months of the year take a toll on moms.
And in the midst of all of that, you're also trying to make healthy eating choices, "watch your weight," fit into a party dress, and make sure your kids eat more than just pumpkin pie.
I know you have a lot to juggle, and I know you're stressed. But I want to gently nudge you to be cautious with how you treat your body, especially around your children.
Let your kids see you indulge in something because sometimes it's okay to have a treat. Fill your plate up with veggies that you love on Thanksgiving, rather than leaving your plate half-empty. Take an afternoon "off" to read a good book, take a bath, and do something you enjoy. Wear the clothes you love with confidence, rather than saying you wish you could have her body.
You might mess up. That's okay. But now is the time to start learning how to love your body. Body positivity won't happen overnight. But trying to make conscious choices to love yourself and let your kids see that you love yourself is a huge first step.
Your body is a good body.
Resources:
Not sure where to start on this journey of body positivity? Girl, I got you covered! Here are some resources you'll love:
The Body Positive: Information, education, and even courses, they have it all!
The Be Body Positive Model Core Competencies: This method, created by The Body Positive, walks you through a step-by-step process to body positivity.
Adjusting Appearance Assumptions Workbook: Use this printable workbook to tackle unrealistic body expectations.
What I Love About My Body PDF: This worksheet is perfect for adults and kids! Print this out and talk to your kids about healthy ways to love ourselves.
Books You Need to Read:
Are you ready to love your body? Let me know in the comments how you feel about body positivity, and don't forget to share this on Pinterest!
Posts You Might Like: