We are a participant in the Amazon Services LLC Associates Program, an affiliate advertising program designed to provide a means for sites to earn fees by linking to Amazon.com.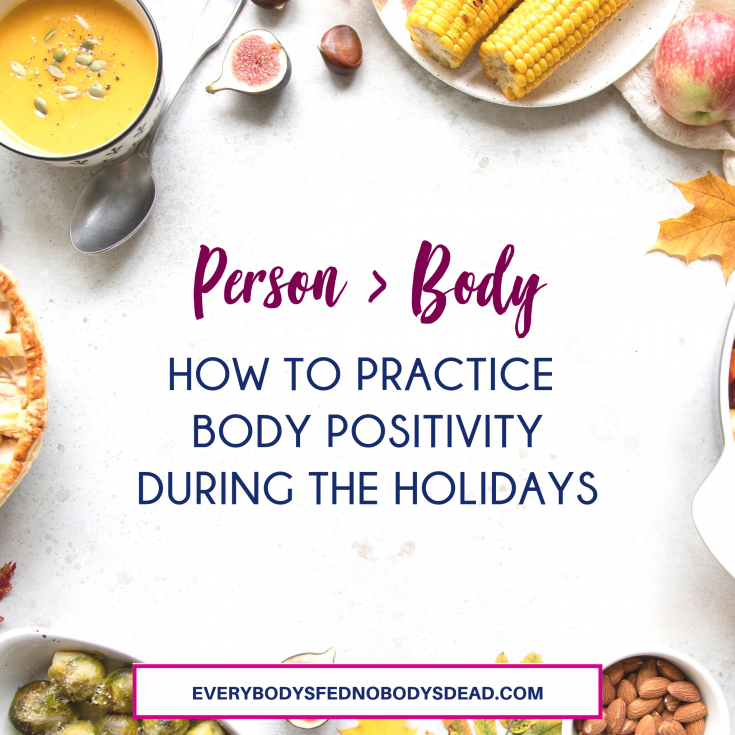 Body positivity and holiday food:
As wonderful and delicious as holiday food can be, there's often a feeling of guilt associated with indulging during this time of year. It's really easy to get wrapped up in counting calories at Halloween, or avoiding baked goods at family gatherings.
I know because I've been there. This year I was diagnosed with PCOS, a hormonal condition that is heavily influenced by what I eat.
When I first found out about PCOS and the side effects and potential health concerns, research led me to discover that eating incredibly clean (think: Whole30 forever) would keep my symptoms at bay.
But changing your diet to lose a few pounds versus to get pregnant or reduce your chance of liver disease is very different, and I quickly found myself overwhelmed and terrified to eat anything with sugar, gluten, or dairy.
This unhealthy mindset and fear of food messed me up mentally and physically until I took a step back and reevaluated what I was doing. I couldn't starve myself or let my mental health deteriorate over food.
Finding a balance isn't easy, but it's necessary.
With that said, I'm clearly no expert in healthy eating. I have plenty of bad habits and emotional issues surrounding food. But for this post, I just want to address body positivity during the holidays.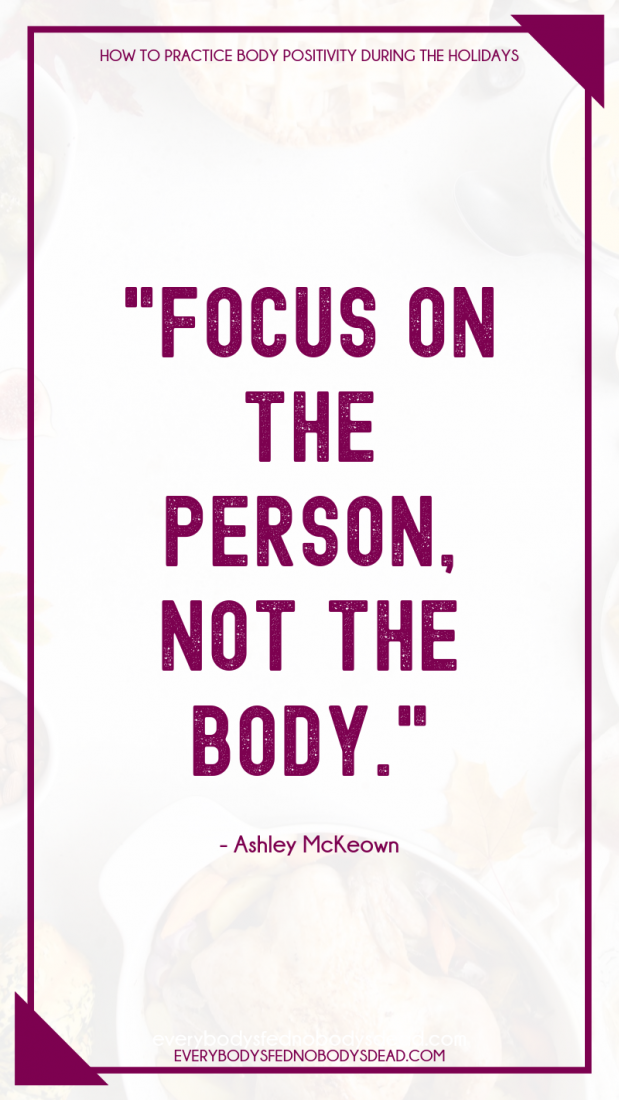 Why does it matter?
In my last post, Body Positivity: What It Is and Isn't, I talked about how important body positivity is and why it applies to everyone, and I also briefly mentioned how important it is during the holidays:
The holidays are stressful for everyone, but moms especially feel the stress during the holiday season. Between buying Halloween costumes, organizing Thanksgiving, and finding Christmas gifts, the last few months of the year take a toll on moms.


And in the midst of all of that, you're also trying to make healthy eating choices, "watch your weight," fit into a party dress, and make sure your kids eat more than just pumpkin pie.


I know you have a lot to juggle, and I know you're stressed. But I want to gently nudge you to be cautious with how you treat your body, especially around your children.


Let your kids see you indulge in something because sometimes it's okay to have a treat. Fill your plate up with veggies that you love on Thanksgiving, rather than leaving your plate half-empty. Take an afternoon "off" to read a good book, take a bath, and do something you enjoy. Wear the clothes you love with confidence, rather than saying you wish you could have her body.

Ashley McKeown, Body Positivity: What It Is and Isn't
There are a lot of triggers and stressors that can make the holiday season challenging:
Family events
Cooking and baking
Travel
Nostalgia
Cold weather
Exhaustion
Traditions
Any of these items on their own could be manageable, but when you're dealing with a combination of these, it becomes even more difficult to be body positive.
But body positivity is crucial during the holidays.
While body positivity doesn't even have to be about food, most people emotionally connect food, weight, and health, tieing it to their self-worth.
So even though being body positive is about so much more than what's on your dinner plate, I'm not naive enough to believe people will just enjoy the holidays without struggling over food choices.
But it's so, so vital to remember that the holidays are about more than the food. You have to shift your focus from food to people. Do this for yourself, do this for others (who don't need judgment), and do this for the kids.
When a young child hears her aunt say that she won't eat a certain food because she's counting calories, or she hears her grandpa comment on her father's weight, her negative perception of food and health and body image is slowly formed.
Focus on the PERSON, not the BODY.
Things you shouldn't say:
"Have you lost weight?"

"Have you gained weight?"

"You're too skinny!"

"I wish I had your figure."

"Are you really going to eat all of that food?"

"I'm watching my figure, so I'll skip dessert."

"I wish I could eat what's on your plate and not gain weight."

"I guess today is a 'cheat day.'"

"I can't have that – too many carbs."

"Maybe you shouldn't get a second helping of that…"

"I'll have to double my workout time tomorrow to burn these extra calories!"
Things you should say:
"It's lovely to see you."

"I'm so glad you're here."

"Thank you for making such delicious food."

"It's wonderful when the family can be together!"

"How have you been? Tell me what you've been up to."

"I'm so grateful to spend this day with you."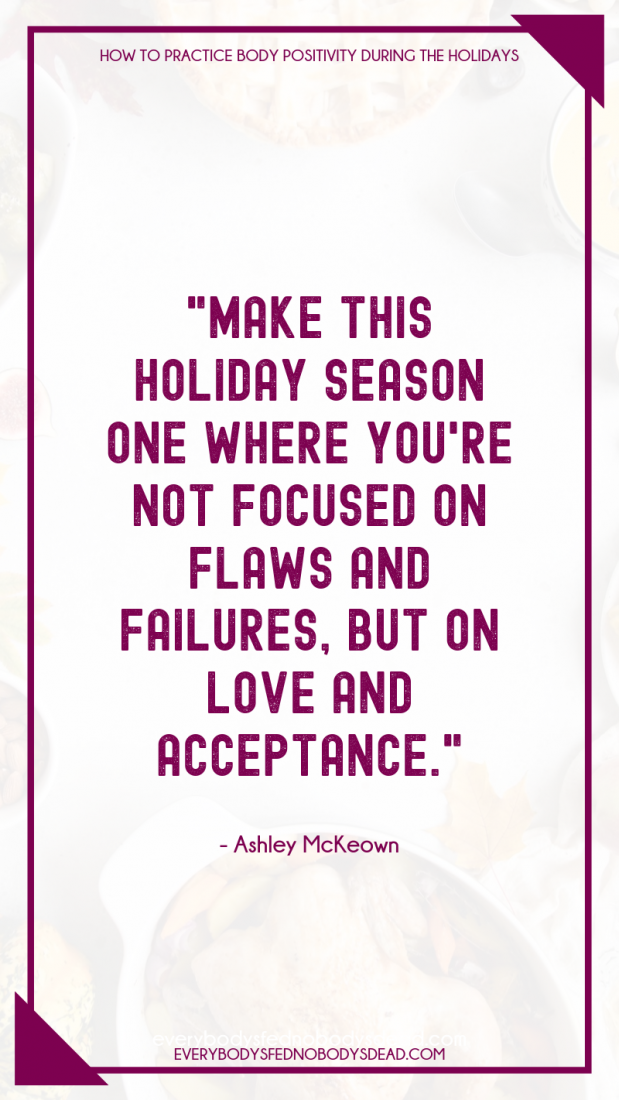 This holiday season, I want to challenge you to spread body positivity.
Don't allow anyone in your home to make disparaging comments about themselves or anyone else. Don't allow food to control how much you enjoy an event. Fuel your body and treat it well, but don't deprive yourself or damage your mental health.
Love yourself, love your body, love your family, and love food. It doesn't have to be all or none!
Make this holiday season one where you're not focused on flaws and failures, but on love and acceptance.
If this is something you struggle with, and your relationship with food is unhealthy and damaging, please talk to your doctor or a therapist who has experience with eating disorders. Even if you don't suffer from disordered eating, medical professionals can provide you resources and techniques to help reframe your relationship with food.
You can also check out the resources listed at the bottom of the last post, Body Positivity: What It Is and Isn't, to find worksheets and books that you can access for free.
Posts You Might Like: